Terra – The Sustainability Pavilion, a groundbreaking visitor experience co-designed by the Eden Project, has opened as part of Expo 2020 Dubai in the UAE.
Terra is the first Eden-designed experience to open to the public outside the project's home in Cornwall, UK. Eden Project International co-led the landscape design and visitor experience alongside partners Grimshaw, Thinc Design and Expo 2020 Dubai.
Eden Project International is expanding across the globe, developing attractions in England, Scotland, China, Australia, Northern Ireland, New Zealand and Peru.
"We are continuing to make progress on our other international projects and we hope soon that we will be able to confirm funding for Eden Project North in Morecambe in Lancashire," said David Harland, chief executive of Eden Project International.
Eden's first international location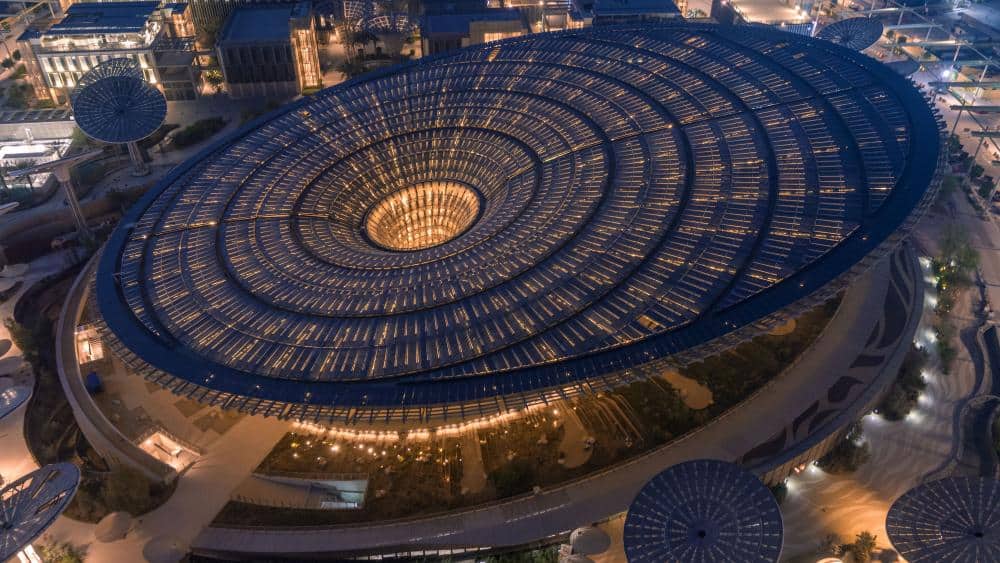 "We are also under construction in Qingdao in China and are working hard to make our other global projects a reality. We are very excited about the next few years!""
Terra, a combination of cutting-edge technology and innovative landscaping, will showcase the Eden ethos to an estimated 25 million visitors during Expo 2020 Dubai.
The pavilion features sustainable technologies and innovations, including rotating 'energy trees' that support PV arrays and 'water trees' that enable a passive method of dew harvesting.
Guests will explore the 'wood-wide web' in Terra's forest, dive into the depths of the world's oceans, and learn about the effects of human activity on the rest of the natural world. The centrepiece is a giant anglerfish, its mouth choked with plastic pollution.
Eden-designed visitor experience
"Eden is immensely proud to have been offered the opportunity to create marvellous things inside Terra with the genius designer Tom Hennes of Thinc Design," said Sir Tim Smit, co-founder of the Eden Project.
"In our view, this is the world's first rock and roll science centre," he added. "Congratulations to all. We loved working on it and we look forward to this being just the start of something very special indeed."
"This is another big moment in Eden's history, and we are so pleased to see this collaboration realising the first Eden-designed content outside the UK and the first pin in the map for our international ambitions," Harland said.
Sir Tim Smit spoke at Expo 2020 Dubai's Climate & Biodiversity Week during a session titled 'Nature's Game of Jenga: Getting Creative to Fight Biodiversity Loss', held at Terra.
Images: Eden Project International