Capturelife is a transformative digital photography and engagement platform. Serving the experience space, it harnesses the power of shareable, branded digital memories to increase future revenue. This means that attractions photography is changed from a one-off transaction to an ongoing relationship, fostering brand loyalty and repeat visitation.
In December, Capturelife was acquired by ASG, joining market-leaders ImageQuix and PhotoLynx. As a result, the company now has the resources to accelerate its ground-breaking vision. Blooloop spoke to Rich Scanlon, CEO, Scott DeFusco, Founder and Rob Mauldin, Board Advisor, to find out more.
Capturelife and the Experience Economy
Capturelife was recently referenced by Joe Pine in a keynote speech at the ShowUp virtual FEC convention on the transformation economy. Pine says it is an example of a product that, by personalising memorabilia, moves towards customisation and away from commodification.
The innovative platform reimagines the process of capturing memories, in the digital age of customer engagement and for a post COVID world.
Previous business models failed to leverage the formidable potential for either consumer or enterprise. By embedding a unique blend of user-generated and professional content on the user's device, the solution contrives both to increase buy rate penetration, and to afford ongoing customer engagement. It also addresses the need for a digital, touchless solution for the COVID-aware world.
Disney recognised the potential of personal photo memories as a marketing tool. Now Capturelife offers it to the rest of the experience space.
Capturing memories
Scott DeFusco is one of the two original founders of Capturelife. He tells blooloop:
"I started the company in 2015, having been in enterprise software for about 20 years. The genesis of Capturelife was wanting to do something more that related to our personal lives at the time. We both had kids and were going to a lot of family attractions, resorts, sporting events.
"We noticed that people were capturing memories with photos and barely any video. It seemed a dead-end relationship: you buy a print and you leave the park, and that's it. There's no ongoing connection; no brand-creation.
"What we saw then is even more relevant today. There is a huge opportunity for experience-creating companies to use these memories. They are the most powerful thing you leave with."
The observation that led to Capturelife was that if the customer could leave with a connection to those memories living permanently on their mobile phone, it could create an ongoing digital conversation. One that would draw them back for future visits, and therefore increase revenue.
Realising the potential
Rich Scanlon is the CEO of ImageQuix, the parent company of Capturelife. He previously worked in the event space as a concert promoter before moving on to enterprise software. As a result, he has experience both with the technology and with large-scale customers and events.
"We acquired Capturelife in December of 2020," he explains:
"We are in photography software and technology and were originally focused in the high-volume space. Predominantly school and sports photography. We had known about Scott's company for a while because the original genesis of Capturelife was to serve the high-volume space.
"ImageQuix was excited about the potential expansion into the experience economy. We saw the same thing that Scott did, this large gap in technology – we call it the analogue times – where you're going to a store at the resort or attraction to buy photos. This, after all, is the digital age."
Scanlon's first insight into the concept's potential was when he took his children to Disney World:
"I bought the PhotoPass, and it was the best thing since sliced bread. I scan my wristband; the photos show up on my phone, and I can choose to buy them. They were just there, without any effort besides paying for it.
"When Scott's technology got to the point where it could be embedded in native apps – most experienced companies are now starting to develop their own engagement tools – that was the big 'ah ha' moment for our company to invest in Scott's."
A long-term play
Scanlon recognised the power of replicating the pre, during and post-experience engagement as the future. So he decided, despite COVID, to invest.
"Our feeling was that yes, at this time, obviously that segment of the economy is depressed. But the strategy of analogue to digital, and the experience economy itself, were a long play," he says.
Coming out of COVID there will be a large-scale momentum to touchless and digital tech
"We also thought that coming out of COVID there will be a large-scale momentum to touchless and digital tech. Solutions that don't require people to go into a crowded place to buy something.
"There were some immediate near-term problems that Capturelife solved. And that is what got us excited about it."
The impact of Disney's PhotoPass
Rob Mauldin has been an advisor to the Board of Directors for Capturelife for strategy and the experience market since 2018. He was also one of the architects of Disney's PhotoPass:
"I spent 21 years at Disney," he says. "For a decade, I was part of the Disney Cruise Line launch team. For the second chapter in my Disney career, I provided consulting, and integration support to Disney's souvenir photography business."
A key executive in the entertainment organisation that led the transformation of Disney's consumer photography service, Mauldin founded The MagicMakers Group with partner and fellow Disney executive Cal Almaguer.
"I spent a whole lot of time building these digital platforms and then creating a large souvenir photography business (inside of Disney) and my group. We were advisers to all the Disney parks and resorts around the world from an image in a photography standpoint."
At this point, he came across the Capturelife team. He says:
"I realised they can be the PhotoPass for everybody else. They can be a platform to generate value for experiences and brands."
Extracting value from photo media
Mauldin identifies two ways to extract value from photo media:
"The first is the souvenir revenue. Everyone knows how to find souvenir revenue from selling photos and, in some cases, videos. From a media standpoint, the second one is brand extension value: the ability to extend and find strategic value for brands by leveraging media to extend the overall experience, and reach of the brand."
This is what Capturelife does.
"What we found at Disney is that connecting the media and photos of the participants in the experience into the digital platform makes those digital platforms stickier, and creates more engagement. We bring that strategy into the Capturelife platform."
Capturelife creates a personal connection
Most people now carry a high-quality camera in their pocket. However, there is, Scanlon says, no substitute for the professional photograph:
"Parents can take as many candids as they like. But we're finding that the lure of the professional photograph that makes you look good, that captures moments when you can't take your phone out, on a coaster or when you're with a character, is irresistible.
"There's no replacement for that memory capture of a professionally taken photograph. We've seen that both in the high-volume space and the theme park space at Disney."
"Also, there is a personal association with the brand. If I'm able to interact with the native app with my own content, that's a sort of validation tool that can't be recreated. Anyone can take a selfie someplace and use a filter, but not everybody can be associated with the brand. Those are two angles that we take."
"What we found at Disney was not to work against people's phones, but to work with them," says Mauldin. "To create a brand or a product differentiation as to why people should use the photo service. We branded the photo business, taking it out of the context of being a product. The tagline was 'get everyone in the picture.' That was our biggest differentiator."
Elevating the product
The reason for using professional photographs at attractions and on rides is that they are taken by specialists, with specialist cameras:
"They know where to stand, and where to be to capture those memories in those moments. So that is part of the brand differentiation. The strategy is taking that product and elevating it to a service, and then eventually to an experience."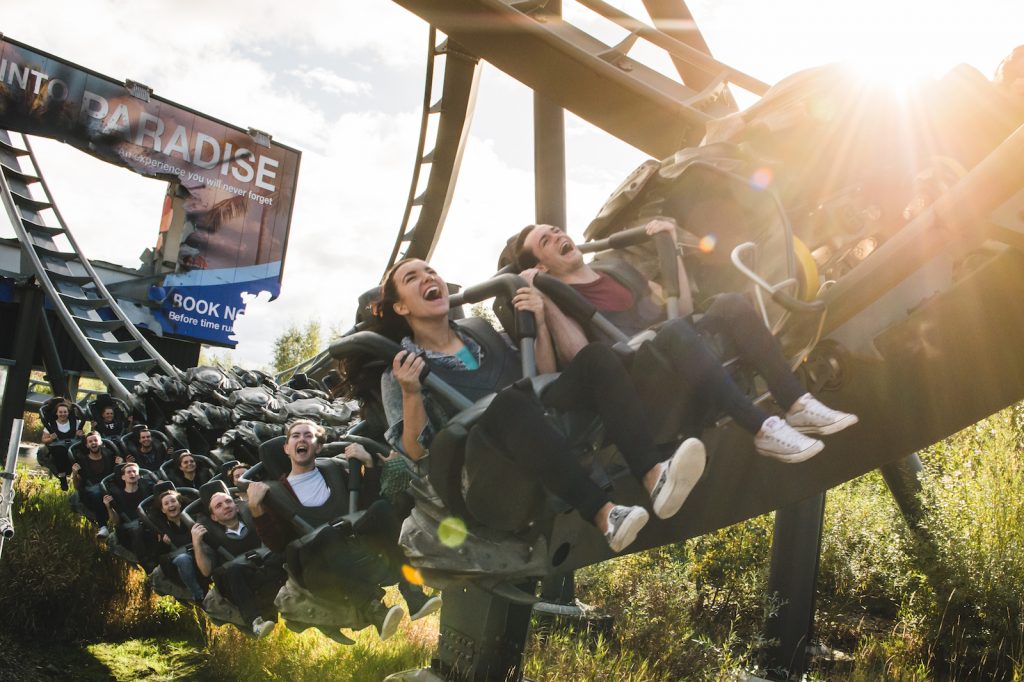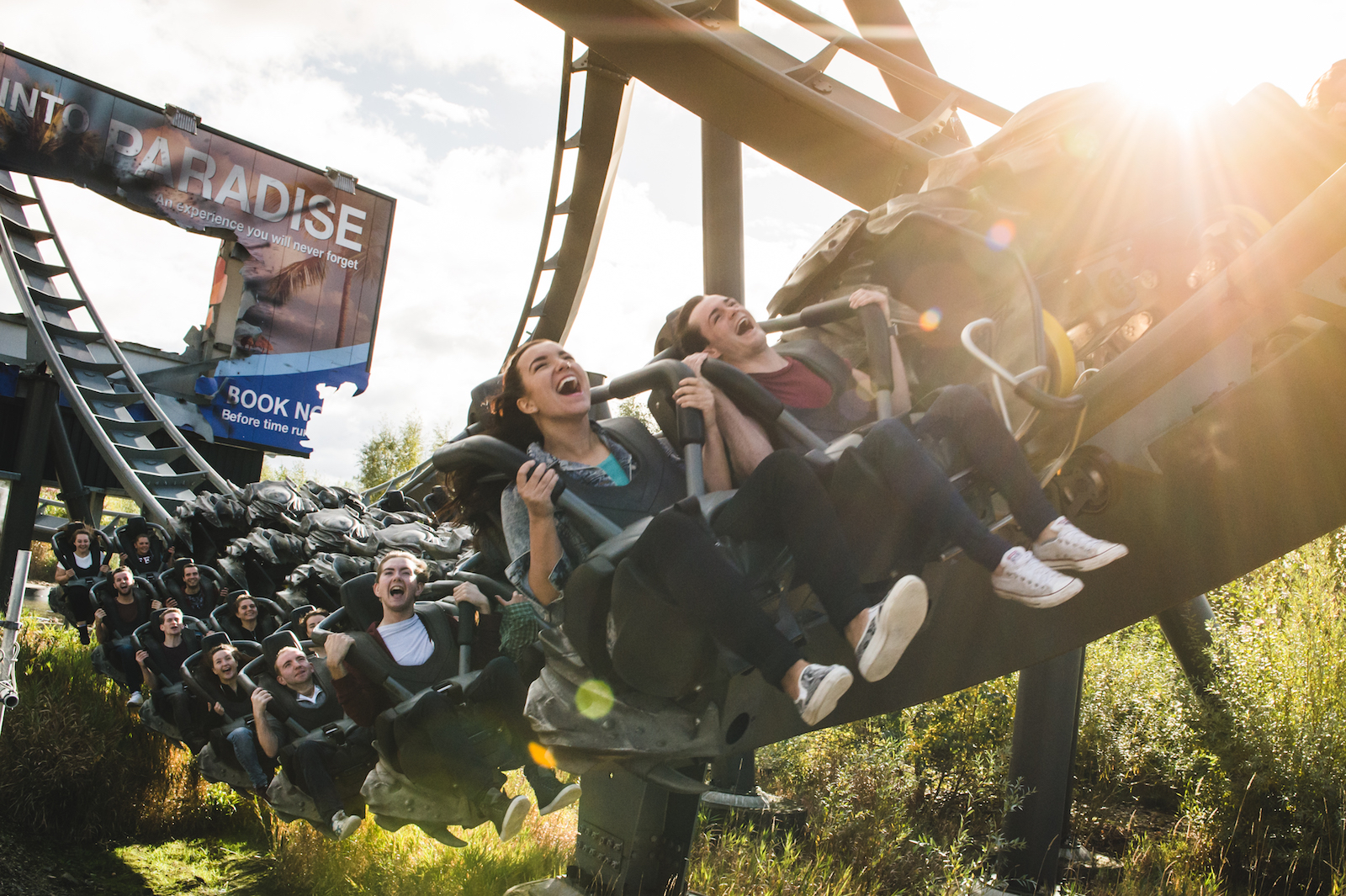 DeFusco agrees:
"The brand owns that identity. We allow you to get that identity easily on images or videos that are captured from your experience. We can apply brand filters on content – both professionally captured and personally captured – that enhance it. One of the key advantages is aligning those memories with the brand and we amplify that."
Continued visitor engagement
Visitor engagement after the experience is of key importance. This turns a simple transaction into a multifaceted and profitable ongoing relationship.
"The ability to engage with photos and media after the experience comes in two flavours," says Mauldin. "The first is that Capturelife can connect to brands' digital platforms, either inside their app, inside of their experience. It can connect into and look like a seamless part of their experience.
"Secondly, it could be a standalone experience where they can engage with the media. You can take more photos with your phone, and add them to your portfolio of images. You can share photos in private share groups. Plus, you can do extra digital creatives where you turn photos into other derivative media."
Story-driven
Capturelife can connect stills, video, and B-roll in an automated way. This creates story-driven elements:
"There are many different ways for the platform to extend that engagement and interaction with that media," says Mauldin.
"Those can be monetisation opportunities," says DeFusco. "For example, say you went to an attraction and had a great picture taken of your family. When it's the holidays, we have a print store embedded in where you can put that on a piece of wall art to send to mom and dad. There are monetisation opportunities, and there are also very powerful marketing opportunities.
"It may be a virtual tap on the shoulder, three or six months after your experience, that says, 'Here's a gift. Remember your great time with us?' That can be accompanied by a promotion.
"We have in-app messaging that lets us promote at the right time. After they have viewed that video and they swipe it to close it, that may be the perfect time for us to slide in a message that says, 'As a valued, loyal customer, here's 20% off your next visit'.'
"The combination of the media with the marketing platform uses those memories as a visceral way to connect with people, rather than the constant drumbeat in your social media feed of generic content.
"This is around your experience and the memories that you had and getting you connected back into that."
Capturelife as a marketing tool
In terms of marketing strategy, Mauldin says:
"When we speak to brands and companies, we like to speak to their marketing and CRM teams."
It is one of the most legitimate reasons to speak to a past guest…it's about rekindling that connection through what they recall from that experience
"Loyalty is huge right now; loyalty programmes, annual passholders, year-round passholders. Disney does this with its Gold and Platinum Tier annual passholders. Six Flags is doing it. Cedar Fair is doing it. It's a great way for the loyalty teams and the CRM teams to discuss describing a mass-personalised ongoing engagement tool.
"It is one of the most legitimate reasons to speak to a past guest. Because it's about reminding them, it's about rekindling that connection through what they recall from that experience."
An emotional connection
Personal photographs and digital media are partly about an emotional connection, and partly a way to share an experience. The experience economy is rooted in FOMO, in being seen to have enviable experiences, and in the voracious appetite of media platforms for content.
"Capturelife creates this interesting little cul de sac where all this media can live," says Mauldin. "It gets stored and is an interesting way to then feed into Instagram, Facebook, TikTok, Twitter.
"The brand then has access to those platforms, and can put out high-quality media, do some appropriate branding where they drop in dates, names, and the name of the ride or park; something that will end up inside people's personal media accounts, turning those sharers into advocates who are telling all their friends and family and their media accounts exactly where they were and what they did."
In terms of marketing and advertising, that is priceless.
"It is a way to leverage all that professional media that would otherwise just be dying on an attraction's server. They can use it to tap into the experience economy, extend the brand value, and give it a much longer life."
A strategic asset
"It is, essentially, a fundamental redefinition of what these media pieces are," says Scanlon. "They are an asset, not simply a piece of novelty memorabilia to discard after the experience.
"It is a true asset that is being under-leveraged. And it is the most prized asset in marketing, a custom-tailored personal marketing message."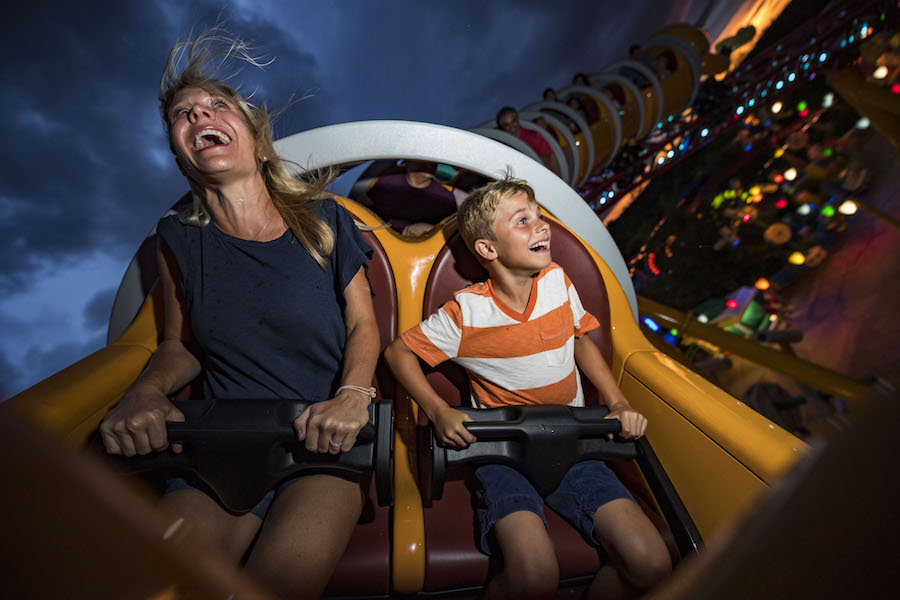 "I would elevate that to a strategic asset," says Mauldin. "It's a highly leverageable asset in the arsenal of extending the brand."
"We see this as like the coming-out party for this type of technology, and the avenues it opens up," Scanlon says. "It's not just about cost savings and COVID safety; it's about business expansion."
Adding value
"We draw a line between the two value streams for media," Mauldin says:
"For any traditional experience, whether it's a theme park operator, a cruise ship or a resort, there are many options that you can do with in-house and 3rd party to go generate souvenir revenue and a lot of people that are innovating in that space.
"Where their untapped value lies is in extending that brand value and extending those digital platforms. Where people are making single-digit millions of dollars of investment in photo and digital photo platforms, companies are making hundreds of millions of dollars of investment in their overall digital experience platforms. Things like app and web and mobile ordering and blind handling, and all the stuff that they've had to do, which in the last year has been significantly accelerated because of COVID.
"That creates an even bigger opportunity for photos and media to be able to be leveraged into those other investments in those digital platforms. This can bring faster adoption, deeper interaction, stickier interactions from your customers.
"That is the differentiation that we're trying to bring. It's, 'Look, we get that you're going to iterate on trying to generate souvenir revenue. We're going to help you unlock a lot of value that you may not have known was there.'"
Capturelife solves problems
Capturelife meets and overcomes many challenges in the space for operators, says Scanlon:
"One, it offers a touchless solution. Being able to only have to handle your mobile device and/or scanning a QR code or an RFID chip or associating your ticket with your account makes it a seamless process. You don't have to be in a crowded store or to handle prints. It's a true touchless and contactless solution. One that doesn't exist in the marketplace today.
"Two, it solves the problem of engagement before and after. There is an opportunity to monetise both pre and post-visit. This is either in return trips, upgrades or extra memorabilia.
"Three, it helps with identifying all guests. This is something we constantly hear about, where a person buys three tickets. The operator knows the ticket buyer, but not the other two people that attended.
"If you're able to engage with the application, and you want to add your photos or get photos taken, you have to identify yourself. From a visitor data perspective, it solves a big tick box.
"Four is app retention. It is well documented across all applications that getting people to download, then getting the app to stay on the phone, is problematic. That is the biggest indicator of success in digital marketing, and of you being able to engage with customers on multiple fronts."
Having someone's personal photos embedded in the app increases the probability of continued engagement. It will also increase the download and penetration rate.
A ready-to-go solution
Mauldin adds another problem that Capturelife helps to solve:
"Technology in general, especially from an innovation standpoint, has some inherent barriers. Capturelife addresses the three main barriers: affordability, speed to market, – and it's good.
"In a technology world, there is always a balance between cheap, fast, good; pick two. From a Capturelife standpoint, the platform is built; it is deployable, and ready now. It snaps into your existing technology platform.
"If you're a professional photo company that has a limited capital budget of what you're going to do to invest, innovate, and create a platform; or you're a theme park or a cruise line operator that right now is scrambling with their technology spend to adjust for COVID, this is something they don't have to worry about. This is something they can lift and drop into their experience, which is a significant advantage."
Personalisation
"The traditional souvenir photo market runs the risk of sliding down Joe Pine's experience economy continuum and becoming a commodity," says Mauldin. "For the Disney PhotoPass service, we lifted a page out of that continuum, and rebranded it as a service, to disconnect the consumers' view of what that product is."
"When we say that Capturelife can be the Disney PhotoPass for everybody else, it creates that ability to go make that connection into that service platform. This is the first step to turning this into mass personalised experiences to create an elevation.
"That is the bridge to the final step, which is transforming the overall experience, and utilising that media as a component to change the way that people interact with their memories and media."
Capturelife continues to innovate
"It truly is a platform, so it has this toolbox of content that can innovate continuously," says DeFusco. "For example, we handle not only images in video, but animated GIFs that put your kid in an animated sequence or GIF file. The AI knows where the kid's shoulder is, so knows where to put the turtle's arm around the kid's shoulder. It knows where their eyes are, so if a shark swims around, the eyes can bulge out at the right moment."
Any sufficiently advanced technology is indistinguishable from magic
"We're continually innovating on behalf of our customers, to introduce these transformational experiences that are broader than the narrow focus we have all been accustomed to up to this point."
"We're not trying to highlight the technology or the platform," Mauldin says. "It's about letting the technology become ubiquitous and engaging and fun."
He concludes with a quote from Arthur C Clarke:
'Any sufficiently advanced technology is indistinguishable from magic.'