Dexibit held a special attractions crisis management and coronavirus webinar in collaboration with IAAPA, AAM and Blooloop to provide advice and guidance on how to handle the outbreak.
With museums, theme parks, cinemas, shopping malls and more facing closures for an uncertain period of time, the attractions industry has been hit hard by the global COVID-19 pandemic. On Thursday 19 March, Dexibit hosted a webinar for industry professionals. It featured advice on attractions crisis management and coronavirus.
Angie Judge, CEO of Dexibit, started the session by welcoming everyone and acknowledging that we are a global community. One which draws strength in tackling this unprecedented situation together:
"We're coming together to face this crisis as one. We hope today is the start of a community that comes together to get through this, where we can share ideas and fears, strategies and tactics."
Coronavirus situation update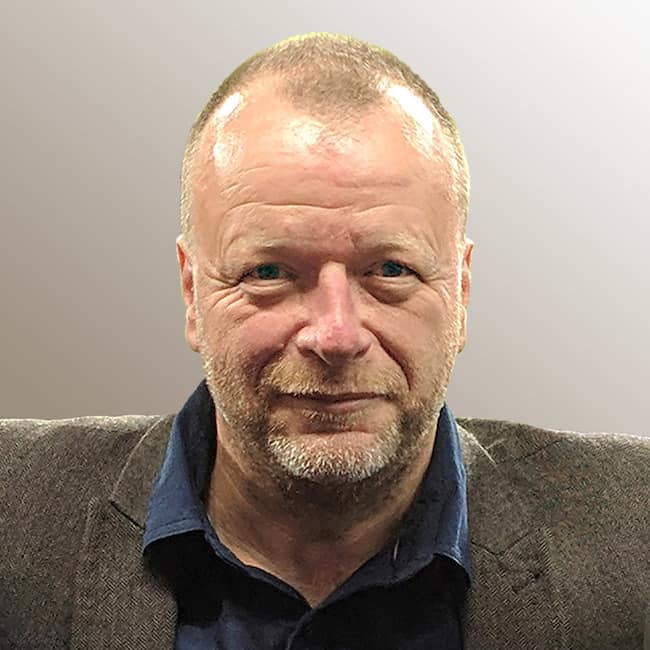 The attractions crisis management session began with a general update on the coronavirus situation from Charles Read, Blooloop's Managing Director.
Circumstances are rapidly changing and countries around the world are reacting in different ways to the pandemic. Read provided an insight into which governments are demonstrating best practice. This shows what we might expect for the future as other countries follow suit.
Firstly, looking at Asia, many countries there are ahead of the rest of the world in terms of how long they have been dealing with the outbreak. In China, where cases were first reported, there were strict lockdowns. These seem to have been successful in flattening the curve.
South Korea shows the benefits of mass testing, with up to 20,000 a day. This provided useful data on how transmissible COVID-19 is to and from young people with mild symptoms. The data has influenced a lot of the advice that the rest of the world is following with regards to social distancing. The country also closed schools, cancelled events and advised people to stay at home.
Singapore was in a position to tackle the outbreak quickly since it had quarantine processes and facilities in place since the SARS + H1N1 incidents. Combined with its good healthcare system and use of technology, it has coped well. Meanwhile, in Taiwan, they have had some success in curbing the spread with mandatory temperature checks.
Worldwide spread
Italy, which has been on lockdown since 9 March, was the first country in Europe to allow people to miss mortgage and other key payments without penalties. Communication has been key here and in many other countries in the region. Politicians have been holding daily briefings, for example in the UK, in order to make sure people understand the severity of the threat.
There have also been widespread school closures, bans on mass gatherings and various quarantines imposed across the continent. Austria's ban on gatherings of over five people has triggered a race by other countries to drop the maximum number of people allowed in one place.
Deserted streets.

Usually traffic-jammed roads in Madrid, Rome and Tirana are virtually empty as major European cities go into #coronavirus lockdown pic.twitter.com/hTQ5bNoZom

— AFP news agency (@AFP) March 16, 2020
Notably, in Ireland, all pubs were closed and parades cancelled ahead of St. Patrick's Day, despite the importance of the national day.
The US and Canada are also implementing closures and bans on mass gatherings. They are advising that people remain in their homes as much as possible. Some corporate solutions have also been seen here. Companies are converting their facilities to manufacture essential supplies such as ventilators and hand sanitizer. Meanwhile, in South America, several countries have imposed a curfew.
Interestingly, Australia and New Zealand introduced stricter measures earlier in the outbreak. They have experienced fewer deaths as a result.
The impact on the attractions sector
As the severity of the impact becomes clear, there is a definite need for attractions crisis management during the coronavirus outbreak.
Major theme parks are closed down in the UAE, the US and Europe. Meanwhile, in Asia, Shanghai Disneyland has partially reopened, although the theme park itself remains closed.
Disneyland Park, Walk Disney World Resort, Universal Orlando Resort and Universal Studios Hollywood will remain closed until the end of March, as will Six Flags. SeaWorld has also closed but will continue to operate its animal rescue and rehabilitation projects.
All 19 of the Smithsonian museums in the US are closed, and thousands more across the world have followed suit. However, to help those in self-isolation, many museums are inviting people to enjoy virtual exhibitions.
Through the Google Arts and Culture Collection, those in quarantine can enjoy the artwork of some of the world's top museums, from The Guggenheim in New York to Amsterdam's Van Gogh Museum.
To open or not to open?
The situation is more complex for zoos and aquariums. They are also experiencing widespread closures. However, staff need to be present in order to continue caring for the animals on site. Some farm parks, gardens and parks are closed, whereas others are large enough to still accept visitors without breaking social distancing recommendations.
Family Entertainment Centres are also closing in large numbers. This is because they often attract a large number of young people in a small space. Young people often present as healthy, even while transmitting the virus, making them potential super spreaders. So FECs have a high vector audience in a high touch environment, meaning their closures could be key, along with cinemas, shopping centres and other similar environments.
Attractions crisis management and coronavirus
Following this, Pip Gilbert, VP of Product at Dexibit, introduced the topic of attractions crisis management:
"In moments of crisis, we are faced with a raft of decisions. Decisions on things that we have never faced before. When there is so much uncertainty, it is often hard to know what to do next.
"However, it is worth reminding ourselves that this industry generally doesn't do too badly in times of recession.  And so if we as a global community can bring the health crisis under control and separate it from the economic one, we will find a way to manage through."
Gilbert provided a framework for leading through crisis. The first step is always to calmly assess the situation, using data, government advice and news updates. This will allow you to get the leadership team on the same page, look at your continuing plans, determine a response action and begin to communicate.
Leading through crisis
The next step in attractions crisis management is to respond. This means putting your continuity plans in place, including closures and limitations, travel restrictions and home working. It is important to consider the impacts of these plans and communicate with both staff and the public.
Another useful step is to simulate potential scenarios, in order to get data about different outcomes and to inform your decisions This allows you to monitor the situation as it unfolds, tracking performance against your simulated scenarios, with actions at hand.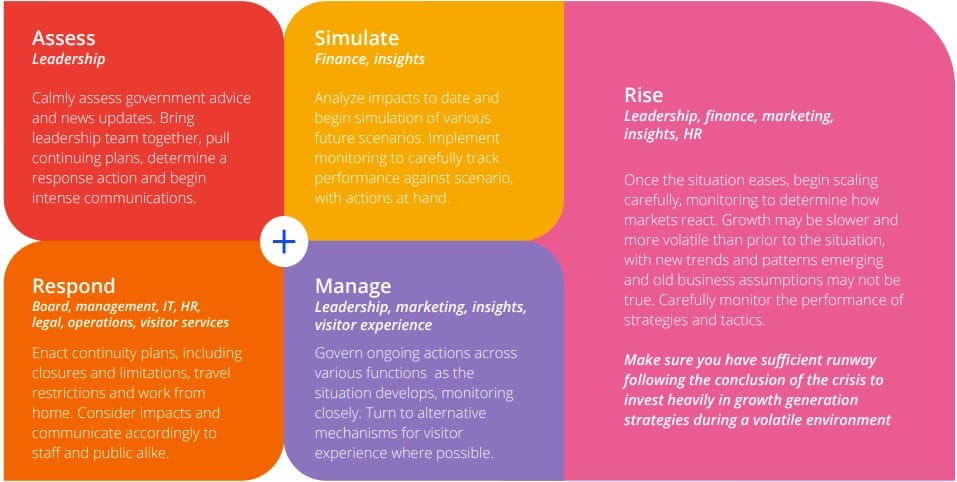 The process must be carefully managed at all times. It is important to monitor actions across various functions as the situation develops.
The crisis will not last forever. Once the situation becomes easier, you can start to recover and to scale business again. Be aware that this might be slower than before, and old patterns may no longer be true.
Effective attractions crisis management during this situation will require a leadership response team, an effective governance schedule and priority metrics and reporting.
Attractions crisis management: the importance of communication
Susan Storey, Director of Communications at IAAPA, spoke about the importance of communication in a crisis:
"Communications can never be underestimated. But sometimes actually communicating 'here is what we are going to do' can be forgotten. At this juncture, there are two critical audiences that we all need to keep in mind. Your team and your visitors."
Storey says that in times of crisis, your team is what gets you through. So, communicating with them effectively is key. Appointing an HR trained spokesperson and understudy is an important step.
Your staff will need to know what your plan is, what they need to do and how it will impact them. They also need to know what to say if approached by the press or the public. As the situation escalates, make sure they understand their role, when they should practice social distancing or self-isolating and what this should look like.
Talking to the public
You can also appoint a press trained spokesperson and understudy to help you talk to visitors effectively. They will need to know what you are doing, and if they need to modify their behaviour.
For example, if you are closing, let them know about your cancellation policies. If staying open, you need to communicate any changes in procedures. Communicate through several channels, for example, on-site signage, social media, web, emails and the press.
Maintaining brand loyalty is key when thinking about how you communicate to guests during a crisis. For instance, look at your consumer policy options and think about how you will manage things such as memberships and advance passes.
When you do prepare to reopen, make sure that you have a clear message for visitors.
Workforce management
Attractions crisis management requires several new considerations when it comes to workforce management. For example, if your attraction is closed, you might have to think about financial assistance for your team. If not everyone in your team can do their usual job, what alternative activities could you give them to complete?
There are also practical considerations. For instance, equipment, data security and how to keep in touch and stay engaged as a team. You'll also need to monitor your sick policy carefully.


When it comes to the question of whether or not to close, IAAPA advises closing when assessing an unknown threat and forming an action plan. Or where you have observed that the risk is high. Furthermore, you may have to comply with official advice.
Other considerations are the fact that reduced demand due to self-isolation may not be economically viable, you operate a venue where visitors are in close contact, or the required increase in hygiene cannot be managed.
Storey says that when it comes to attractions crisis management during coronavirus, three priorities should be finance and accounting, leadership and human resources, and marketing and communication. Operations management, visitor services and technological considerations are also key.
Market scenarios
Finally, Laura Lott, AAM President, looked at some economic scenarios in order to help with attractions crisis management plans:
"It feels like there is an endless number of scenarios to figure out. It gets overwhelming to play them all out and to develop meaningful action steps that we can take. One of the tools that futurists and strategists use is scenario planning.
"Scenarios are basically stories, imagined futures based on trends. By creating several stories on how things might play out, we can begin to identify how you might react or respond to various circumstances."
In this case, we can look at a range of global or local scenarios. We can also look at what is happening in Asia where they are a few steps along. There are several possible outcomes. We could be looking at a short term impact, a significant mid-range impact or the worst-case scenario of a pandemic-triggered global recession.
To help predict and manage outcomes, we can monitor things like the exponential curvature of cases and death rates in different regions, length of lockdowns and border controls, the success of different strategies and government funding for the industry.
Attractions crisis management and coronavirus: the impact of closures
Lott says the pandemic will impact on different types of institutions in different ways. The impact will vary according to the type of visitor too. For example, cultural institutions will likely see a short term drop off in school visits, a mid-term reduction in the number of older visitors, and perhaps a longer impact on low socioeconomic audiences.
Meanwhile, in the commercial sector, group bookings and visits from tourists are likely to drop off in the short to medium term. The impacts on the cruise industry may be longer lived.
Government legislation
Lott also advises that cultural institutions should tell legislators that they must include museums in COVID-19 relief and economic stimulus. Talk about how the coronavirus pandemic is affecting your museum and your community.
In the travel and tourism sector, she also recommends lobbying for tax cuts, stimulus and incentives. Government actions will be required. Both in the short term and once the initial threat or window of containment has passed.
Mental health
While planning your attractions crisis management, don't lose sight of mental health and wellbeing. Lott says organisations should directly address the emotional impact of the crisis when communicating with teams.
Consider those who might need extra support as a result of the pandemic. It is also important to encourage healthy habits during the crisis. For example, reducing exposure to news and social media, and checking in with colleagues regularly.
Attractions crisis management: resources
There are several resources available to help with attractions crisis management. IAAPA has a dedicated page with advice and guidance, as well as templates for various crisis plans.
The AAM also has a page of advice and resources on its website. Blooloop will be providing a weekly update on the situation with news from the attractions industry.
In addition to this, Dexibit recommends resources from the WHO and CDC (US).