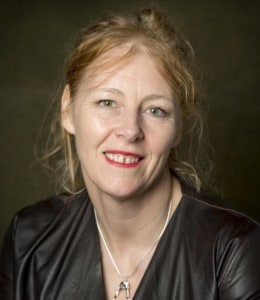 In June 2020, planning permission was granted for the new Museum of London. The site is a conversion of a currently unused Victorian general market in West Smithfield, in the heart of London's new Culture Mile.
Blooloop spoke to Sharon Ament, Director of the Museum of London, and Christopher Bonner, Future of Smithfield Market Lead for the City of London Corporation, to find out more about the project.
A new home for the Museum of London
"It is an extraordinary project," says Ament of the plans for the new Museum of London site. "In 2015, Grayson Perry announced that the Museum of London was minded to create a new museum in this evocative, 24 hour part of London in West Smithfield. It is truly a remarkable site."
"Since then, we have been working hard to a crescendo moment in June this year, when we received planning permission for the project."
A vibrant district
The museum will be located in a Victorian general market, which has not been used for 30 years.
"This campus of buildings sits alongside Farringdon Road in the centre of London," says Ament. "It is part of a vital and vibrant 24-hour area. It currently has a wholesale meat market that opens at midnight, and goes to bed around 9 am. So it's a truly remarkable 24-hour district."
"There are a number of small restaurants all around us, the fabulous Fabric nightclub, London's oldest hospital, St. Barts, and much more, right in the centre of London. It's extraordinary.
"The area and the building itself has helped shape our project. It is a really iterative process, which has enabled us to articulate some powerful concepts, with a strong vision that positions this as the centre of London in a shared space."
Connectivity
"What we're finding is that the set of market buildings, which spills out into the street, is extraordinarily adaptable, to create what I think will be the most extraordinary museum around. Simply because it provides that connectivity and permeability for our audiences and the public that many museums are seeking to do," says Ament.
"It will have up to five or six entrances, or even more, and this is quite extraordinary. It enables us to make a museum which will be adaptable and flexible, for a 24 hour way of being."
The new site is also close to Farringdon station, which will connect to all of London's airports as well as the channel tunnel and Europe beyond.
"As I often say, we are just two train stops away from Paris or Amsterdam," says Ament."On the ground level of the building, it's got an east and a west wing. These are connected very simply by a street, which is called West Poultry Avenue. We want to keep that street as much of a street as possible, even though it will be our main entrance."
Four generations at work
The area itself has had a vibrant life, says Ament. "Today, many people can remember visiting the market or the restaurants around it. Either as a place of work or simply as a visitor."
"We have been busy reshaping these buildings. We are analysing them, dissecting them and thinking about how each part could go towards creating a new museum."
"What's going to be so extraordinary is that when our museum opens, there will be four generations of people working in the space. This mix of generations, which reflects our audiences, will bring an additional vibrancy with all of the different ways in which we will be working together. It's a really exciting project."
The Museum of London's mission statement
Speaking on the topic of the Museum of London's mission, Ament says:
"Everything we do at the museum needs to fulfil this mission. It is driving the new museum. But we have added to a long-standing mission, our desire to be a force for good in London, as we think London must be for the world. That is a challenge, an aspiration and a never-ending position."
"We're always trying to do good. We want to do this as a museum and we believe society is demanding that of us now more than ever. The Museum of London aims to be London's shared space in the middle of it all."
Time, people and place
"In creating the museum, we are working around three dimensions: time, people and place," says Ament.
"Our museum is about London; London's impact on the world and the world's impact on London. We go back to when early humans started to inhabit the Thames Estuary, and we go right into the future. We are always about people."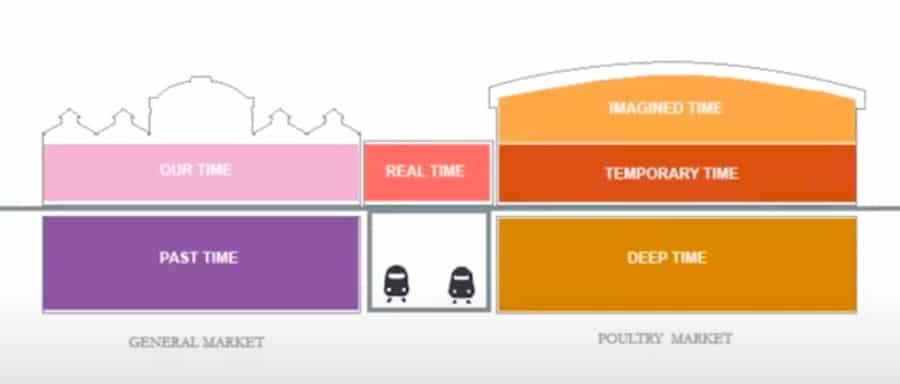 "Within the museum, we are structuring our content, across the space that we have, in a time dimension. Each one of these spaces does something different and something innovative. And extraordinarily, we have a live train line running between our spaces.
"Our project objectives are driving everything we do, from our business plan to how we connect with people, reducing the operational costs and being environmentally governed. This is a really powerful project."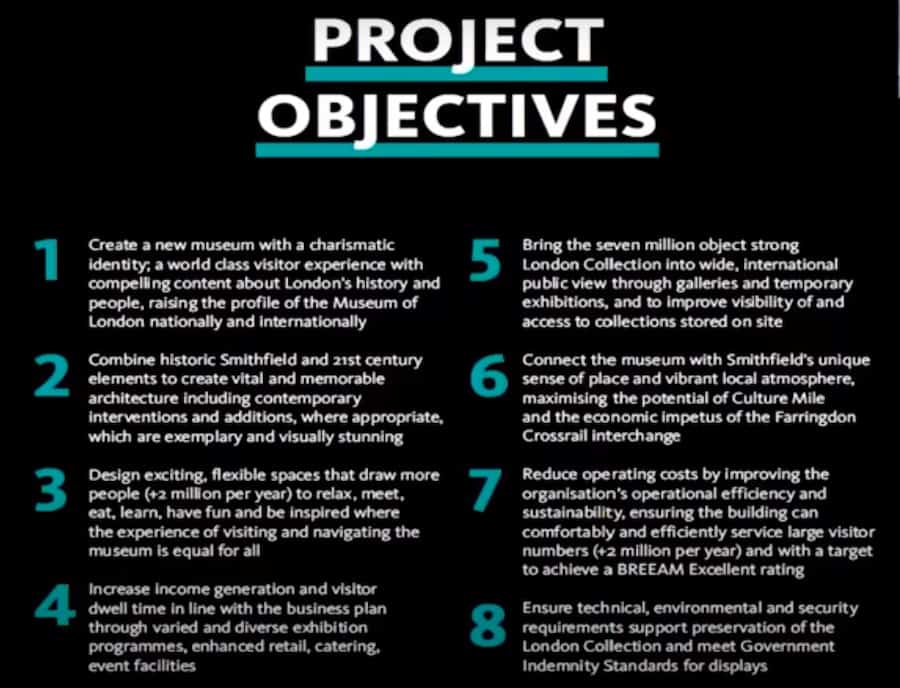 "Our design team is led by Paul Williams of Stanton Williams with Asif Khan, from Asif Khan Associates and Julian Harrap, who is, I think, the world's most fabulous conservation architect. Together this team, with many others are crafting and creating the new Museum of London."
Engaging with the Museum of London
As part of the design process, the Museum of London is on a mission to consult with and engage 100,000 Londoners ahead of the opening.
"We're engaging with London," says Ament. "And there are many ways the people of London are helping us to craft and shape not only the design but also what goes into the museum."
"The demands of the museum are to be true and authentic, to tell both the glorious stories and those which are less glorious. And for the museum to be a place where we can think about the future."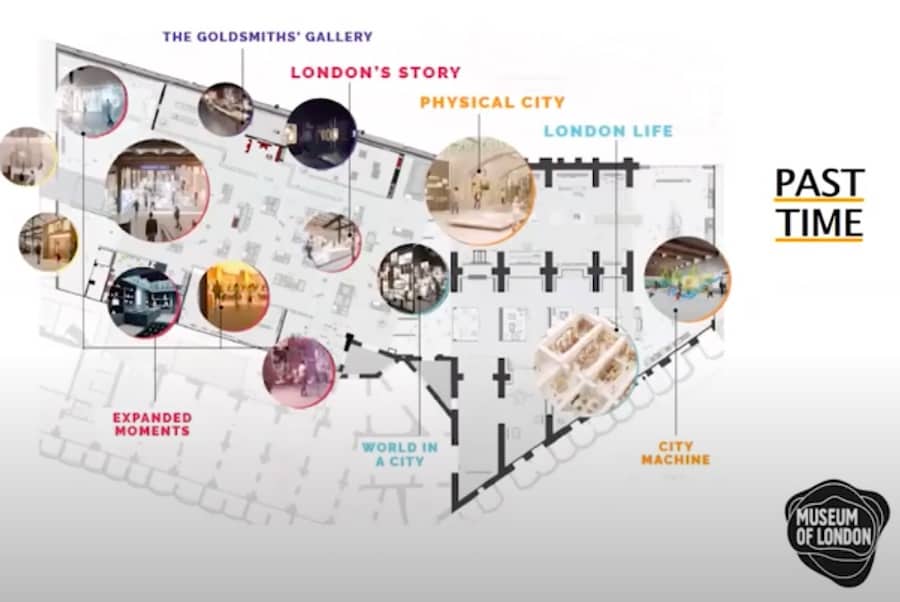 "ATELIER BRÜCKNER is currently working on the big Past Time galleries. These will be extraordinary and deep, including many, many objects."
"Then there is a really busy place in Our Time galleries where the world comes together for large scale events. In the poultry market, we will have a special exhibitions gallery. On top of that will be Future Time and Imagined Time. Our museum's time dimension thinks about all the possibilities for London."
"Right in the basement of the poultry market is the evocative Deep Time. [It is] not a sleepy, dusty collection. It is a collection to be used by researchers and members of the general public who want to explore London through its material culture."
Fatberg on show at Museum of London
"The Museum of London will also hold some of the enormous and wonderful things we are collecting today," says Ament. "So things such as the Fatberg, for which we have become notorious."
"Or, the recently launched exhibition, Dub London, about dub reggae and London's role in creating this music genre, or the London Calling exhibition. The Clash, in the 70s, saw the kind of feelings and ethos of London and responded with this landmark album."
"Or things such as the recent discovery currently on show at our Museum of London Docklands Museum, the Havering Horde. So, we have objects, people, artwork, ephemera, all sorts of things in our collections. These will be on show, as well as projects such as our own Brexit bus."
See also: Trump Baby blimp finds permanent home at Museum of London
Uncovering history
Throughout the process, the team has also been discovering new things in the market. For instance, a set of vaults, which nobody knew existed. There have been other discoveries too, like finding original Victorian tiles under the 1960's panelling of the building's original Lockharts Cocoa Rooms which was popular during the temperance movement.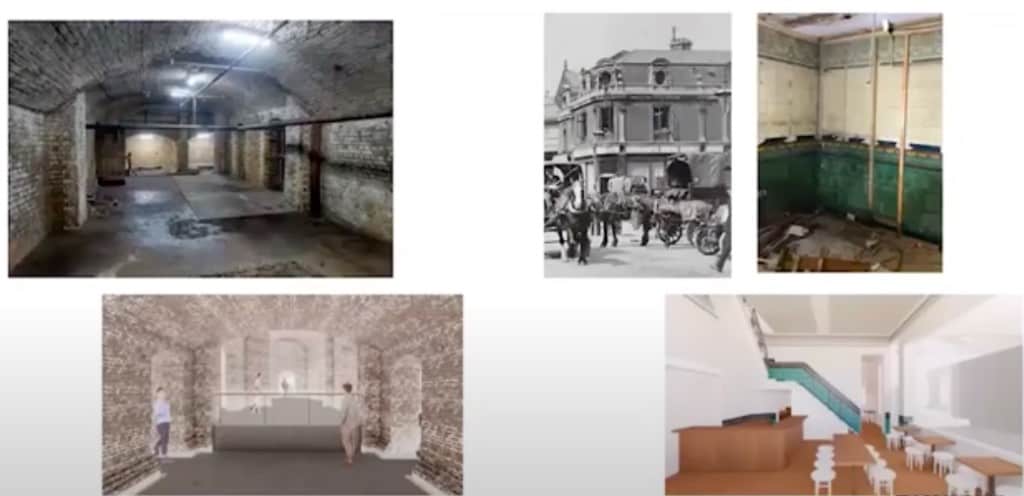 "We will recreate the sense of the Cocoa Rooms and sell the best Cocoa in London," says Ament.
"Facing outwards, there is also the opportunity to have new shops. We can rent spaces out to new organisations who want to participate with us. The museum is not just a place for itself. It is a place where we will have other organisations and we will certainly go out into the streets. This is thanks to the connectivity between all the sites and the street scene.
"We will use all elements of the buildings and we will inhabit these streets. It's a glorious opportunity for us to reshape a part of London."
The Markets Co-Location Programme
Christopher Bonner, along with a large team of experts, is working on the wider Smithfield transformation. He begins by giving some context on the Markets Co-Location Programme:
"Effectively, what the city is under is an Act of Parliament to run London's wholesale food markets. These are Smithfield meat market, Billingsgate fish market and New Spitalfields fruit and veg market. We're scooping them up and moving them to a co-located destination in Dagenham Dock, East London. This will secure their future, but also release the existing sites for other reinventions of themselves."
"I would wager that quite a few of us have been to the Tate Modern, skipped across the Thames to St. Pauls, and then stopped and gone home, rather than gone the same distance to Smithfield. So the challenge is for the City more broadly to reinvent itself, not only as the financial powerhouse district for London and the UK but also an awesome cultural destination, showcasing a huge legacy of buildings and institutions."
The latest evolution of Smithfield
"My project and Sharon's sit within this wider context," says Bonner. "So these buildings, and others that the city is looking to develop, need to be stitched together by a coherent public realm. That is what we have been working on since the beginning of this year."
"Having a single vision, even though elements will be delivered at different times, is the key. So we will go down to the detail earlier of how the public realm will work around the museum spaces. But what we need to do is make sure that whatever we do there can be inherently linked with the market spaces, which will come a few years later."
"To get this right, as the current custodians, all we can do is make sure that the next iteration is as good, for the next generation, before it evolves again. And that's kind of the beauty of Smithfield. Yes, it is known as a place for food, for the last 150 years. But 800 years before that, it was something else. It's constantly evolved and changed, it has been a place for trading and a place for exchanging.
"So there are all these historical links as well. Like the cloth fair, which we could maybe link with the future of fashion going forward."
What makes Smithfield?
While the project aims to transform the area, it will also aim to keep the atmosphere and some of the characteristics that make the site special, says Bonner.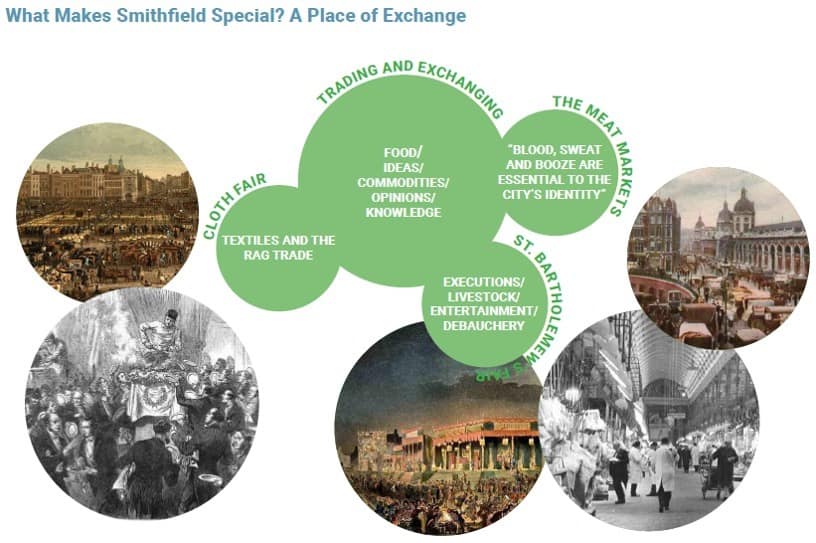 "The word 'gritty' sums up the market pretty well. We want to maintain that authenticity. It's challenging to achieve that but we know that that's the ultimate goal. [The buildings] are hard-working, a little bit chaotic in places. And I wouldn't want to lose that in whatever iteration we have going forward."
"When you begin to dive into the detail, they're really intricate and really interesting spaces.
"A lot of the innards of the building was scooped out in the 90s to meet modern regulations. And whilst that's sad because you've lost the historic content, it does mean that as long as you preserve the skeleton of the structure and enhance that, there's a great opportunity to do loads inside the buildings."
A creative hub
Alongside the new Museum of London project, there are currently many different ideas on the table about what these new spaces could become in the future.
"One thing that has got traction at this destination is an international hub for the creative industries," says Bonner. "A place for the creative industries to come together to serve the local communities, London and also an international audience."
Creating that new visitor destination in the middle of the Culture Mile would allow new jobs and potentially 1.5 million visitors a year.
"You could imagine this combination of design, art, fashion, film and emerging industries, like gaming, coming together under one roof, with food right at the heart of the offer. Creating that new visitor destination in the middle of the Culture Mile would allow new jobs and potentially 1.5 million visitors a year.
"But what it will really do is allow the city to showcase its talent, new technologies and innovation."
A place for Londoners
The project team has mapped out the different uses in the local area. "There is a very diverse, probably unique mix of uses that surround these structures," says Bonner.
"When thinking about place, and placemaking principles, clearly this needs to be a place for Londoners. It needs to be open, accessible, this inclusive Metropolitan destination space that people want to come to. A place they want to linger in."
"It also needs to be a connected campus. [The buildings] need to work together in this connected Smithfield campus, but they also need to relate to their institutions. There is a really rich mix of uses in the broader area. I, like Sharon, think they should be 24-hour spaces. I'm not saying we're going for Fabric 2.0. But you could imagine quieter eating spaces for say, shift workers at St. Barts, whose lunchtime is at 3 am.
"I also think it's really important to reveal the historical structures. They've been filled up over the years for operational reasons. But now we've built what's called a BIM model, a 3D model that you can interrogate, you begin to see the layers of history within the structures, in particular the roof structure. Being close to that roof structure is an amazing thing."
A unique food offer
"Food is one of the place principals," says Bonner. "This will be at the heart of Grand Avenue's offer and we want a very different offer from food in the wider area. So we could see an agri farm in the basement, the opportunity to grow on-site, to prepare on-site and a cooking school, and to sell produce, all within one ecosystem."
"We want this to be one of the most sustainable, Grade II-star listed buildings in the Square Mile. It is a difficult task, but one we think we can do. We've already started a materials audit. So when things are removed, we can use them or dispose of them appropriately, for instance."
Future uses
Another place principle that the project is working towards is meanwhile use, as a platform for testing future uses.
"So for me, I need to go through a private bill and I need to build a new market, " says Bonner. "But the transformation of the buildings is subject to the meat market relocating to Dagenham Dock. We are beginning to think about how to start that journey now in areas of the building that aren't required for operational purposes.
To illustrate this point, Bonner uses the example of a part of the basement that could be turned into an art installation or fashion show."
"There are some quick interventions that unlock these opportunities, allowing for these different, flexible showcasing spaces.
Bonner goes onto explain that there are some long term structural interventions required to make the building fit for purpose. "The first is points of vertical circulation. Being able to get up and down the building is not the easiest thing at the moment. So we need to make sure that this is a fully inclusive building.
"We also think you can get an experience of levels, with rather lovely gantry areas. So you can interrogate and experience the buildings at different levels.
"The north side of Grand Avenue and East and West Buyers Walk gives you four large, attractive quadrants to play with. And we think one of them, for instance, could be a multipurpose box. It could be an auditorium space, it could be a space for local performances."
Carcass corridors
"The building, over time, has turned its back on the surrounding environment because it's an operational space," says Bonner. "But that's not what we want going forward.
"So as well as having the Grand Avenue open to the public, and the Buyers Walk as much as possible, there are these rather lovely things called carcass corridors. That is what the butchers call them. This is where the big vans dock at the moment. So you could open them up and allow more permeability and porosity to the building."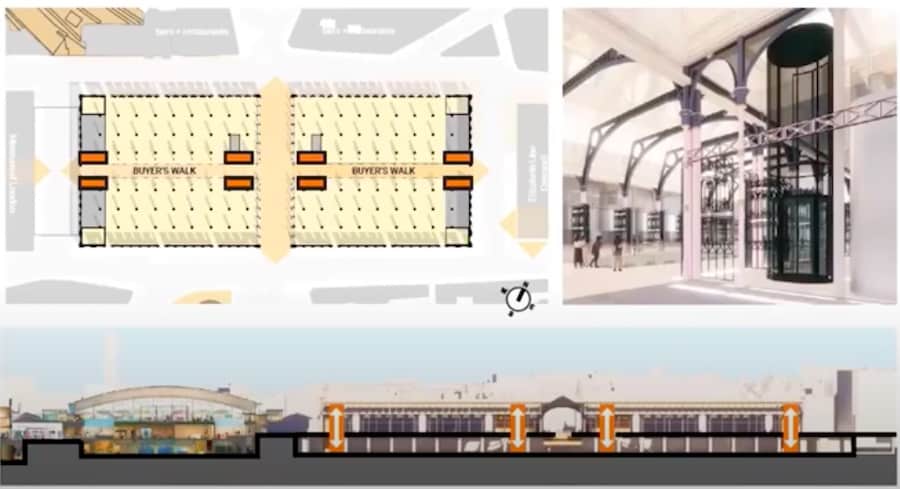 "The building was built to keep meat cool. So it's great in terms of ventilation, but it's not fantastic in terms of light. We do imagine some of the other spaces being given over to the creative industries for office space, maybe an architectural practice. But to do that, we'll need to put more light in.
"You could even imagine somebody like St. Bart's Hospital taking over some of these spaces for their research centres."
Flexible spaces
"For the food offer in the Grand Avenue, we see small kiosks, nestled within the superstructure of the building. Craft-led micro industries, independent offers that spill out onto this area for recreational activity," says Bonner.
"The cut in the Grand Avenue, a public thoroughfare smack bang in the middle of the buildings, allows a Lower Grand Avenue to be created. And it allows for the interoperability of the building. At certain times of the year, it could be an event space for one operator to take over the whole thing, whilst allowing that publicly accessible route through the building into the Rotunda."
"The Rotunda Gardens is a really lovely, magical place at the moment that not everyone knows it's there. So we'll probably be bridging over to that space to make it a bit more accessible. And also creating this winter or physics garden, with medicinal plants.
"All of those different interventions allow real, flexible, showcasing spaces to be created. There are enough fixed elements to have that vision I mentioned earlier on. But there is also enough flexibility to deal with a future post-COVID world."
The shared ambition of the Museum of London & the City of London
"It's great to see that our projects and all kind of shared ambition riffing off of each other," says Ament. "Our projects were conceived before a pandemic and we're living through a pandemic. Working in this circumstance with design teams is quite extraordinary."
"I think it's challenging," agrees Bonner. "Because we don't have the answers yet. But we know that there's a problem. Maybe sometimes people would see flexibility as a weakness in vision. But actually, I think there are enough fixed elements to what we're proposing at the moment for it to have coherence."
There's also enough flexibility to accommodate what the world is going to need in a couple of years
"There's also enough flexibility to accommodate what the world is going to need in a couple of years. What types of creative interest industries will hopefully make a home here? How will people need to interact with the spaces? Is it distance, is it not? And there's a lot of flexibility in the architectural approach.
"So for instance, that multi-purpose box I mentioned, everything is retractable. It's like a transformer, you can turn it into different shapes. All of the interventions are going to be built off-site and prefab, and then they'll be transported to the location.
"Therefore they're very flexible in terms of actually physically moving them around the space. Or in terms of packing them down and shipping them out if there's a new requirement. At the moment, that's the way we're thinking about it, whilst trying to keep in with the current thinking of a, hopefully soon, post-COVID world."
New possibilities
Ament says: "People said to me, 'Will all your predictions work? Will this vision still pertain in this post-COVID world?'
"And I think the vision for our project is needed more than ever. This kind of sense where people come together to explore big ideas. To explore what it means to be human in a sense, in a very generous and free way."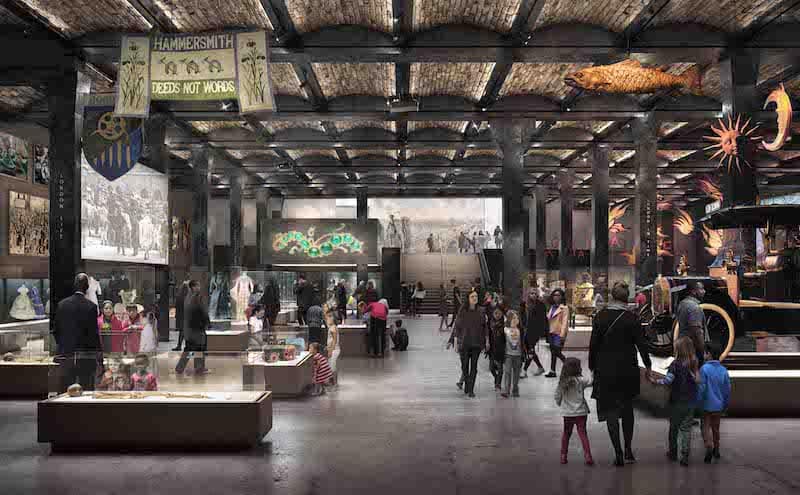 "I agree," says Bonner. "It's needed more than ever. Whilst I'm flirting with different uses for the buildings at the moment, maybe we have a better grip on the structural interventions to open up those possibilities.
"One of them that I mentioned was this kind of international centre for the creative industries, which have been massively hit by COVID. So having this vision and opportunity to look forward to and to emerge out of this pandemic, I think is a brilliant thing for that particular sector of the community."
"I'd also love for the Smithfield buildings be a place for apprenticeships. I'd love for it to be the first creative industries academy. And I'd love a lot of learning to go on in those spaces, as a natural part of the offer."
The critical role of cities
"I've been struck by the critical role that cities will play in the environment and environmental protection in the future," says Ament. "That critical mass of people all living together. We meet each other on the streets. London's a very democratic space, unlike maybe other cities. We're all they're rubbing alongside each other in the tube, in the parks.
"And we value this. Over lockdown, we've really found value in our public spaces. We like being with people who are different from ourselves."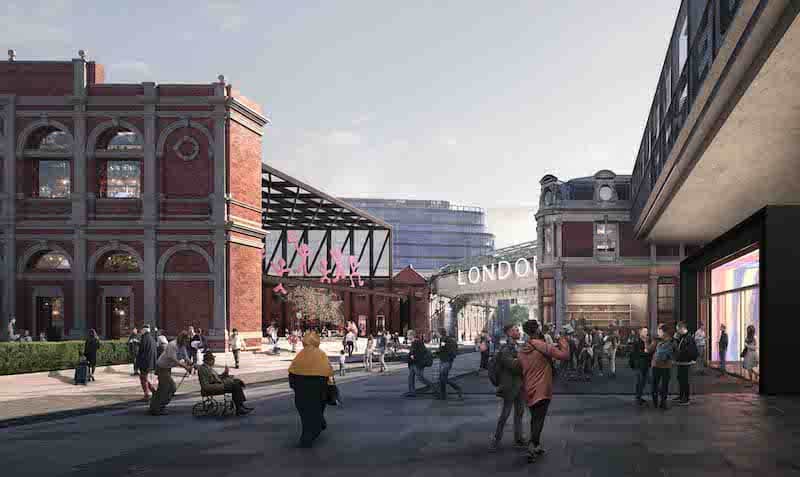 "That's part of the key and the challenge," says Bonner. "The city is in the middle of reinventing itself as a destination space. It is creating spaces that encourage people to come in.
"The southern edge of the buildings, leading to the Rotunda area, and then St. Barts, that is going to become a new public square for London. We want it to be the public square for London. A place where people want to come, for festivals, and to come and experience with each other. A place where they want to have lunch, they want to have all different types of activities."
An epic canvas for the Museum of London
"I'm always blown away by the kind of richness of opportunities," says Ament. "For instance, with St. Barts, we have a wonderful teaching hospital. There's no reason why the museum, the markets, the kind of spaces around us can't be both about health and wellbeing, but also provide a better visiting experience or a better patient experience."
"We're lucky," says Bonner. "We have this epic canvas of history. And we also have some of the most innovative medical practices in the UK, in one place. Tapping into that already rich story, and giving it a new coherence and lease of life is a huge challenge. But it is also a really exciting one."
In conclusion, Ament says:
"We've got to make sure that we deliver on this vision, a vision of democracy, of a cultural melting pot, of creativity. And really think about economic models that will make this sustainable into the future."