Linda Spurdle, Digital Development Manager at Birmingham Museums Trust, and Yarden Yaroshevski, CEO and founder of games creator StikiPixels, spoke to blooloop about a unique project called Occupy White Walls (OWW), which draws hundreds of artworks from the museums' collections into a game centring on a virtual art gallery.
The groundbreaking game leverages fun to create a connection with art, and a platform for artists and art collections. It works to democratise art and showcase archived pieces from the depths of collections as gamers design their own art space with modular architectural blocks and over 2,300 architectural assets.
Spurdle leads on digital strategy, digital engagement and ICT across Birmingham Museums Trust. She has spearheaded Birmingham's open access policy, making thousands of out-of-copyright images free to use without restrictions.
Yaroshevski believes 'art wants to be free'. Speaking at the end of 2020, three weeks after the partnership between Birmingham Museums and Occupy White Walls launched, he says: "These are the combined updated stats for the Birmingham collections in the game – artworks were acquired over 20,000 times by nearly a thousand individuals, which is impressive."
Open access
The extension of reach afforded by the game means artworks can be accessed from anywhere in the world.
"This has come out of the idea of open access and sharing our images, which, although it is taking off worldwide, is still not something many do here," says Spurdle. "I'm not sure why. I think some people have an idea that they can still make money out of the images, but they're definitely not making much.
"There is also a sense that the images are, in some way, almost like the objects; there is some sense of control over them. Our viewpoint is different. We think everybody should be able to use them, share them, be inspired by them."
Lockdown has demonstrated the importance of this, as people have become more creatively curious than ever.
"It was last May that we first had an online resource from which people could download the images. And, I guess because it is open access, pretty much straight away, quite a lot of people did start to use it."
Reaching more people
Far more images were downloaded than from the collections website. Museums' collections websites, Spurdle says, "Are not often well visited."
In order to encourage people to use the images, she and her team organised events:
"They were 'remix' events to get people in, play with the images, and create things. They were great, and it was a nice thing to do, but we realised we weren't reaching many people. So, because we wanted to reach more people and get more people to find out about it, we came up with this idea of working collaboratively with an artist.
"This became the Cut, Copy, Remix: project. We asked Cold War Steve to get involved, and, luckily, he agreed."
Cold War Steve is the nom de plume of Christopher Spencer, a British collage artist and satirist. He is the creator of the Twitter feed @Coldwar_Steve.
Benny's Babbies, a celebration of Birmingham and Cold War Steve vs the PRB were produced as part of Cut, Copy, Remix, a project which, in association with Black Hole Club, explored the creative potential of Birmingham Museums Trust's Digital Image resource.
"It created a lot of interest, which is exactly what we wanted," she says.
Occupy White Walls & emerging digital artists
"Cold War Steve is a wonderful artist, and it would be great to have him in the game," says Yaroshevski.
"We were also working with some young emerging digital artists from the Black Hole Club, including Rosa Francesca," Spurdle continues. "She is the link with Occupy White Walls, actually."
Rosa Francesca is one of the artists who works in the game:
"She hadn't worked with collections before and she found it quite inspiring. She did some AI art, merging artworks together to create new works. And she also made one of our artworks sing. At the back of this, she said, 'I have an idea… Occupy White Walls: do you know anything about them?'
"And that's how this project came about, through openness and a sense of collaboration."
Collection is a priceless resource
Birmingham Museums Trust is the only collection in the UK that makes all of its out-of-copyright artworks available for free under a Creative Commons Zero License (CC0). The collection is one of the city's greatest cultural assets and a priceless resource for learning, engagement and creativity. Over 3500 of these objects are now available as free digital images, with more being added every week.
"The open access thing has been great," Spurdle says. "In the first six months, our images have been viewed 72 million times and downloaded half a million times. It's an amazing reach."
Yaroshevski agrees:
"What Linda said about open access is right. Art belongs to mankind. Artists don't exist in a vacuum, and even if we take somebody contemporary and cool, like, say, Cold War Steve, he stands on the shoulders of giants. I'm sure the history of his influences and the education, history and background of those influences can be traced all the way back to the Renaissance. Art should belong to everybody. And what Linda is doing with the open access is great.
"I'm kind of surprised it's even an issue, or seen as such a bold statement. It's really basic human knowledge. If some people somewhere don't know about something like maths, or even hygiene, say, do we really need to charge them for that? We should have figured it out by now."
Introducing OWW
Demonstrating the game, Yaroshevski shows the basic space:
"This is the formal museum, which is not conventional, but still normal, by our standards. Some players have gone on to create their own remixes, using the collection to create very different environments. There's an amazing cyberpunk one, for example."
Spurdle says:
"This is interesting because when I have seen digital museum spaces in the past, they have always been a faithful recreation of how the actual museum looks. Allowing people to create their own is fantastic."
The game reflects people's desire today to have a degree of agency over what they do, and how they interact.
The gamification of museums has been a conceptual trend for a while. But one of the obstacles in the way of it having fulfilled its potential is that there is rarely a crossover between the museum and the game creation sectors.
"What was so wonderful about this project is that it was already there. It wasn't something a museum is trying to balance, often without the knowledge or without the money. It's this fantastic creative community, already in existence, that we just joined," says Spurdle.
"We haven't gone down the route of trying to develop our own games. Often, when that happens, they're not really that great; there's something that's missing."
A model of abundance
"It's not fair to expect museum collections, even very well-funded ones, to develop really complicated stuff," Yaroshevski explains:
"This game has taken a team of 18 people working for four years. It has required a lot of money, and we're still working on it. It's beyond the scope of a collection."
Demonstrating architectural elements in the game created by players, he continues:
"This is a great example of players' agency. They are creating these almost environmental installations. Here, you can see artworks on the walls from Birmingham Museum's collections.
"People today grew up with interactive media control. The best example is music. In the nineties, people used to hunt for vinyl. You had to go to a store and have them moderate, and even tell you about it. It was really cool and very difficult.
"Today, we live in a world where, through Spotify or other services, we have access to every music ever created. We can listen to any of 60 million tracks. Now the value becomes in the curation, in having an AI that tells me what I want to listen to, even if I don't know.
"This is a bigger theme, I believe; a transition from a model of scarcity, to a model of abundance."
A new way of accessing art
With millions of artworks within reach, how can they be accessed in an intelligent way?
"This is the bigger theme across all media," says Yaroshevski. "Art is dragged into this because these are the same people. The same people that use Netflix and Spotify, when they walk into a museum, they expect a certain level of interactivity, control and agency. This is what we are trying to do here."
He demonstrates the game's AI:
"We have about 40,000 artworks, I believe and will get some more soon from our friends at Birmingham. I can't show you 40,000 artworks, because most of them are not going to be relevant, and will bore you.
"So we have AI. Every time somebody wants to look at art or is looking for artworks, they see Daisy."
Art and AI
The game's Radical Art Discovery AI – (DAISY) learns each participant's taste in art and helps them find work they are likely to enjoy. Every player in Occupy White Walls helps train the AI to make better recommendations for everyone else:
"If I press a button, Daisy will give me nine recommendations that it thinks are of interest to me. Here's an artwork by Rosa Francesca. He knows me so well…These are the recommendations. They're all over the place in terms of style and period; we don't care about that. The only thing the AI cares about is that at least one of those outputs is going to grab my attention."
"If I see one I like, I can just click and add it to my personal collection. I can then, if I wish, ask for more recommendations. It will also allow you to find visually similar artworks. Our assumption is that most people are not sufficiently familiar with art to know what they like."
Occupy White Walls engages new audiences
Museums and galleries are generally designed by people who are familiar with art history.
"The assumption is that, for example, a person will wake up in the morning and say, 'I like German expressionism,' and go and find a collection that shows it, and be very happy. But this model fails if I don't know that I'm going to like German expressionism. This is where the AI comes in."
Spurdle adds: "Most art galleries keep their works on their own collection's website. Often, they're not very big images. They might even watermark them. It's effectively like keeping them in prison."
Nor is it a way of reaching or engaging new audiences.
Yaroshevski says:
"One of the biggest issues we have is that, first of all, putting artworks on a webpage is not really engaging. There is a lot of value in references, and this is fine, but generally, artworks on a webpage are just not inspiring.
"Imagine getting to a stage where it's as natural for people to immerse themselves in art just as they do in Netflix.
The other thing about art is, of course, artists, who also struggle to reach people to resonate with. And so again, the AI works for them. So we have relatively unknown artists who have thousands of fans in the game, and elsewhere. I know in some cases they contact them on social media; they even buy artworks, which is not a focus, but it's terrific."
Encouraging creativity
Exploring the spaces people have created and decorated with artworks, creating their own art in the process, is revelatory.
"I do wonder why more museums aren't looking to work in partnership in this way," Spurdle says
People have used the game to create spaces to raise awareness of health issues, to commemorate lost friends and relatives, as futuristic fantasies or alternative worlds. One virtual gallery, which commemorates Sean Connery, even contains a tomb.
"What's beautiful is that anything can be a gallery," Yaroshevski says. "The game is an open license to do what you like, within a wider community of people that are creative, and, largely, supportive."
Spurdle continues: "It moves away from the idea prevalent in so many museums, that everything has to be simple; that it should be dumbed down because that's what people want. And this is not like that at all. This is something that people love. They enjoy being creative, and they get better and better at it."
Improving accesiblity
The currency of Occupy White Walls is cubes:
"In the actual game, as you build your gallery, as you get more space to put in more walls, or grass, or whatever, it costs you some of these cubes, which are free," Yaroshevski says: "The system means they have to make decisions about whether to build a new room or buy more artworks."
The game is on Steam, at the moment:
"If you don't have a gaming computer, you can play on cloud gaming; we have instructions on the website."
The idea is that a free cloud gaming service, GeForceNow, runs the game for you on a high-end gaming PC in the cloud, while you connect from your own computer.
"It's a little laborious, but a determined individual can do this in five minutes, and then it's free to play, and you get the best graphics, and so on. It's very important for us to constantly try to improve the accessibility of the game, making it more viable to different people, so we reach the biggest audience."
Avoiding value judgements
One aspect that Yaroshevski is particularly proud of is that all artworks in the game cost exactly the same amount of 'cubes', the free game currency. It is important to the creators that they do not impart any kind of value-judgement about art.
"We live in a world where, if you are told one artwork is worth 10 cubes and the other a thousand, you would assume the one with the higher price is better," he says: "But I don't think we should look at art like we do at cars. The meaning of art is individual for every person."
Spurdle adds: "I love the fact that all art here costs the same. Just because the Mona Lisa is famous, why should it have more weight in the game? I love that it doesn't."
One feature of the game is the fact that the size of the artworks on the walls is realistic, as Yaroshevski explains:
"With a painting that would be a miniature, though, we can zoom in and look at the details, in great resolution. It's an example of where the game might, in this one instance, have an advantage over a real museum, though, of course, nothing can really beat actually standing in the presence of a great artwork in reality."
The social side of Occupy White Walls
The chat feature makes the game a social space:
"You can visit other players, and they can visit you. It's also the only chat I know of that allows you to share artworks in the chat. So if, for example, I say, 'does anyone have a good photo of…' Somebody could say 'sure', and I can just grab it from the chat."
Demonstrating another feature, Yaroshevski says:
"This little thing here is a portal, so we can connect one gallery to others."
The game is a fun way to make creative spaces and explore art in a relaxed and safe way, from home, he says:
"We're not coming in to replace museums; they have great collections and an important role; they are the best sources of knowledge and authority. At the same time, they are not the answer to everything.
"There are a million people living around Birmingham, for example; and about 8 billion others that don't. The idea is to let people experiment and discover things that are not, maybe, physically available to them."
Digital strategy at Birmingham Museums
Spurdle describes the digital strategy she is instrumental in devising for Birmingham Museums:
"We're working with Frankly Green + Webb, digital experience experts for the cultural sector, which involves lots of workshops with people in the museum."
The Trust has had two new leaders since November when Sara Wajid and Zak Mensah stepped into their roles as joint CEOs of the organisation:
"It's an exciting time. I can't predict what we're going to do; just in terms of the collection, like many museums, there's only a very small amount that has been digitised. One of the benefits of the OWW game is that, since so little of the collection is on display, there are artworks you can see in the game that you wouldn't be able to see in real life."
"But again, it is only a very small percentage of our collection that is digitised, and that tends to be the fine art. This feeds into that idea that some things are more important, more valuable, in the real world. I always say that our digitised collection is, basically, art by dead white men.
"We have something like a million objects, which takes in every possible area you can think of. I'd like to see more time just for people to be able to search things – and also, yes: more of this continued idea of collaboration, and a realisation that this is the way forward."
More collaboration to come
Yaroshevski agrees:
"We hope to continue the collaboration, and, first of all, bring more art into the game. But also perhaps do some curatorial talks or videos, and events or competitions. There is a lot of scope."
Both are keen to continue the collaboration, pushing into new areas.
"One thing that would be cool is to do something in the real world. Imagine, for example, once the museum is open, we could do a video projection of the virtual gallery inside the real gallery."
Spurdle's response is enthusiastic: "That would be super-cool."
"This is what I love about working with them," Yarden says. "It's this attitude of, 'Yes, let's do this.' I have to say, a lot of museums are very cautious, very bureaucratic."
Spurdle contextualises this:
"We would love to have the resources of somewhere like the National Gallery. But one of the benefits of not being one of the big London museums is being able to move pretty fast, and the people above having the confidence in your decisions. That does enable things like this to happen.
"There's something about just being a large regional museum like ourselves, or Manchester, Leeds, Glasgow: amazing museums that maybe don't get the attention that they deserve, but that might liberate them in some ways, as well."
Marketing collections
The Occupy White Walls collaboration is an example of what that liberation can achieve. It is a game that has the potential to democratise art, letting people discover, share, create, and connect, in a fun digital space.
The argument that by making artworks available in this way, institutions are losing money, is, Yaroshevski says, flawed:
"I'd like to ask them how much money they made last year by licencing their content for videogames, for example. The answer would almost always be – zero."
"This type of platform provides valuable marketing services to collections. We're getting this in front of people, using cutting edge technology, investing in AI in a way that is beyond what artists, even collections, can do on their own."
A recent feature allows artists, for a small fee, to upload their own work. This then makes it available in the game, to be discovered by players, like all the other art.
OWW is a far better showcase than say, Instagram, in terms of image quality and surroundings.
Spurdle adds:" This is completely different. It's an experience."
Museum collections in a post-pandemic era
The COVID-19 pandemic and associated lockdowns, where some museums have closed their doors for the first time in many decades, has prompted reflection around the nature of a collection.
Yaroshevski says: "Museums are kind of wedded to their buildings. This is basically their identity. And then, suddenly, they have to close, which quite probably hasn't happened since the war. That really raised the question of what is a collection.
"I like to think the collection is sort of more of an amorphous concept. It's not tied to a building or to a specific website or even a game."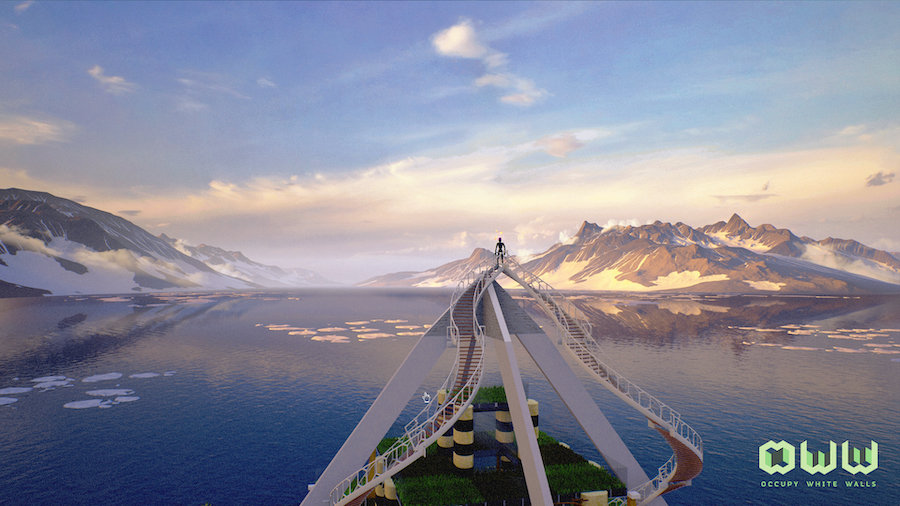 Spurdle, questioning the notion of a 'collection', adds:
"When you think about museum artworks or artefacts, they really end up at places accidentally. The donor gave them to this person, or to this museum. Once it's virtual, that basis makes no sense, just because it's based in Birmingham or in Manchester, and has been for 150 years. Why should those objects or works always stay in those places?
"There are all sorts of connections between them. They might be by the same artists; they might be in the same art style – or they might not be at all. This gives us the ability to collect those things together and to overturn that almost accidental way they ended up where they are.
"It's a really important, really nice aspect of the Occupy White Walls project."
Images are screenshots from the Occupy White Walls game, kind courtesy of StikiPixels