It has been a remarkable opening year for Meow Wolf, an "explorable attraction" based in a former bowling alley owned by the author of Game Of Thrones, George R.R. Martin.
With an attendance of 400,000 in its first year of operation, the Santa Fe attraction has far exceeded expectations and now employs 150 people.
Opening a year ago in the space leased from Martin, the exhibit "House of Eternal Return", is based around occurrences inside a mysterious Victorian house.
Meow Wolf, a High-Wire Act
Vince Kadlubek, Meow Wolf founder and CEO, had relatively low expectations as he opened what Meow Wolf's website describes as a "wildly imaginative space". Estimating it might attract 100,000 in its first year, Kadlubek wondered if the attraction, a "combination of children's museum, art gallery, jungle gym, and fantasy novel" would be accepted by the reisidents of Santa Fe. He described it as a "a high-wire act".
The 35,000-square-foot installation is a unique visitor attraction. It blends a rich audiovisual experience together with a strong story and computer technology into a tactile-highly immersive environment.
However, Kadlubek had a hit with Meow Wolf.  It quickly surpassed his initial estimate (reaching 100,000 visitors in its first two months) and is now expected to reach 400,000 by the end of this week.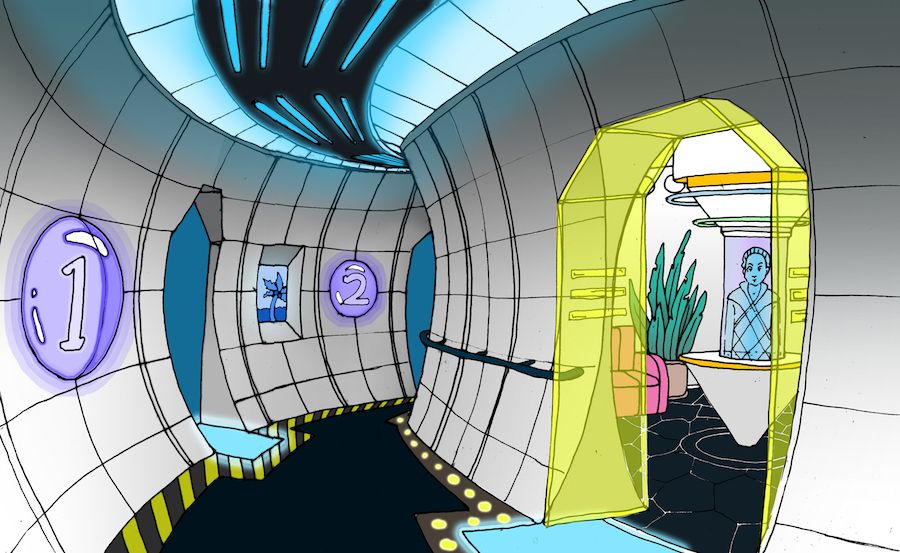 General manager Amanda Clay relocated from Chicago.  She says, "Things kind of exploded quickly, and we're still exploding. Every week we've been adding to our payroll."
Meow Wolf, now has around 150 staff. Business success, however, can come at a cost. Kadlubek understands the company, a collaboration of 100 local artists, will face a challenge as it grows.
Santa Fe is Home but Expansion Planned
"We want to grow. We want to reach more people, reach more artists, create more things. We're in this growth moment; it's been a real challenge to reconcile business with an arts collective."
The size of school groups has been limited to 50 per visit. Staff noticed that groups bigger than 50 could detract from the experience.
Currently, 70% of ticket sales are from New Mexico residents. This means that Meow Wolf must consider repeatability. It therefore closed the exhibit for two weeks recently to update the space and add new features. These included a crystal grotto and interactive sounds. There is also now a refurbished washing machine which functions as an additional entrance to the larger exhibit area.
Meow Wolf has also enhanced its gift shop and its public spaces. It is also working with artists to create a colouring book and coffee table photo book. Each will be for sale in the gift shop. The space also plays host to a variety of events such as workshops and live music performances
The founders — Kadlubek is one of six — structured Meow Wolf like a startup business. They sold $1.5 million in bonds to investors. This initial offering has now either been repaid or restructured. Kadlubek says the group is now planning to raise $7 million for further expansion.
Although expansion plans include an Austin or Denver site and a new warehouse (exhibits may take up to two years to design and build), the company knows where its heart is. "Santa Fe is our home, our manufacturing center. We're trying to become a real national or international company that's headquartered in Santa Fe."
Main image: Aspen Eye Forest concept art by Caity Kennedy. Others as captioned.
https://www.santafenewmexican.com/news/business/after-drawing-k-visitors-in-first-year-meow-wolf-works/article_79bb9799-860a-5904-b9c6-2deff0de02e0.html