Belgium's love affair with animation is enduring. So what better theme for a brand new attraction, Comics Station Antwerp, in the heart of Flanders?
Speaking exclusively to Blooloop, Comics Station Antwerp founder and CEO Wim
Hubrechtsen (right) tells us why this new four-floor facility in the city's train station offers the ultimate multi-generational family experience.
A comic affair
From Belgium, we are known across the world for our comics, but until now there was no theme park where people could enjoy many of these characters.
One morning I spoke to two of my former colleagues about doing an attraction. Jeroen
Jespers, Mark Kiekens and I used to work together at [Plopsa Parks owner] Studio 100. They liked the idea, and by 11am the three of us were together in Antwerp Central station looking for a site.
Two weeks later we got the green light from NMBS, the Belgian railway company. It took considerably longer than that to get all the necessary permissions, but we were off.
Jeroen, Mark and myself are the main shareholders of Comics Station Antwerp. We also have backing from the Flemish government, the biggest book publisher in the Benelux, and also a private equity player, who is the smallest shareholder with just a few percent. The total investment is €13 million.
https://www.youtube.com/watch?v=udz7z8P41Zs
In thinking about what would be realistic as an attraction, it was clear to us that it would have to be an indoor park. We could not do an outdoor park because it would be much more complex and expensive. So we decided to do an indoor attraction. It also had to be, however, much more than just a regular family entertainment centre.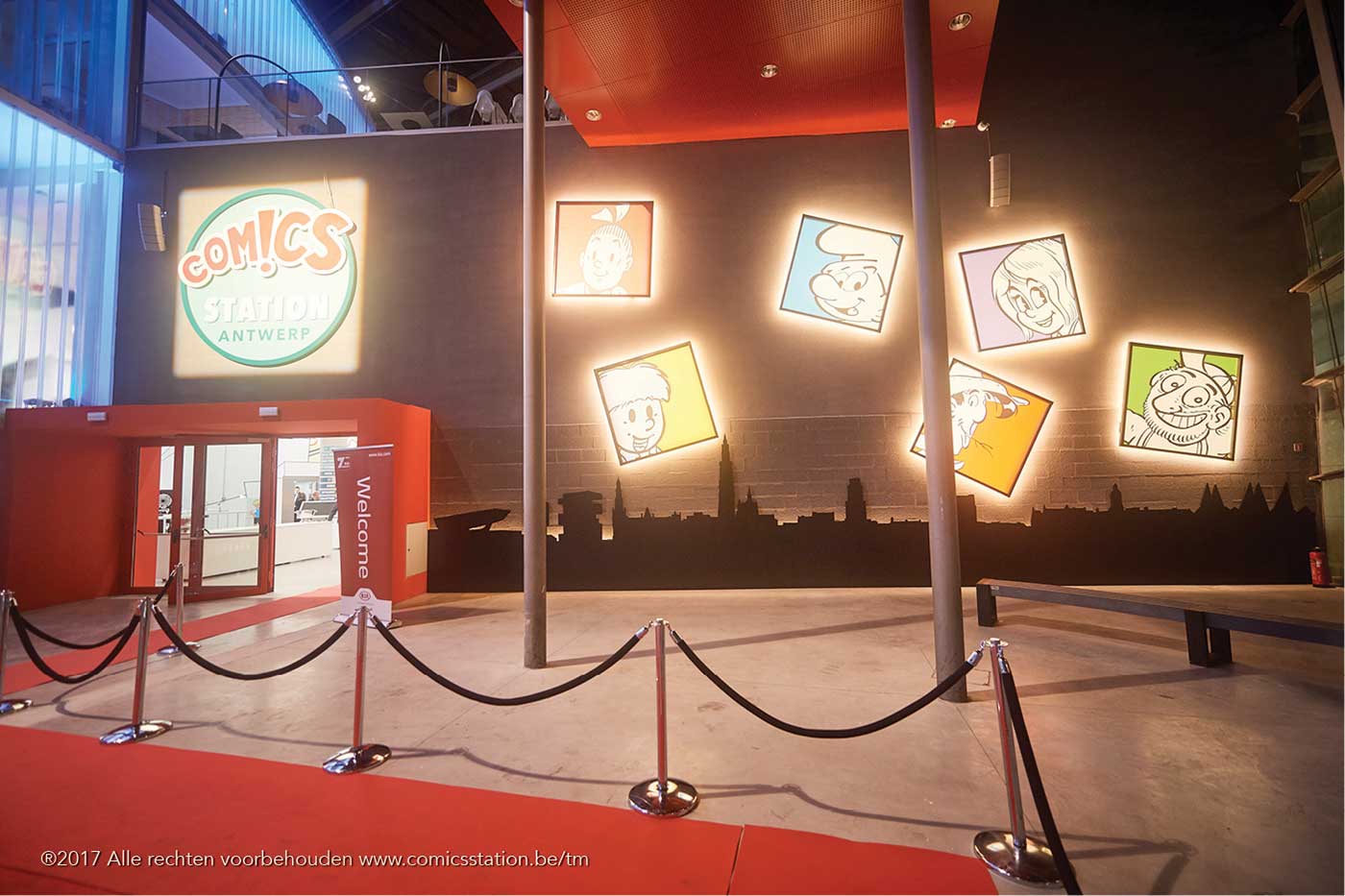 Characters for all ages (and languages)
For the initial concept of the park we worked with a freelance designer, a French guy called Julien Bertevas who was quite a long time with Compagnie des Alpes. He was very supportive of what we wanted to do, and I have to say he did a very nice job.
The idea for the park was to choose the most popular Belgian comic book characters, but ones that are still published. That was for us was an important consideration. The six characters we have chosen – The Smurfs, Spike & Suzy, Jommeke, Lucky Luke, The Kiekeboes and Urbanus – are known by several generations. Two of the oldest characters are already on the market for 70 years. Even our youngest character is 35 years old! My parents know them all, I know them all, and my children know them all also. So grandparents can come here and share stories and tell their grandchildren things about these characters. We truly are a family park!
Most of the characters in the park are well known in Flanders, the Dutch speaking part of Belgium, and also the Netherlands. Most of them are also known in the French-speaking part of country; it's a bit of a mix.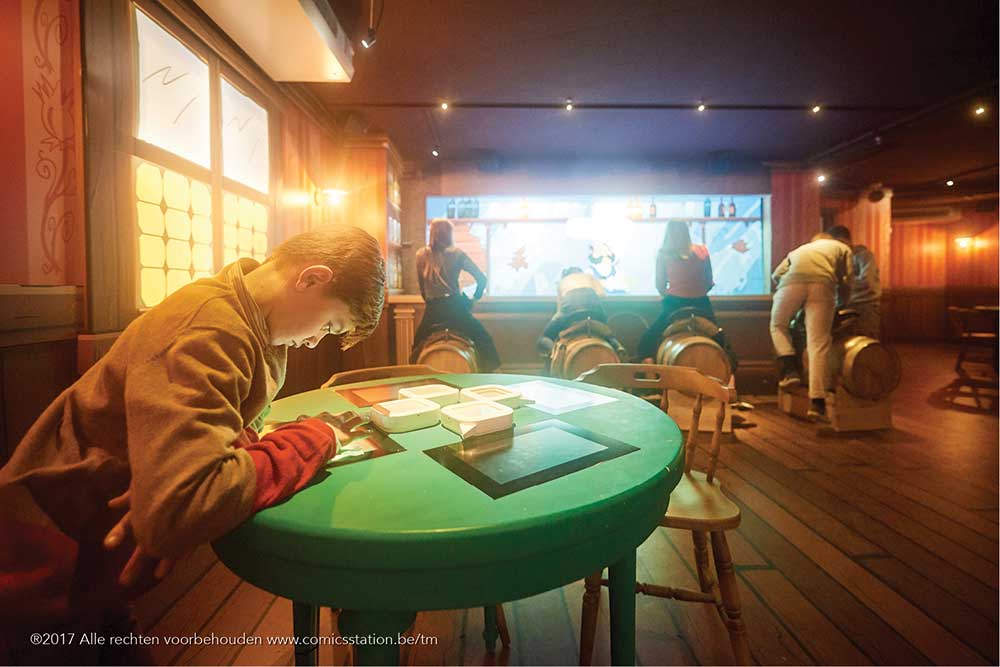 Central location
From the beginning, it was clear to us that we wanted to build this park in Antwerp. The city is very central in our country. It also attracts a lot of tourists from the Netherlands. We thought that trying to find a location in or near the train station would be perfect.
Not only can people get here easily, but also this area is already known for family entertainment. Zoo Antwerp is close by, there used to be an aquarium around the corner. There are cinemas near to us, as well as the big shopping street of Antwerp.
But there is no theme park in the city, there is not even a big indoor playground, so we spotted an opportunity.
Getting permission from the government to build in the station was quite difficult, especially as it is such a special building. Antwerp Central (below) has been voted the most beautiful railway station in the world.
To get the space we needed, we had to build over four levels. We have 6,200 square metres of space in total.The building stands 32m above the ground and 18m below ground level. Most theme parks or FECs are built flat or on one level, maybe two levels. To open it up inside for the visitors, we built it a bit like a shopping mall with big walkways that lead off into the different themed zones.
Smart park
We have 60 activities in the park, including interactives, rides, a fun house and 4D cinema. We think that it will take an average time of three to four hours for people to do everything in the park. When guests enter, they exchange their ticket for an RFID wristband. This contains information about their age, nationality and other basic facts. They then scan this wristband at each attraction.
This allows us to tailor the content to their age, ability and also display information in their chosen language; Dutch, French or English. This system also provides us with some really useful data so that we know which attractions guests are enjoying the most. This will be invaluable to us over the coming years as we develop the park.
All of the attractions you can do together as a family. In the fun house, we can imagine that grandmother might not be willing to go on all the tricks. However, we have a little path that she can stand on alongside her grandchildren as they enjoy the tricks.
Story-driven attractions
Everybody is always talking about storytelling, but for us it is really important. We really want to get people into the stories and the worlds of our comic book characters. The rides that we have in the park are not the most spectacular, but visitors are not doing the attraction because of the mechanical ride. What we do is integrate the rides into the story that we are telling.
For example, we have a drop tower. Because we are indoor park it is just over 10 metres high, but we built it over several floors. The story is that you are entering the house of The Kiekeboes. The mother, Charlotte, welcomes you and you take your seat on her supersonic couch before the show begins. The couch then lifts you up through the house. On the first floor you see the daughter, Fanny, having a bath. It's all very tasteful, but she is screaming and spraying water in the face of the guests.
The story continues as you move up through the house. On the top floor, the father, Marcel, is trying to replace a light bulb. Then the light suddenly goes off and some bats come out of the roof. Marcel starts waving his hands and falls off his ladder. At this moment there is blackout and drop down, completely in the dark. It's all very entertaining, yet when people are in the queue for the attraction we do tell them anything about the ride; all we stay is that you are going to have a visit to the house of The Kiekeboes.
Comics Station Antwerp: where all IPs are equal
Having been before at Studio 100, my colleagues and I knew what could be achieved with IPs (intellectual properties). Getting the licences for the different characters at Comics Station was relatively easy. As a lawyer, I had worked with most of the rights holders and publishers on previous projects. This, however, was the first time all these characters had come together in one project and, you know, rights holders are a bit like artists. It was a bit like saying who is the most important, The Beatles, The Rolling Stones, Michael Jackson or Madonna? Eventually we came to an agreement that everyone was equal.
By choosing characters that are still in print, we have a constant flow of new content for our park. We can easily change or adapt the zones. Even if we take out the all scenery, the technical infrastructure is still there to build something new.
We opened the park on April 9, and so far it has been kind of crazy. Really though it's far too early to say how successful we will be. We hope to get approximately 200,000 people per year. That seems realistic based on the region we are in, the capacity we have and also other attractions in the neighbourhood. School groups are also an important part of our business model.
For us, this it is not a short term project. We have a long term agreement with the Belgian railway company. Hopefully we will be around for as long as some of the great comic book characters inside our attraction!
Wim Hubrechtsen was in conversation with Owen Ralph.
Comic book attractions
Families can enjoy 60 attractions all year long at Comics Station Antwerp. One of the most striking is Comics Twist, a stainless steel slide that spiral down across several levels and greets guests in the lobby. Built by the German company Atlantics, it is thought to be the biggest indoor slide of its kind, at 51m (167ft) in length and 22m (72ft) high.
The aforementioned Kiekebos drop tower was supplied by Moser's Rides and features a completely new kind of support structure. "Normally you would have a self-supporting tower structure with a big base," notes Wim Hubrechsten. "We wanted a slim structure that we could put across different floors."
A Smurfs -themed dark ride featured interactivity by Alterface. Gosetto supplied the transport system and the 'tricks' (effects) inside the park's fun house.
Meanwhile Alterface also supplied a Lucky Luke themed interactive theatre. Spinning bumper cars by Sela Cars feature custom-themed bodies resembling flying saucers. A 15m (49ft) tall playground was supplied by the Belgian soft play manufacturer Ameco and accommodates up to 250 children at a time.
Lucky Luke at the 4D cinema
Lucky Luke is also the star of Comic Station's 4D cinema, where nWave provided a new rendering of its Haunted Mine movie, with custom content by Red Star 3D. Elsewhere the park features interactive features by de Pinxi and Haute Technique.
Admission to the park is €21,50, or €19.50 for those booking online. For just €8 extra, anyone aged 12 or older (or no surcharge for those under 12) can buy a combination ticket including train travel from anywhere in Belgium. A special price is also available for those who want to come in and use just the playground.