Parques Reunidos has announced a deal with FC Barcelona to develop five indoor entertainment centres themed on the Spanish football club.
The five entertainment centres will be constructed over the next five years. Each will have an average footprint of 5,000sqm and will offer a family-friendly, sports-based experience combining physical education and entertainment through interactive activities.
They will explore the history of FC Barcelona including its best moments, past players and roots. A promotional video states that visitors will get to test their football abilities in a variety of challenges. It also shows immersive cinema and virtual reality experiences that include a flight over the Camp Nou stadium.
Locations for the centres have not yet been announced but statements from both Parques Reunidos and FC Barcelona indicate that they are targetting the US, Asia and Europe.
Manel Arroyo, vice-president at FC Barcelona, said "The agreement with Parques Reunidos will help us cast our brand in strategic territories such as the United States or several Asian countries, thus offering our fans a 100% Barça experience while we establish a new source of income."
The deal is part of Parques Reunidos growth strategy to develop indoor entertainment centres in shopping malls and landmark buildings around the world. The group is also developing entertainment centres with other international brands including Discovery, Lionsgate and Nickelodeon, and has developed an original brand, Atlantis Aquarium.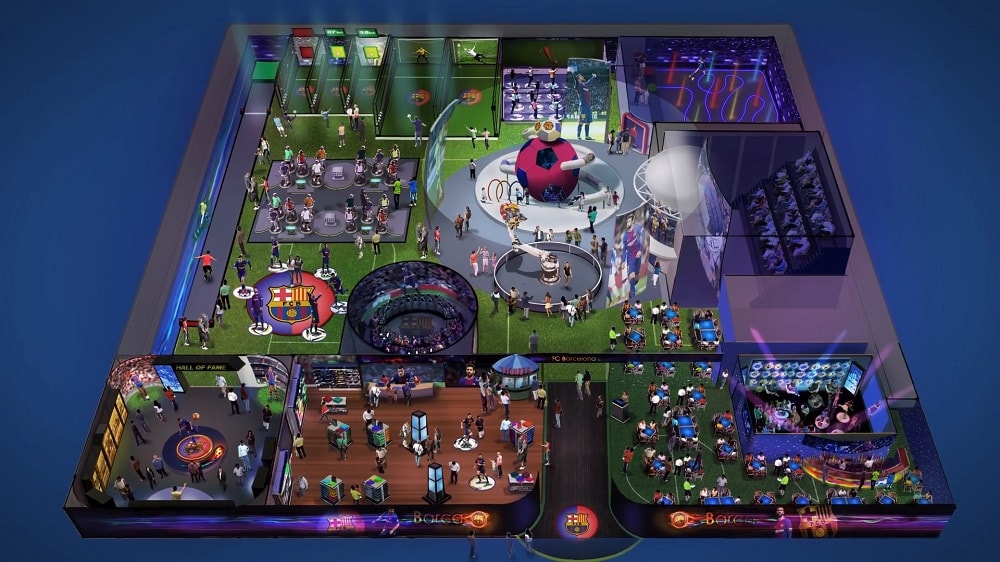 Fernando Eiroa, CEO of Parques Reunidos, said: "This partnership with FC Barcelona represents an important milestone within Parques Reunidos' growth strategy. Our company is constantly seeking opportunities to expand and offer unforgettable experiences for the entire family.
"Through these new centres, Parques Reunidos will be the first company to offer an innovative and thrilling entertainment and sports experience for all football lovers in Asia, the United States, and Europe in partnership with one of the best football teams in the world."
Blooloop first reported news of the deal between the two organisations last October.