Coaster fans have a lot to look forward to this year, with new thrill rides expected at Six Flags over Texas, Walt Disney World, Motiongate Dubai, Parc Asterix, Fårup Sommerland and many more parks around the world. Here, we count down the top 22 new extreme coasters coming in 2022.
22. Aquaman Power Wave (Six Flags over Texas, USA) and Giant Splash (Lotte World Magic Forest, South Korea)
A pair of Power Splash coasters from Mack Rides will open over the next few months. While on the surface these may at first appear to be flume rides, the experience is actually all roller coaster.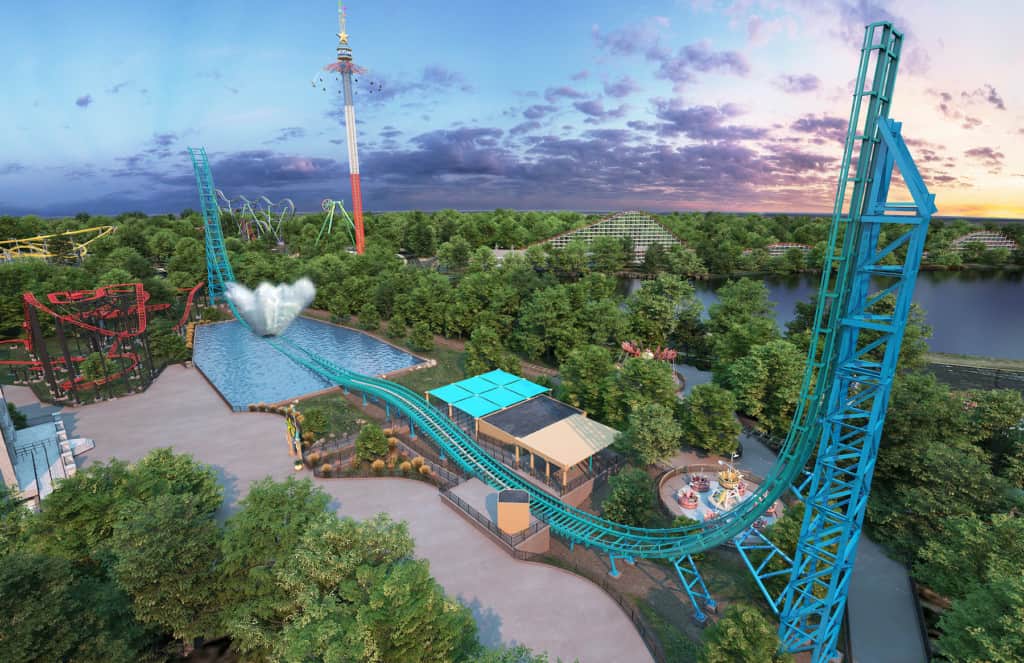 The boat-shaped cars are rocketed forwards and backwards on this shuttle-coaster style layout by an LSM launch system, and really only touch the water during the final plunge when a channel around the coaster track is flooded with water at the last second to allow for the ride's signature big splash moment.
These look to be a lot of fun. Also, the one coming to Six Flags will be the first such ride to hit North America.
21. Tron Lightcycle/Run (Magic Kingdom/Walt Disney World, USA)
Officially this clone of the Disney ride first built for Shanghai Disneyland has not been confirmed as opening during 2022. However, there is a good chance that it will be ready sometime just before the end of the year.
The coaster hardware has been provided by Vekoma and will launch riders sitting on video-game style motorcycle themed cars outside of the show building briefly, before returning inside for the remainder of the special effects enhanced ride as guests enter a video game battle to score the most points on the Grid. To the victor go the spoils, and the loser gets derezzed.
20. John Wick: Open Contract (Motiongate Dubai) and Tumbili (Kings Dominion, USA)
A double-entry on our list of the best new extreme coasters for 2022, a pair of the ever-popular S&S – Sansei 4D Free Spin coasters will open this year in interesting locations. Tumbili at Kings Dominion will have jungle theming and marks the first such coaster purchased by a park in the Cedar Fair chain.
The second one is a little more interesting. Located in Motiongate Dubai, the spinning coaster from Maurer Rides will be themed to the popular John Wick film series. Guests will enter an indoor queue themed to the "Continental" hotel from, the film series. Based on the concept artwork, it appears that the lower half of the ride where guests are loaded and unloaded has been hidden from view by themed building facades. 
19. Palindrome (COTALand – USA)
A small collection of family and thrill rides have been arriving over the past couple of seasons in a most unusual place.
Located at the Circuit of The Americas race track in Austin, Texas, the attraction surprised everyone by announcing that it was building Palindrome, a custom layout Gerstlauer Infinity Coaster.
This will feature a vertical lift hill and a 95º beyond vertical first drop. It then goes through two inversions before stalling out at the top of a vertical spike track. Following this, it rolls backwards through the entire course a second time. The coaster will then stall out once again on the first drop before rolling forward into a turn-table that will return the cars to the station.
18. Bombay Express (Bollywood Parks Dubai)
The building of a new wooden roller coaster is always a special thing. And this one will surely stand out as being very unique in the heart of Dubai. The Bombay Express comes to us from Great Coasters International, but otherwise, we know nothing of the coaster's official stats.
We only know that vertical construction on the coaster's lift hill was spotted way back in 2020 and that the opening of the coaster was likely delayed due to the pandemic. Otherwise, the coaster is expected to open in the near future.
17. Unknown Intamin Launched Coaster (Lost Island Theme Park, USA)
Unlike our last coaster, virtually everything is already known about this coaster other than the name. Before being shipped to America to be one of the opening attractions of this brand new theme park in Iowa, this Intamin Launched Coaster first opened at Liseberg (Sweden) as Kanonen.
A lot of extra work was done to refurbish and upgrade the coaster to run in the US. Hopefully, it will impress as it will probably be the park's most popular coaster.
16. Tonnerre 2 Zeus (Parc Asterix, France)
This was originally built as simply Tonnerre de Zeus and built by Custom Coasters International in 1997. Recently, the wooden coaster at Parc Asterix has had a complete refurbishment and remodel by The Gravity Group.
Over the past couple of seasons, some of the layout has been altered to include more banked turns, some extra small hills, extra banking. Now, all-new themed Timberliner trains from GravityKraft will be added when it opens later this year.
Of special interest will be the last row of the train where the car will be mounted to run backwards.
15. Ice Breaker (SeaWorld Orlando, USA)
Originally built and intended to open for the 2020 season, this entry on our roundup of the top new extreme coasters for 2022 will seem like deja vu. Fans have been waiting for the past two seasons for this custom layout coaster to open.
Built by Premier Rides, the coaster will feature an LSM multi-launch start as the train rolls between the first hill and a tall spike track on the back-half before gaining enough momentum to make it up and over the hill and onto the rest of the coaster's layout.
Ice Breaker will serve as somewhat of a middle-ground coaster when it comes to thrills. It offers no inversions but has a fast yet fairly low to the ground layout. This is sure to appeal to more in-experienced coaster riders who may feel they were not quite yet ready for the park's bigger coasters like Kraken, Mako or Manta.
14. Defiance (Glenwood Caverns Adventure Park, USA)
This is a custom Gerstlauer Euro-Fighter coaster heading to a most unusual setting in the Colorado mountain wilderness. With a vertical lift hill, a beyond vertical first drop, two inversions and the most beautiful setting you can ask for, this ride is sure to have a lot of appeal, if it opens in 2022.
The only reason I say "if" is not long after the announcement of the new coaster, tragedy struck the park. A six-year-old girl perished on the park's custom drop tower ride. While the new coaster was already announced, we haven't heard much about any kind of construction progress on this one.
13. Big Dipper (Luna Park Sydney, Australia)
This unique coaster is the first one on our list of the best extreme coasters for 2022 to already be open. The ride actually opened to the public on 26 December 2021.
The new coaster is the first single-rail Hot Racer roller coaster to come from Intamin. It features a compact low to the ground layout with two tire-propelled launch tracks and 2 inversions, along a twisted layout.
12. Guardians of the Galaxy Cosmic Rewind (Epcot/Walt Disney World, USA)
The first roller coaster built at Disney's Epcot theme park is going to surprise a lot of people. Especially as this will also be the first Marvel-themed ride to open at Walt Disney World.
The attraction will feature video appearances by the cast of the Guardians of the Galaxy films. It will launch guests backwards on a wild adventure through one of the world's longest fully enclosed roller coasters.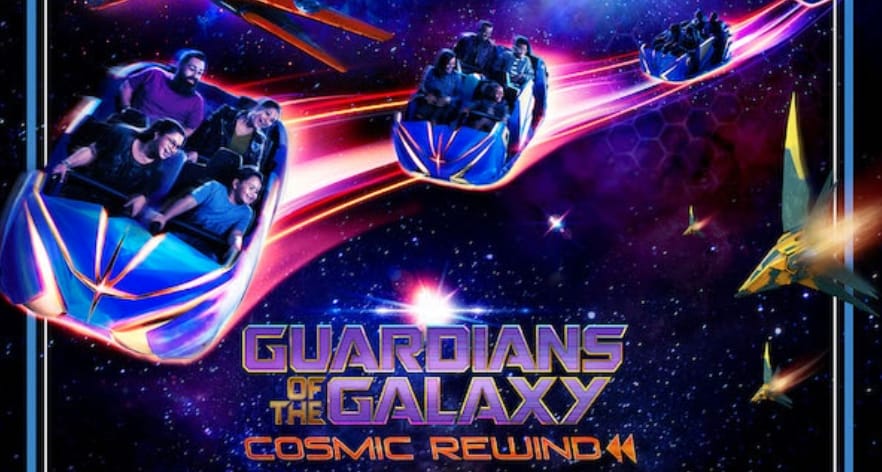 If the ride length of 5,574 feet, special effects and a musical soundtrack weren't enough to thrill you, then the controlled spinning of the ride's cars will provide the icing on the cake for a unique experience like no other. Expect long lines for this one. As one of the top new extreme coasters for 2022, it may be the most popular ride in Orlando once it opens this summer.
11. Unnamed 10 Inversion Intamin Coaster (Flamingo Land, UK)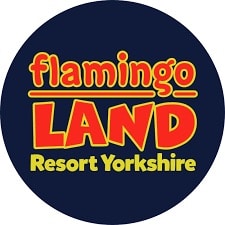 Another roller coaster that has yet to be given a name, this 10 inversion monster coaster was actually first sold by Intamin to open at the Hopi Hari theme park in Brazil 10 years ago. While the ride was delivered, financial hardship by the Brazilian park made them unable to build it and the ride was put up for sale.
Flamingo Land was not the first buyer, however. The ride was briefly sold to the Movie Animation Studio park in Malaysia, which was also unable to build it before it closed down for good in early 2020. Fully assembled over the past year, we look forward to hearing about when this slumbering beast might finally open.
10. Giant Digger (Lotte World Magic Forest, South Korea)
Mack Rides will open another clone of its popular Blue Fire Launch Coaster at the brand new Lotte World Magic Forest theme park. The new park in South Korea is set to open in early 2022.
Riders will be loaded into an LSM launch and sent off at 62mph into a 3,464-foot layout. This features twists, dives and four inversions before returning to the station.
9. Fønix (Fårup Sommerland, Denmark)
Next on our list of the best new extreme coasters for 2022 is this custom creation from Vekoma. Opening this year in Denmark, it includes a number of high thrills, as well as an assortment of low to the ground terrain thrill features.
The coaster, named after the legendary Phoenix, will stand with a modest height of 131 feet and hit a top speed of 59 mph, as it travels across 2,969 feet of track and through 3 inversions. One of the inversions will actually be a corkscrew. This threads itself over and through the roller coaster's loading station just below, providing a unique thrill.
8. Emperor (SeaWorld San Diego, USA)
Another deja-vu listing for coaster enthusiasts out there, this is the second of four new roller coasters originally set to roll out to the SeaWorld Entertainment theme parks in 2020.
This B&M ride will be the first "Dive Machine" or "Dive Coaster" in the Western United States. It will be a little smaller than the siblings built on the East coast, standing just 153 feet tall with a 143-foot vertical first drop and 3 inversions.
7. Roaring Timbers (Sun World Hon Thom Nature Park, Vietnam)
A very fun looking new wooden coaster is coming to Vietnam this year from Great Coasters International. It will have a modest 2,798-foot length but will kick off the adventure with a 95-foot lift hill. This will make for a very fast and intense ride experience from start to finish, earning it a spot on this roundup of the best new extreme coasters for 2022.
6. Dr. Diabolical's Cliffhanger (Six Flags Fiesta Texas, USA)
A second B&M Dive Coaster will be coming to the US in 2022, this one to the Lone Star State. Similar in stature to Emperor opening at SeaWorld San Diego, Dr. Diabolical will stand 150 feet tall. It will feature a 95º beyond vertical first drop into a 2,501-foot layout with 2 inversions.
Dr. Diabolical will also offer something brand new… a unique new train layout featuring 3 rows of 7 seats.
5. Leviathan (Sea World Australia)
A large new wooden coaster will soon open in the southern hemisphere from Martin & Vleminckx and comes in at number five on our list of the top new extreme coasters for 2022. The coaster will feature a compact but fierce-looking layout. It stands at 105 feet tall with 3,280 feet of track and a top speed of 50mph.
The last row will be of particular interest to coaster lovers. Here, the themed Timberliner car will be mounted backwards to offer an extra thrill.
4. Wonder Woman Flight of Courage (Six Flags Magic Mountain, USA)
This is the latest single rail "Raptor" coaster design from Rocky Mountain Construction. The new coaster coming to Six Flags' premier west coast park will be a near clone of the Jersey Devil Coaster that opened at Six Flags Great Adventure in 2021.
Wonder Woman Flight of Courage will be a bit longer, however. This is mostly because of the extra track required due to the position of the roller coaster's loading station. It should also be interesting to see if RMC has made any other small tweaks and improvements to the Jersey Devil layout to improve this latest version.
3. ArieForce One (Fun Spot Atlanta, USA)
Next on our list of the best new extreme coasters for 2022 is an all-new custom roller coaster creation from Rocky Mountain Construction. ArieForce One will use the same IBox Track that RMC used on the Hybrid coasters, on a custom out and back layout created just for Fun Spot Atlanta.
This will cross from one side of the property over to the other on 3,400 feet of track at a height of 155 feet and a top speed of 64 mph. Riders will go on a wild adventure down an 83º first drop and through 4 inversions before returning to the station.
If the animation and concept artwork is anything close to the final product, the ride experience here could be fairly relentless.
2. Pantheon (Busch Gardens Williamsburg, USA)
Our third deja vu coaster delayed from 2020 is again from the SeaWorld Entertainment parks chain. This one is a multi-launch coaster experience from Intamin and is a custom design for Busch Gardens Williamsburg.
The stats for Pantheon are quite impressive. The coaster will feature a top speed of 73mph and a maximum height of 178 feet. It includes a beyond vertical drop of 95º, two inversions, an outward banked airtime hill and more.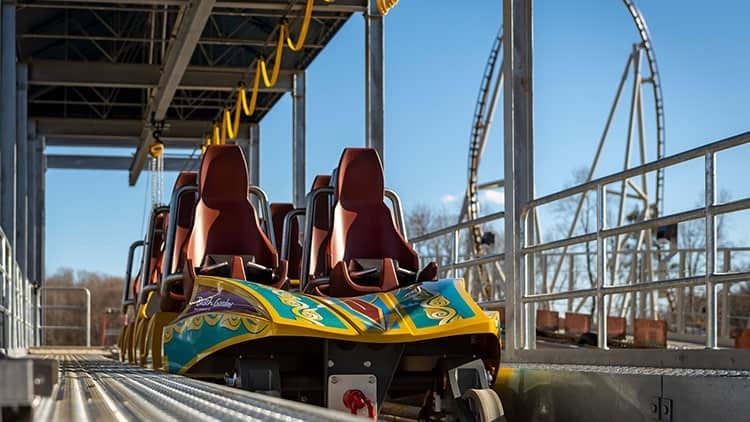 The great news is that the park has posted footage of Pantheon testing at full speed. It looks like a ton of fun and should be ready for guests when the park opens in early Spring 2022.
1. Iron Gwazi (Busch Gardens Tampa, USA)
Iron Gwazi is coming in again as my anticipated #1 spot in our list of new extreme coasters for 2022, after a dramatic transformation of the former Gwazi wooden coaster by Rocky Mountain Construction.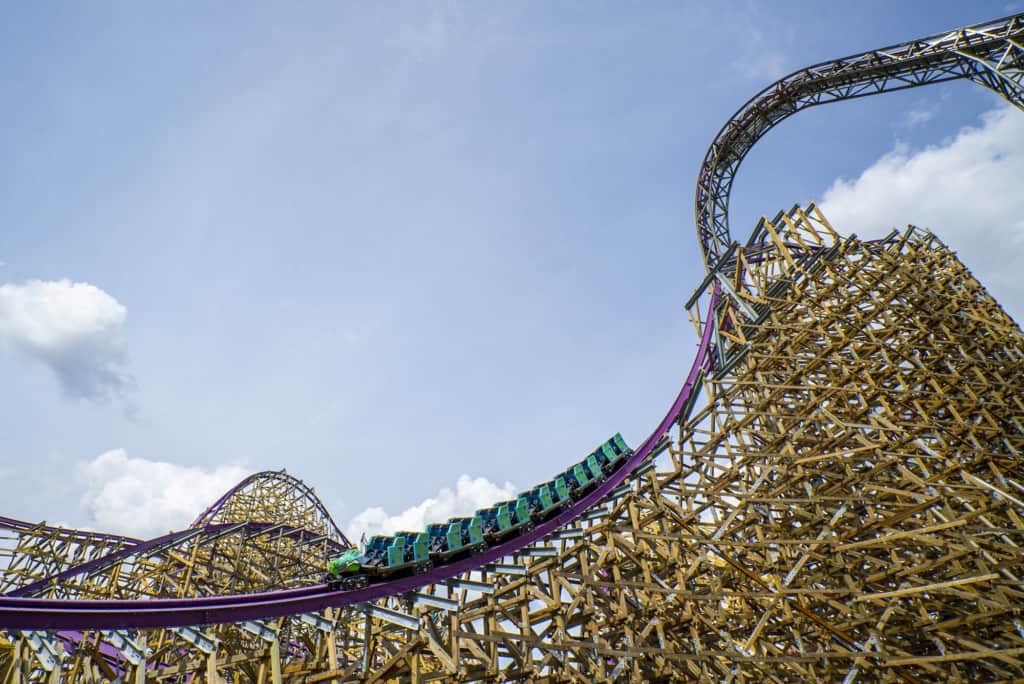 However, I do feel like it has lost a little something over the wait from the previous 2020 opening date. Perhaps more so than any other delayed coaster. This is because Iron Gwazi was actually making test runs in early 2020 before all the theme parks shut down due to COVID restrictions in March. Of course, a look at the layout and the stats will tell you that Iron Gwazi is still most likely going to be the top new experience this year.
With a 206 foot drop at 91º, a top speed of 76mph and trains that will fly through the entire 4,075-foot course in less than two minutes, you are going to have to strap in for the ride of your life, like it or not.