After the launch of a new Hotel Transylvania attraction this spring, Europe's largest indoor theme park, Dream Island in Moscow, is almost complete.
The presence of Russian President Vladimir Putin ahead of the park's launch ceremony last February signalled the cultural importance of this privately backed, $1.5 billion project. However, it traded for just 18 days before a COVID-19 enforced closure. The park reopened last July with limited capacity and now Dream Island's operators are planning future expansions.
The ambitious project was realised by businessman Amiran Mutsoev. Chairman of the board at Dream Island, he made his money in shopping malls and real estate with the Regions Group. But these are both crowded markets, especially in Russia. So Mutsoev set out to find another sector in which he could develop a niche.
To find out more about Dream Island, we speak to the park's Technical Director, Ivan Scholl.
Entertainment, retail and more
Dream Island offers more than just a theme park. Beneath its seven glass domes, the 300,000 square metre building also houses a large shopping mall, multiplex cinema, concert hall, restaurants and cafés. The split is roughly 50:50 between entertainment and retail. In addition, the wider 100-hectare site features an outdoor promenade with family recreation zones.
A 4-star hotel, children's yacht school, plus some more teen-friendly attractions are on the way in phase two.
One feature of Dream Island is a striking castle-like facade. According to the UK-based architects that designed it, Chapman Taylor, the look is based loosely on historic Kremlin architecture found in various Russian cities. It is also inspired by imposing Gothic buildings of Western Europe.
Bringing themed entertainment to Russia
"The market here is empty," says Scholl. "There is no concept of a theme park in the minds of most [Russian] people. Some travel to Spain, to PortAventura. Maybe some travel to Disneyland Paris. But it's not more than 5% of the people from our area."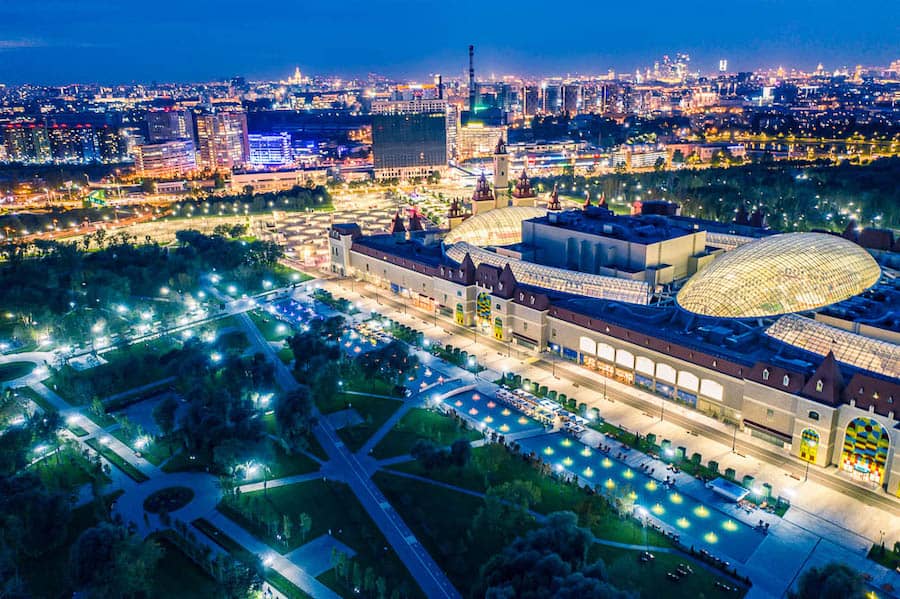 Now, Dream Island aims to change this.
Mutsoev was previously quoted as saying Dream Island, "Opens an entirely new chapter in the history of entertainment and commercial real estate market. Not only in Russia but the whole world!" Meanwhile, "Russia gets its Disneyland," was how The New York Times described the park's opening.
International IP and style guides
Dream Island has its fair share of intellectual property. After abandoning earlier plans to build a DreamWorks theme park in St Petersburg, Mutsoev turned his attentions to the Russian capital instead and adopted a multi-brand approach to IP. But his earlier efforts in St Petersburg had not all been in vain:
"Once we'd we signed the agreement with DreamWorks, it opened the doors to other IPs," says Scholl. "They saw that if we were working with DreamWorks, we were serious."
Dream Island offers visitors nine themed zones. Four of them are dedicated to globally recognised brands: Teenage Mutant Ninja Turtles, Hello Kitty, The Smurfs and Sony Pictures' Hotel Transylvania. Other areas include the Snow Queen and Dream Race.
Then there's Mowgli in Dino Land, which combines a Russian telling of the Jungle Book with a tried and tested Jurassic theme. Guests can also encounter Buratino, a local twist on the tales of Pinocchio.
"There were many cartoons made in Soviet times," says Scholl, "but they are very abstract and there are no style guides. For the Teenage Mutant Ninja Turtles, we received a very bold album of pictures and stories from ViacomCBS. It explained why the characters are like this, who are their enemies, how the place should look. With this, it's much easier to create a good place that really feels like you are in their world."
Dream Island – not just another shopping mall
Moscow, of course, is known for its harsh winters. In fact, says Scholl, "It is relatively cold most of the year. And it is raining quite often; more and more I would say as the planet changes."
Whatever the weather, recreation and retail are available 12 months a year at Dream Island. Guests can also stroll through its wide aisles unencumbered by bulky outdoor clothing thanks to what is claimed to be the largest coat check in the world.
Before they get to the theme park, visitors must pass through the shopping mall at the front of the building. The architectural facades, including replicas of the Colosseum in Rome and Gaudi's 'House of Bones' in Barcelona, were also inspired by two mixed-use developments in Los Angeles, The Grove and Americana at Brand.
"The idea was not to do another shopping mall, because we are full of shopping malls [in Moscow]," says Scholl. "We wanted to create streets replicating different areas of the world. All under the glass roof so, regardless of the time of year, people can enjoy natural light."
Urban regeneration and a new era of entertainment
Walking distance from the Tekhnopark metro station and 10 minutes drive from the Kremlin, Dream Island is located inside Moscow's third ring road, set on a bend of the Moskva River.
"The location is very good," says Scholl, who began his career in the amusement industry at the Russian ride manufacturer Pax back in 2007. "When we were selecting the site, southeast of the centre, Universal Studios Moscow was announced, located on the same route but further out of the city."
The Universal project seems unlikely to happen any time soon. The capital does already have some family entertainment centres and small outdoor amusement parks. Yet nothing on the world-class scale strived for at Dream Island. Themed projects are still few and far between in Russia, says Scholl. He cites Sochi Park, built for the Winter Olympics in 2014, as one of the few exceptions.
A strong vision for Dream Island
Phil Taylor from Team Leisure worked with the development team at Dream Island during the project's early days:
"From the beginning, they had a strong vision to create a unique indoor park anchored by a range of international movie-based IP," he says. "Given the complex licensing negotiations required to deliver that vision, it's great that they've been able to pull it off, in such difficult market conditions."
The theme park at the heart of Dream Island was designed by Cuningham in the USA, whose previous credits include projects for Disney and Universal. Land Milano provided landscaping, whilst guest throughput was calculated by the Italian company MIC (Mobility In Chain). Theming was provided by Russian companies including Iolla and Art Berendeevo Studio.
In total, Dream Island features around 35, rides, shows and attractions. Thrill-seekers can get their coaster fix on Shred The Sewers from Intamin, as seen in action above. This 559m long and 25m high LSM launch coaster features four inversions and reaches a top speed of 80km/h as it races through a New York City landscape inspired by the Teenage Mutant Ninja Turtles movie franchise.
Also featured in this area of the park are Baxter Stockman's Hammer of Doom (SBF/Visa swing ride) and Kraang Prime's Abyss (Fabbri freefall tower).
Dream Island's rides and attractions
A second roller coaster is located in the Dream Race area. Named Race Of The Future, the spinning 'mouse' style ride by Fabbri features added VR content. Close by, Dream Grand Prix features 20 drivable cars by SB International.
One of the largest concentration of rides is within Mowgli In Dino Land. The selection here includes a Suspended Top Spin (Huss Park Attractions), Sky Fly (Gerstlauer), Cobra (Zamperla Disk'O), City of Monkeys (Zamperla Magic Bikes) and Lianas (Sunkid interactive tower).
Opening soon will be a flying theatre called On The Wings of the Wind. This will feature a 72-seat Movie Base XS system from Huss, supported by AV from Kraftwerk Living Technologies (KLT).
KLT was also responsible for the 4D theatre Snow Queens Library. Twirling its passengers over the same area of the park is the Ice Carousel (wave swinger) by Preston & Barbieri. The Italian manufacturer also supplied a teacup style ride called Sweet Carousel. This is located in the Hello Kitty area, together with a children's beauty parlour.
In Smurfs Village, families can walk between colourful giant toadstools as they seek out attractions including a custom-themed Polyp from Gerstlauer and Gargamel's Tower – as seen above. Based on the evil wizard of the same name, this features an enclosed Drop 'n' Twist tower ride from SBF/Visa with added interactive elements from Lagotronics Projects.
Dark ride and holographic shows
Opened this spring, Hotel Transylvania is the first large scale dark ride of its kind in Russia. The attraction had been due to debut along with the rest of Dream Island last year but was ultimately delayed by the pandemic.
Unable to enter Russia for several months, representatives of ETF Ride Systems and animatronic specialist Heimotion had to commission the ride under remote supervision. The results are worth the wait, says Scholl, and it's quickly become one of the park's most popular attractions.
"There's no height limit, anyone can do this. We wanted to create not only a ride but a story, starting from the moment you enter the castle. There is continuously something happening around you, immersing you into the haunted theme. The ride itself lasts about three minutes. But together with the pre-show, you receive something like 10 minutes of entertainment."
Holographics are used in two of the park's shows, featuring the characters Buratino and Mowgli respectively.
Dream Island's attendance goals
In addition to the theming, lighting, colour and sound provide each area of the theme park with its own ambience.
When repeat visitors to the theme park, shopping mall and supporting facilities are taken into account – and the pandemic has subsided – Dream Island is expected to generate as many as 70 million visits a year. Or 7.5 million for the theme park alone.
Daily capacity is currently capped at under 50%, but attendance has come close on several occasions. Helping swell the numbers were the roughly 300,000 medical workers who have enjoyed free park admission over the past year.
"We were doing relatively good numbers until the second [COVID] wave came," says Scholl. "Now we are recovering quite well. I am not sure about attendance by the end of the year. What we can say is we will not be the top in Europe, but we will appear in some charts."
Tweaking the ticketing
In February, the park introduced a new pricing system. This replaced the previous fixed price model, which worked out at around $150 for a family of four. "They were not ready to spend this money without knowing the product," says Scholl.
Now guests can choose from an all-day ticket, a premium fast pass option, or an entrance ticket/card, on which can they pay for rides or upgrade as they go. The system was provided by Infomatika, which provides metro/subway ticketing in various Russian cities and also worked on the 2018 FIFA World Cup.
The entrance card is available for just 500 rubles ($6.85), or 700 rubles ($9.50) at weekends. This has significantly increased footfall inside the park. Buyers of these tickets do not do as many rides as those who buy the all-day option. But they do come back.
"We are learning," says Scholl – and so are his guests. "This market is not like the UK, Germany or France. "They are not used to queues, and they do not understand rides in 'boxes'. They are used to flat rides, where you can first see the experience and then pay for it."
Dream Island's expansion plans
Scholl describes Dream Island's overall ride offering as "family thrill". To address a lack of attractions for those between 0.9 and 1.1 metres in height, management has already begun adding rides. This includes an evergreen that was missing from the line-up at launch: bumper cars.
Scholl won't give a firm date for the expansion of the park's outdoor area. However, it would be understandable if plans were derailed somewhat by the pandemic.
"At the moment we are in pre-masterplan, working with our art director to define the rides and spaces. We see the necessity to build demand during warmer periods. We would like to offer more thrilling attractions to widen the audience to teenagers and young adults."
What about Amiran Mutsoev's plans, reported elsewhere, to develop further theme parks and entertainment facilities elsewhere in Russia? "Let us first build this expansion," says Scholl.
Images courtesy of Dream Island, Intamin and Lagotronics Projects