Europa-Park has released new details of the €180 million highly themed water park Rulantica and multimedia brand, as its new Krønasår museum themed hotel opens.
Set to open on November 28th 2019, Rulantica is a highly themed water park featuring 25 water attractions including 17 water slides. The €180 million, 450,000 sqm (32,600 sqm indoors) elaborately themed Nordic adventure world includes nine themed areas and has a capacity of 5000 visitors per day (3500 at any one time).
The story behind Rulantica and Krønasår is the basis of a new multimedia brand. MackMedia and Mack Solutions have worked with Coppenrath to develop the tale of two orphans who hide in a natural history museum and discover the secrets of a mystical Nordic island. The first part of a two book series will be presented at the Frankfurt Book Fair in October and will be available in German bookstores from the end of 2019.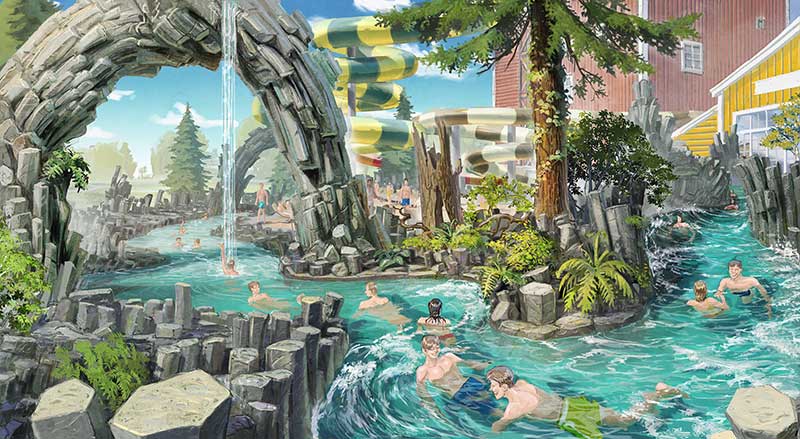 Rulantica and the museum themed hotel Krønasår are the first phase of a 45 ha expansion.
Europa-Park owner Roland Mack says, "The expansion of our overall offering and the realisation of this unique water world are an important step towards securing our location. We can´t afford to stand still if we want the region to remain attractive for visitors who come from further afield. This lighthouse project doesn't only give positive impulses for the development of tourism, it also creates 550 new jobs together with hotel 'Krønasår' and improves the leisure value for the local community."
Visitors can explore Rulantica ahead of the opening date here.
Rulantica zones and attractions
Vinterhal – Gigantic glacier mountain, Icy sea snake 'Svalgur', thrilling water slides including the 'Tornado Wave'.
Trølldal – Large water playground with flat pools and slides for younger guests as well as climbing and play facilities.
Rangnakor – This is a city on stilts for Rulantica´s inhabitants with thrilling water slides, eight exclusive 'Komfort Hyddas' and 'Komfort Sofas' and a bar and restaurant.
Vildstrøm – A wild river in the outdoor area of 'Rulantica'.
Frigg Tempel – A large outdoor pool with swim-up bar.
Snorri´s Saga – A cosy indoor flowing canal through the water adventure world.
Skip Strand – An activity pool and huge adventure playground with sailing ship, steamer, slides and climbing.
Skog Lagune – A relaxation oasis with bubble loungers and a swim-up 'Skog Bar'.
Lumåfals – A colourful grotto and waterfall with wave pool and restaurant.
Images: Europa Park