The Empire State Building has unveiled the second floor of its reimagined Observatory Experience. Now open, the $165 million project takes visitors to the streets of 1930s NYC.
Located on the second floor of the Empire State Building (ESB), the 10,000 square foot galleries tell the story of the building's construction to date.
The new galleries feature immersive and interactive exhibits, as well as views from the 86th Floor Observatory.
"While the views from the 86th Floor Observatory are world-famous, the Empire State Building has a rich history filled with exciting events and innovative projects that we are now able to share via our new second floor exhibits," said Anthony E Malkin, Chairman and CEO of Empire State Realty Trust.
Immersive and interactive exhibits at the ESB
"We began in August 2018 with the relocation of our Observatory entrance to 34th Street, and now our new galleries on the second floor give our visitors the chance to learn and engage with the iconic authenticity that only the Empire State Building, unique not just in New York City, but in the world, can provide.
"With the expertise of our design partners, these new galleries will engage visitors in unprecedented ways."
The new galleries include 'The Site in the 1920s', which features a panoramic image of the original site as construction started on the Empire State Building.
'Construction', inspired by Lewis Hine's photography, takes visitors back in time using surround sound, while 'Opening Day', as the name suggests, is an exhibit about the ESB opening day.
Explore the attraction from construction to date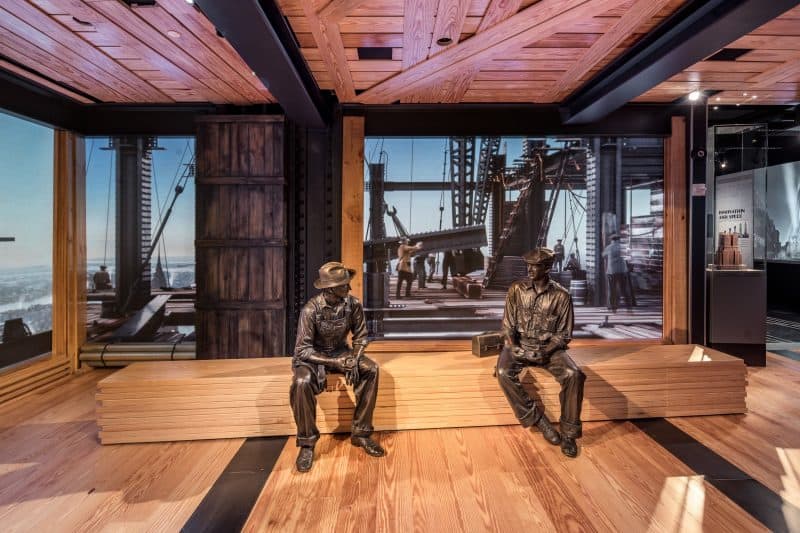 The 'Modern Marvel' exhibit details the sustainability and energy efficiency of the ESB, while the 'Otis Elevators' exhibit reveals how the original elevators worked and unveils the latest technology in the new elevators.
'Urban Campus' offers a look at the unseen floors of the Empire State Building, including its high-tech offices, and 'Celebrity' reveals some of the ESB's most famous visitors.
'King Kong' invites visitors to an office from the 1930s where King Kong dangled, and guests can even step into the giant ape's hands.
At 'World's Most Famous Building', more than 70 screens highlight the ESB's role in pop culture since the 1930s, including movies, TV, cartoons, comic books and video games.
Images: Otis Elevator Company