The IAAPA Attractions Expo 2016, run by The International Association of Amusement Parks and Attractions (IAAPA) was the most successful in the association's near hundred year history.
Held in in Orlando – the theme park capital of the world – November 14th to 18th at the The Orange County Convention Center. The IAAPA Expo continues to grow and this year's event broke both visitor and exhibitor records.
But in a rapidly developing industry what were the highlights? What made this show memorable and how did Jenny from Zero Latency (below) survive the 9 miles of aisles with only minor cuts and abrasions? Here's how: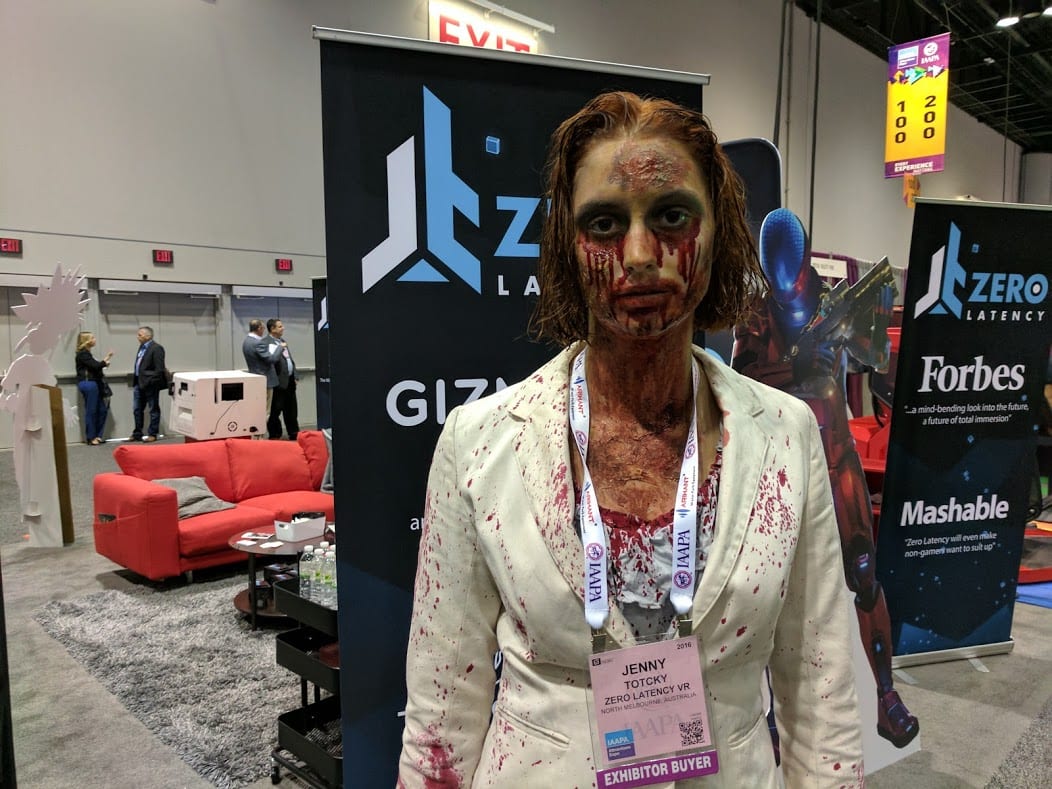 Facts & Figures
The global attractions industry generated $39.5 billion last year. As the industry's leading show, the Expo itself boasted impressive statistics:
22, 600 visitors registered as "buyers", compared with 21, 200 in 2015, a 7% increase.
Booth space was 1, 136, compared with 1, 066 in 2015.
Trade show's floor space grew to 578, 460 net square feet, from 558, 610 net square feet last year.
35, 100 industry professionals attended. (32, 900 for 2015, a 7% increase)
IAAPA estimated that the conference and exhibition contributed close to $51.3 million into the greater Orlando economy.
Give Kids the World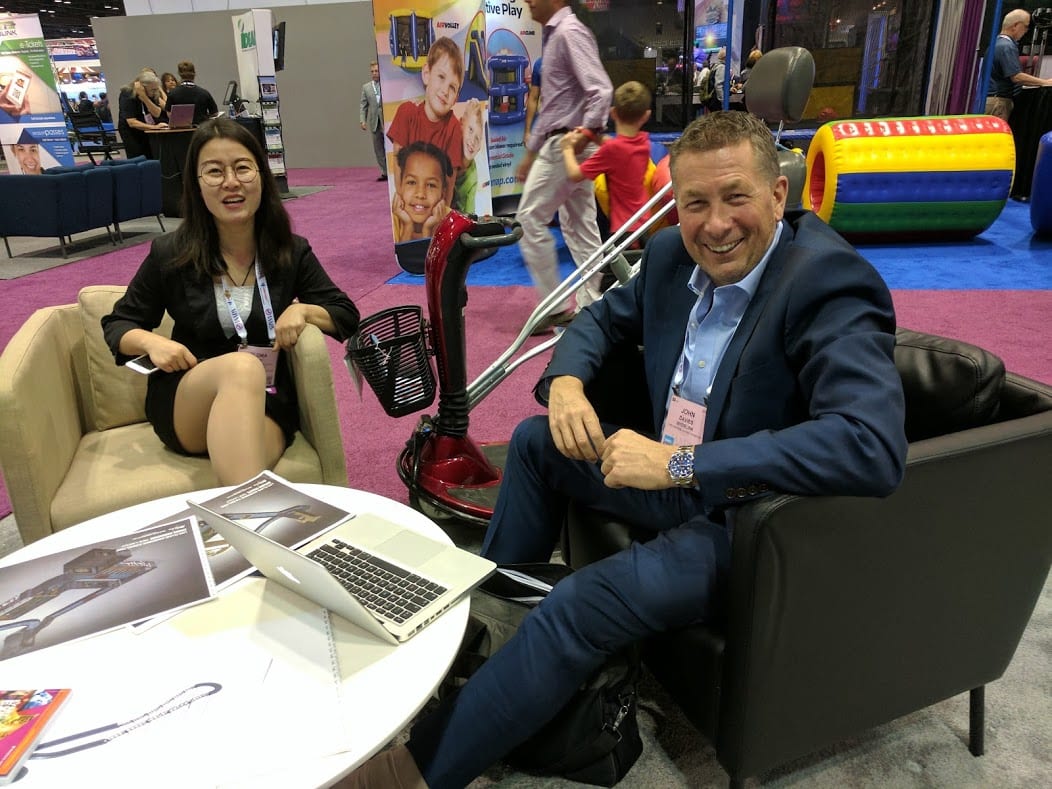 Expo attendees were again generous in their support of the local charity, Give Kids the World (GKTW). This organisation supports children with life-threatening illnesses and their families and its focus is on providing accommodation and access to donated theme park tickets.
Over the course of the week, various events, from a motorcycle ride, a golf tournament and a fun run and walk took place. Together with corporate donations these raised over $125, 000 for GKTW.
Interlink's John Davies (above right), who works with high-octane thrill rides and rollercoasters, spent most of the week on a mobility scooter after he was injured playing in the golf tournament. Golf is a rough, physical sport played by seasoned athletes like John. But in hindsight, it was ill-advised to equip the golf buggies with a constant supply of tequila slammers.
IAAPA Booth Life
As ever the booths were a dizzying mix of the unusual, the incredible, the innovative and the usual. Well over a thousand companies showed their wares. Here is a very small selection of things that caught my eye.
On Christie Digital's booth I was shown the brilliant effect created by the use of projectors on a static object, in this case a model car.
Mediamation, which recently announced that CTO Daniel Jamele would become CEO to oversee the company's holdings in the U.S. and China,  had a booth that was a blizzard of activity (below). The interactive attractions technology company was in the centre of the technology and theming section of the hall and presented a fantastic spectacle. Even without the 3D glasses. 
Spectrum Sports demonstrated their augmented reality (AR) climbing wall game. Graphics overlaid onto a climbing wall mean that competitors can play games and interact with the wall.
The IAAPA show is, importantly, fun. The sights and sounds, the noise and the energy all contribute to a really positive, almost party-like atmosphere. The image below shows Nick Wight from Safari Thatch discussing business while watched over by an 8 foot blue alien. Grown men dress up as robots in the background.
Hanging around at IAAPA
Premier Rides and The Producers Group (TPG) announced an intriguing propsition during the show, the world's first immserive dining experience. The turnkey attraction, "Extraordinary Voyages Adventure Dining (EVAD) will have a luxury travel theme as guests enjoy fine dining aboard the "Centurion" while being transported through time or space or across the world.
While the three-toed sloth (above) on the Class Act booth, proved a charming and diverting spectacle,  hers was a rudimentary high-ropes experience at best. For a much more complex structure the Rope Courses Inc. booth was the place to be.
A single level Sky Trail Discovery ropes course had been created specifically for the IAAPA Expo. This was packed throughout the week with up to 60 people an hour. Also on show was their Sky Rail zip line, including interactive obstacles, RFID technology and LED lighting. Phil Pickersgill (below) of Rope Courses' UK and Ireland partner Innovative Leisure was decidedly ground-based.
Announcements on the Show Floor
The attractions industry thrives on innovation and exhibitors revealed a number of new and exciting projects during the show. These included:
Lagotronics and Polin Waterparks showcased their First Joint Interactive Project, Splash Cabin. Upping the immersion ante by bringing virtual reality (VR) firmly into the waterpark sector, the collaboration promises further products including VR waterslides and waterslide gaming. In addition to the cabin, Polin had a raft simulator on their booth. The rider can experience a water ride without getting wet.
Dutch design and theming production company, Jora Vision, which recently celebrated the opening of the 40 hectare Wanda Hefie Theme Park in China announced two new partnerships.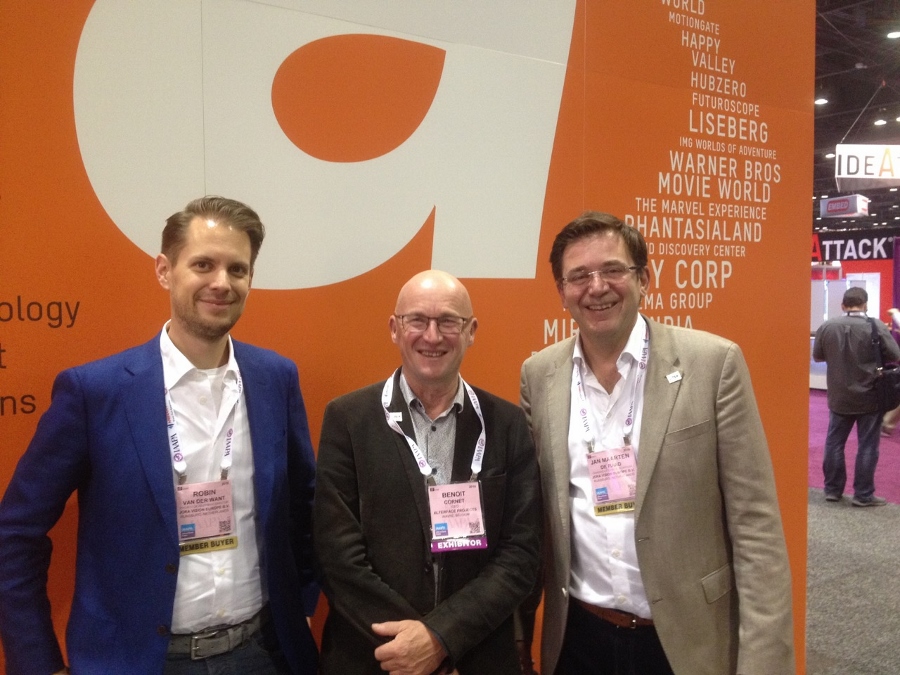 The first was between Jora Vision and Alterface. Alterface CEO Benoit Cornet (above centre) said the agreement to create interactive attractions concepts would combine "the creative design capabilities of Jora Vision with our interactivity technology expertise".
Jora Vision will also work with the media based attraction company Simworx on a new pirate themed immersive tunnel ride,  "The Curse of Blackstorm Bay."
Dragon's Breath and A Screaming Bear
Technifex revealed its new "Dragon's Breath" heat blaster. Designed to enhance attractions and dark rides in particular, the product delivers a short, sharp blast of hot air.  It is part of the range of Faux Fire™ simulated fire products.
Dark ride and animatronic leaders Sally Corp. unveiled a "Five Nights at Freddy's" ride concept. This new interactive attraction will take riders into the world of the popular IP and mobile app/game (above). Their booth boasted an animatronic Freddy Fazbear which surprised approaching attendees with an ursine scream.
Combining animatronics, video projection and special effects the new dark ride concept will take six riders through a highly themed environment. They will stop the horror app's characters with either a flashlight or by the simple expedient of shutting doors on them.
Attractions technology firm accesso unveiled Prism, in essence a new-gen "Q-Bot". Robust and easy to use, Prism should fill a customer requirement not currenty filled by smartphones. It can be branded and will allow ride photography tagging and cashless purchasing. It will also enable parks to message clients and collect information about their experience. In a market evolving so rapidly – with some smartphones becoming waterproof  while others explode – it will be intriguing to see further developments at accesso.
Media-based Attractions and VR
A modular system in which the VR head gear is divided into 2 was revealed by attractions design company DreamCraft Attractions.
The company also introduced its new CEO,  Vernon McGugan (above right). With 23 years at Disney and 20 at Universal he brings huge experience to the new VR and AR attractions company.
"DreamCraft will accomplish amazing things as an organisation. Our first Virtual Reality product is already a testament to that, and it is just the beginning, " said McGugan.
Leading media-based attractions company Triotech presented two new experiences at the Expo. One was its immersive experience, The Flyer, plus its interactive dark ride movie, Werewolves.
Augmented or Virtual Reality?
Both augmented reality (AR) and virtual reality (VR) technology is developing rapidly. They are having a huge impact in many industries and their use in the attractions sector will be interesting to see. The challenges are simple. VR remains an essentially solitary experience, the theme park one communal. Also,  amusement parks and attractions rely on through-put, getting paying customers through the gates and through the attractions.  So this year's Expo saw companies tackling these issues with varying degrees of success.
The experience at UNIS Omni Arena (above) was a physical challenge with players walking/running as they explored the virtual world with the VR headset.
DOF Robotics' simulator (above) married the physical movement of the riders with the VR goggles to considerable effect. When the synchronisation is spot on the experience is remarkable, totally immersive.
The Blooloop Party
Our annual party was held on the Tuesday night at BB king's Blues Bar in Pointe Orlando. The clever people from multimedia company LCI Productions used Christie Digital's powerful projectors to create a dazzling mapping display on the back of the movie theater facing BB King's patio.
https://www.youtube.com/watch?v=Ck5oS02tqco
Inside, our invited guests ate nachos, danced and drank till midnight,  unwinding after the first day of the show. Huge thanks must go to our generous sponsors for the night. Gold sponsors were PGAV Destinations, CAVU Designwerks and Polin Waterparks, silver Gateway Ticketing, American Wave Machines and JBA. Picsolve (photography), The DIT, Christie, LCI productions and Rhetroactive also supported the event.
(Please click here for a photo gallery of the evening)
Disney Legends on Shanghai
The Disney Legend's session revolved around the Making of Shanghai Disney Resort. It was chaired by Bob Rogers, BRC Imagination Arts. The panellists were Marty Sklar, Retired Walt Disney Imagineering, Disney World,  Bob Weis, President of Walt Disney World,  Craig Russell, Chief of Design and Project Delivery Executive, Walt Disney Imagineering and  Nancy Seruto, Creative Show Studios Executive, Walt Disney Imagineering.
The session covered the challenge of merging two cultures. It also highlighted the challenge of introducing the Disney brand to 1.4 billion people in China.  There was a discussion about the benefits from such a collaboration. These included the rise in safety standards in China and discovering the huge amount of new talent and artists in Asia. There was even some friendly advice to Universal on their development in Beijing.
IAAPA Awards – Hall of Fame
Industry journalist Tim O'Brien and Europa-Park's Roland Mack were inducted into the IAAPA Hall of Fame.
Journalist O'Brien has played an important role in preserving and documenting the history of the amusement parks business for almost 40 years. The author of over a dozen books,  he has had over 5, 000 articles and 3, 000 photos published. For 18 years he was senior editor of Amusement Business magazine.
Europa-Park and Mack Rides GmbH & Co.'s Roland Mack, the older son of fellow IAAPA Hall of Famer, Franz Mack, was born into the theme park industry. He cofounded Germany's Europa Park,  which is now the second-largest amusement park in Europe, attracting 5 and half million visitors a year.
IAAPA Awards – Brass Rings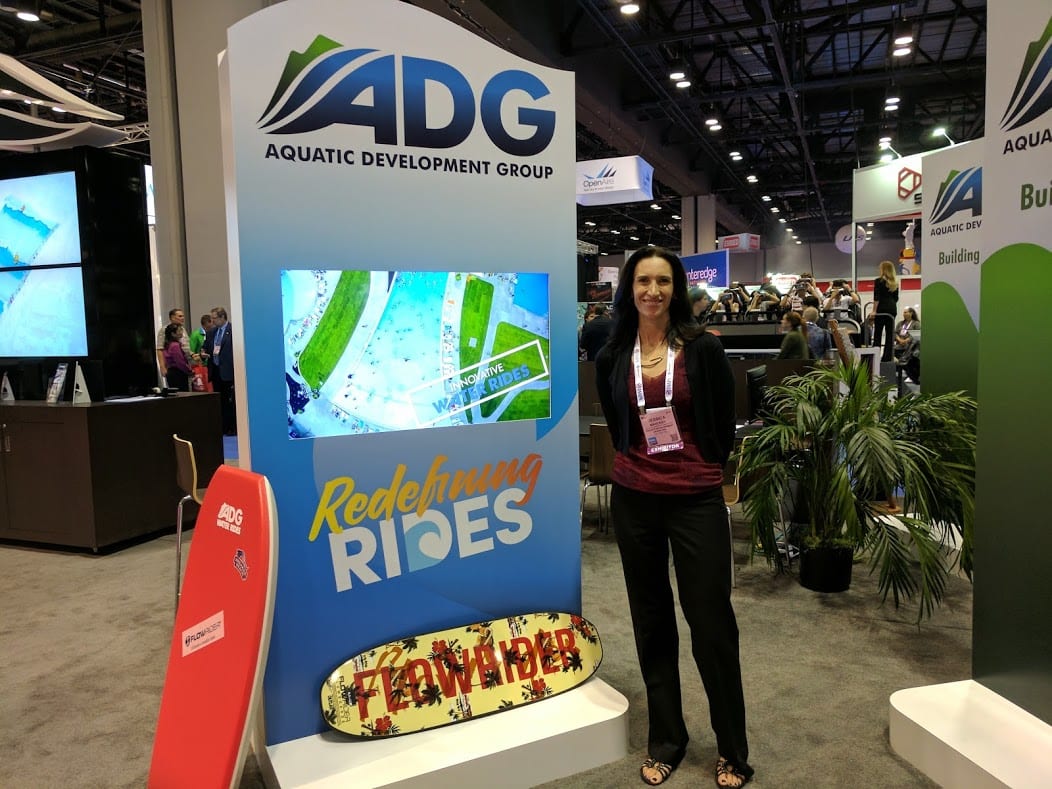 IAAPA's annual Brass Ring Awards are given to amusement parks, FECs and other attractions. They are also awarded to vendor companies and key individuals in the business. "Brass rings" were an innovation back in the late 1890s, allowing carousel riders to grab the rings suspended above them and trade them for prizes. An early example of Gamification. Of the almost 100 awards, highlights included:
ADG won for creating a "boogie boarding wave pool in a land-locked state" with their new ride innovation, "Breaker Beach".
Dynamic Attractions won a "best new Product "award for their Dynamic Motion Theater.
Leading designer firm Jack Rouse Associates (JRA) won two awards for Space Center Houston's exhibit complex,  Independence Plaza.
Other winners in the "Best New Product" category included DOF Robotics, Mack Rides, Intamin and for waterparks, Polin Waterparks, Whitewater and ProSlide technology.
Holovis received a Technology award for Battle for Cedar Point: The Augmented Reality Experience and to Whitewater and Gateway Ticketing for Smartblast and Galaxy respectively.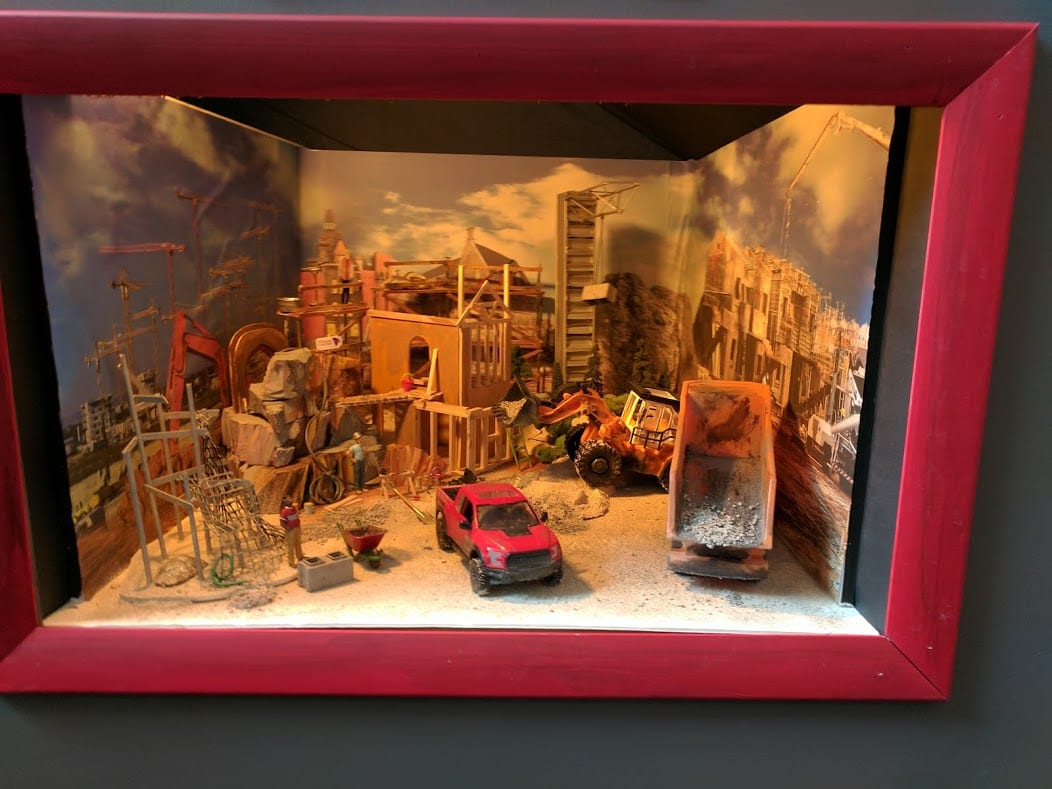 The key awards for exhibits on the show floor went to adventure product leader Extreme Engineering and to Dynamic Attractions for their innovative transformation of the escalator space into a mini-dark ride (above).
In addition to the Brass Ring Awards,  IAAPA also gave out three 2016 IAAPA Service Award recipients during their GM and Owners' Breakfast. The recognise individuals for their important commitment and contribution to the attractions business. Recipients this year were John Wood of Sally Corp., Dorothy Lewis of Xpress Posts and Laura Woodburn of Hersheypark (Hershey, PA).
Meeting and Eating
The Department of Trade and Industry (DTI), formerly known as the UKTI, had a large booth the aim of which was to highlight UK exhibitors. It formed a lively and useful meeting point. Looking to make us Brits feel at home the DTI had provided a big bowl full of chocolate bars.
Leisure and entertainment economic consultant Leisure Development Partners (LDP) again sponsored IAAPA's International Lounge.
LDP's investment third sponsorship of the lounge was a winner as the room gave those wanting to meet an informal, relaxed and – importantly – Wifi enabled environment.
The TEA's Thea Awards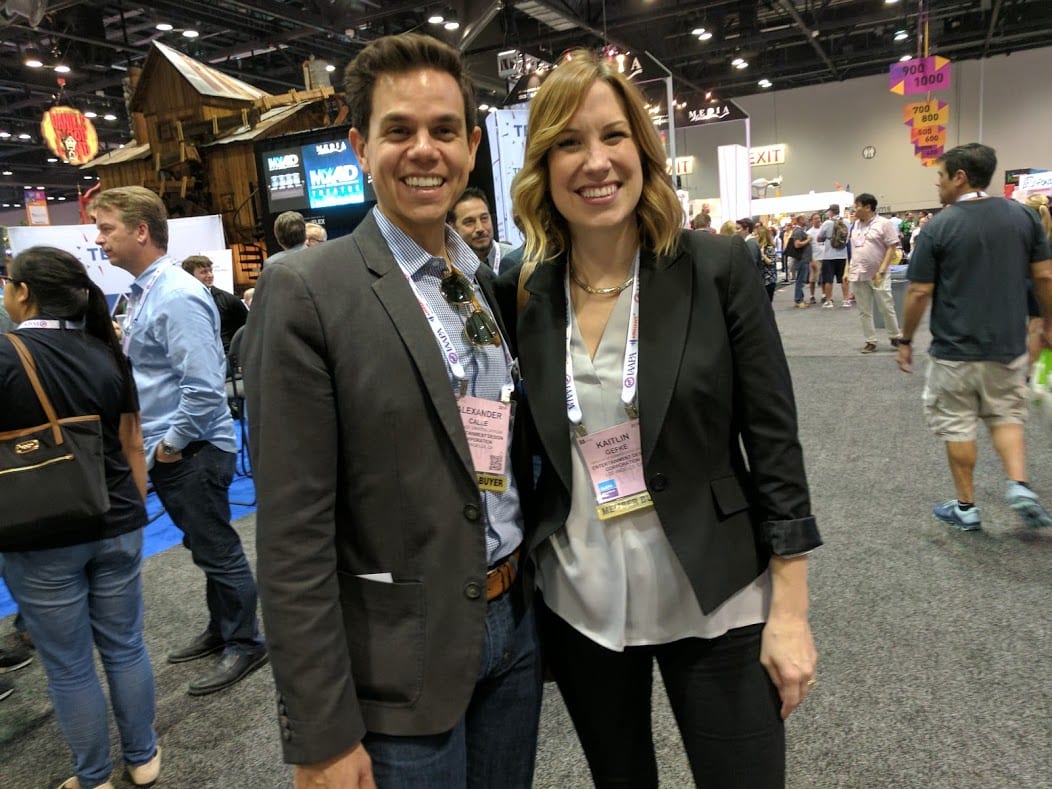 Another attractions industry trade body, The Themed Entertainment Association (TEA),  revealed the winner of its annual Thea awards. The TEA represents themed entertainment professionals and its awards will be presented in the spring.
A notable winner was Entertainment Design Corporation's Founder and Chairman, Jeremy Railton, who was given the Lifetime Achievement Award.
Other awards were given to Shanghai Disney Resort including one for the new park's ground breaking Pirates of the Caribbean: Battle for the Sunken Treasure ride and to waterpark designer WhiteWater for its Slideboarding technology.
Spotted at Breakfast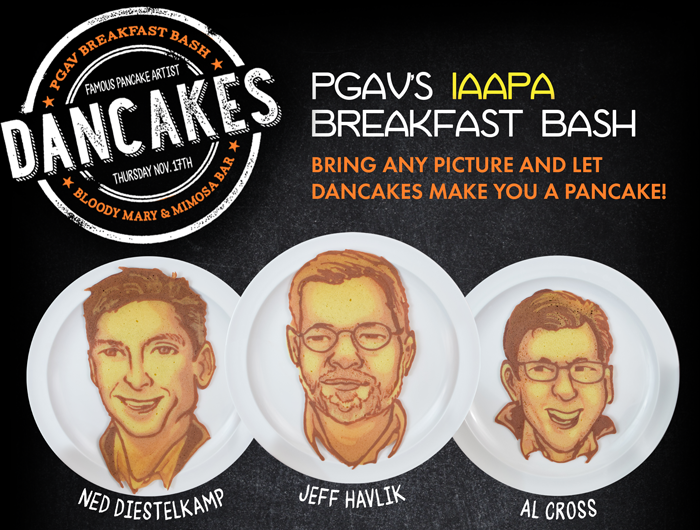 In early November I was surprised to see the face of Al Cross of PGAV destinations on a pancake. Not, I should add, in a Turin-Shroud-style moment of revelation but via email. It was an invite to the firm's IAAPA Breakfast Bash.
Held at Lafayette's in Pointe Orlando it proved a pretty cool and informal way to start the day. Bloody Marys, lots of bacon and your face on a pancake. This came courtesy of "Dr. Dan the Pancake Man", a native of St. Louis – PGAV's hometown – and "the most prestigious name in pancake art".
On arrival and after getting through strict security (see above) we were each given a sticker for our lapel. Guests were asked to write on this the name of their favourite breakfast. Most wrote "museli" or Grapefruit" then made a bee-line for the bacon.
The Holvis party on the Thursday night was an impromptu meet in a pub. Food and drink and a relaxing evening with friends and clients. After this most of us went to the Ripley's/Premier Rides party on the top floor of The Hyatt. As per usual it had a slightly surreal feel. A lady wandered around in a wedding dress made out of tissue paper. There was a waxwork Donald Trump.
Parties and other events
Every evening of IAAPA week presents a number of party options. Gateway Ticketing's pre-show drinks was a great way to limber up for the week. The company and its clients form a strong community.
Seaworld Orlando hosted "IAAPA Celebrates" on the Thursday night. Delegates enjoyed live music and a wide selection of food and drink. They also had access to some of the parks best rides and shows. Mako, the record-holding new coaster at the park, was particularly thrilling at night time. Attendees also got to see the first Shamu's Christmas Miracles show of the season.

The DTI hosted UK companies at i360. We visited Tussauds and were served drinks and food at The Orlando Eye. Here, Pan Amusements' Paul Adams (above) demonstrates the traditional Lancastrian way of fighting, starting on Muhammad Ali with a bar-stool.
Six Toes and a Reef Car
Like many overseas visitors to the Expo, we took the opportunity to explore a little bit more of Florida after the show. This time we went to The Keys for a spot of diving, where we encountered the car below. The owner clearly had a talent for theming. We also visited Hemingway's House and Museum. A great writer, he lead a colourful life, some of it in the company of six-toed cats in his Key West home.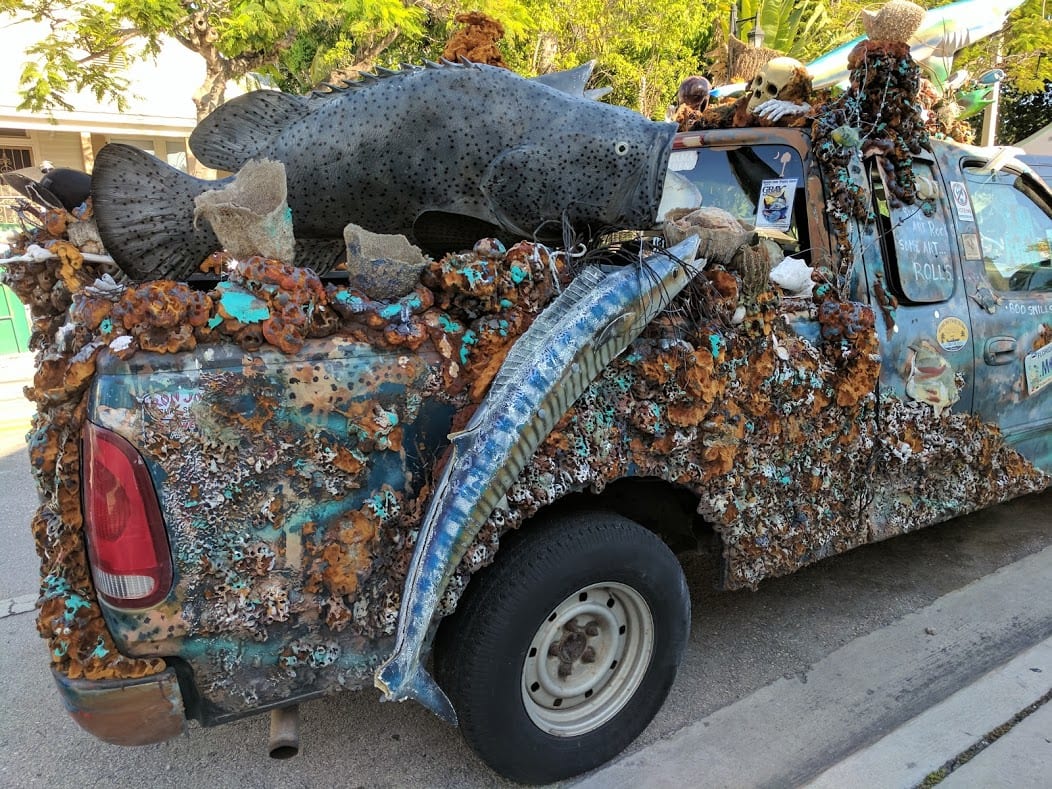 Conclusion
IAAPA president and chief executive Paul Noland was pleased with the Expo. "What an amazing week and year. It is the largest gathering in nearly 20 years. The success of IAAPA Attractions Expo 2016 is an indication of sustained growth in the industry. This record-setting show caps off a record year for IAAPA expos around the world."
Next year's IAAPA Attractions Expo 2017 will once more take place at Orlando's Orange County Convention Center from Nov. 13 to 17. The venue will host subsequent Expos until at least 2030.
IAAPA recently revealed it is moving its headquarters from Alexandria, VA, to Orlando. It seems that IAAPA, like its members, knows that Orlando is the place to be.
(For a gallery of images from the week please click here.)