Welcome to the blooloop briefing; a roundup of attractions news from the last seven days.
In the news this week – new coasters from Intamin and thrill rides from Zamperla; SEA LIFE Trusts' belugas reach their Icelandic sanctuary; new details of Lionsgate Entertainment World; Dive Bahrain's 747 is sunk; Exploding Kittens announce Burning Cat event and the Queen joins the escape room craze.
Watch the news in 3 minutes
For a quick run through the week's most eye-catching stories see our briefing video:
Read the news in 5 minutes
Zoos and aquariums
As the trend for retailtainment grows, Zoolung Zoolung, a mini zoo, has opened at a shopping mall in Shanghai Pudong New Area. Located on the tenth floor of the No.1 Yaohan Nextage Mall, the attraction has 17 themed areas.
Chester Zoo has won a gold award for its Sustainable Palm Oil campaign at the annual awards of the BIAZA. This year, Chester became the first Sustainable Palm Oil City in the world.
Pumar Architekten are constructing a new aquarium for the world's oldest zoo, Tiergarten Schönbrunn, also known as Vienna Zoo. The company won an international competition to create the attraction.
SEA LIFE Trust has confirmed the safe arrival of two beluga whales, Little Grey and Little White, after a 6,000-mile journey from China to Iceland. They are en route to the world's first open water sanctuary for beluga whales.
Theme parks and water parks
Lionsgate Entertainment World has unveiled more details about rides, retail and F&B at the world's first vertical theme park, opening this summer. The attraction is themed to six of Lionsgate's most successful global film franchises.
Six Flags Great Adventure is now one of the world's first solar-powered theme parks. The company and its partner KDC Solar have announced that the 23.5-megawatt solar project is complete.
BIG and Tivoli have revealed plans to build the H C Andersen Hotel at Tivoli Gardens amusement park in Copenhagen, named after Danish author Hans Christian Andersen. The pagoda will be covered in gardens and greenery.
Disney California Adventure has shared a first look at Inside Out Emotional Whirlwind at the Inside Out HQ neighbourhood of Pixar Pier. The family-friendly attraction opens later this month.
Museums and heritage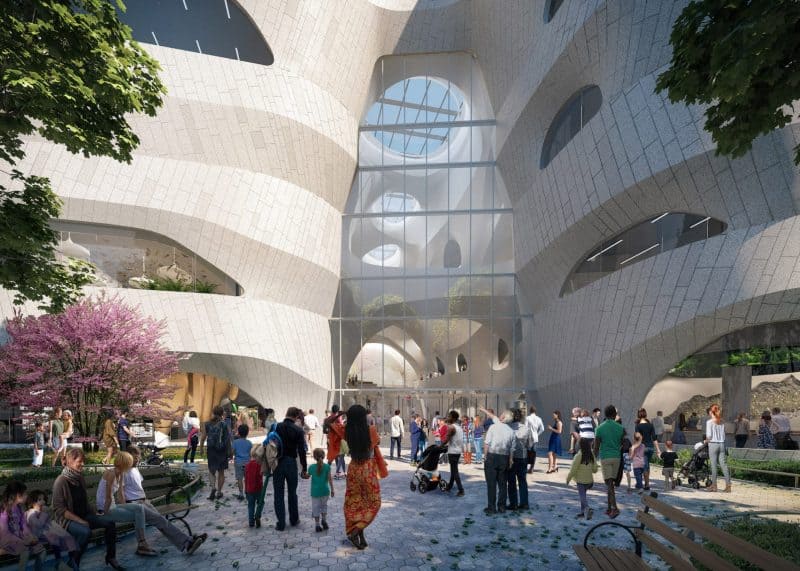 Studio Gang has released an updated set of renderings of the latest addition to the American Museum of Natural History, the Richard Gilder Center. The projected budget for the Gilder Center is $383 million.
The Royal Collection Trust has launched its first escape room in the Queen's Gallery at Buckingham Palace, inviting visitors to "think like a Renaissance genius" in Escape Room: Leonardo Artmergency!
New designs for the renovation and expansion of the Cleveland Museum of Natural History have been unveiled. The new exhibit wing is part of the museum's $150 million Centennial Campaign.
The Greensboro Science Center has unveiled its 2020-2030 master plan, announcing expansions and renovations as part of The Gateway Project. The GSC will invest as much as $45 million in capital improvements.
National Lottery Heritage Fund is looking for applications from UK heritage organisations for the Heritage Horizon Awards, which will invest £100 million over three years in ambitious, innovative and transformational projects.
VR, AR and Expo 2020
The Musée du Louvre has collaborated with HTC Vive Arts on its first virtual reality experience for visitors, called Mona Lisa: Beyond the Glass, on display in the museum's Leonardo da Vinci exhibition.
Live Nation has unveiled a host of augmented reality (AR) products, providing more immersive ways for fans to connect with artists and brands at live music events and festivals.
Dubai Expo 2020 has unveiled more pavilions, including China Pavilion's 'symbol of hope and a bright future', and the France Pavilion, with solar-powered art and a parallel universe.
New rides and attractions
Intamin has launched two new LSM launch coasters: Dueling Dragons at Guangzhou Sunac Landand Taiga at Linnanmäki.
Exploding Kittens is expanding its IP with a live gaming convention in 2020. The creators of the Burning Cat event – which will feature games, comedy, and creativity – hope to "reboot the idea of a convention".
CAMP in NYC is blurring the lines between retail and experience. An immersive shop for families, CAMP sells toys and offers workshops, interactive areas, and more – including a 'Date Night' child care event, which is free for members.
Latin American cinema operator Cinépolis has announced plans to invest more than $300 million in Saudi Arabia. The company will launch six new movie complexes with 63 screens over the next two years.
Zamperla revealed four major new rides during last week's IAAPA Expo Asia in Shanghai. In addition to the Factory Coaster, that included a new attraction called NebulaZ, plus bigger and better versions of two thrill rides.
Dive Bahrain's 70-metre Boeing 747 has been successfully submerged as part of an underwater theme park. The new diving experience and international attraction will open to the public in August 2019.