Attractions news …
Pro surfers try out PerfectSwell at American Dream; Fortnite's 'Remembrance Island'; Cirque du Soleil JOYÀ dining experience; Walltopia Tree Course; 'Terminator: Guardian of Fate' VR experience; Van Gogh: The Immersive Experience; Disney+ streaming service launch; Blooloop News app; The Costume Institute's spring 2020 exhibition; EuropaCity CEO Benoit Chang responds after President Emmanuel Macron withdrew support; Snow White's Scary Adventures getting major refurbishment; Friends pop-up experience moves to Boston .
Watch the news in 3 minutes
For a quick run through the week's most eye-catching stories see our briefing video:
Read the news in 5 minutes
Technology
Merlin Entertainments announced a headline sponsorship of the London Eye with lastminute.com. Launching in February 2020, the London Eye and River Cruise will be rebranded, and the attraction will turn pink.
The Royal Canadian Legion teamed up with Fortnite to create 'Remembrance Island'. The virtual memorial, in honour of Remembrance Day, was designed to recognise veterans and educate gamers.
A Terminator VR experience called Terminator: Guardian of Fate has launched at Dave & Buster's. The new "adrenaline-fuelled" attraction is now available at 130 locations of Dave & Buster's across North America.
Van Gogh: The Immersive Experience is heading to Leicester, after successful runs in Brussels, Naples and York. The travelling exhibition is launching at Leicester's All Saints Church in January, 2020.
The Walt Disney Company has launched its new streaming service, Disney+. It is now live in the US, Canada and the Netherlands, with Pixar, Marvel, and Star Wars content, as well as The Imagineering Story.
Blooloop and Attractions.io, leading creator of mobile visitor apps, have created the Blooloop News app, with all the latest industry news.
Museums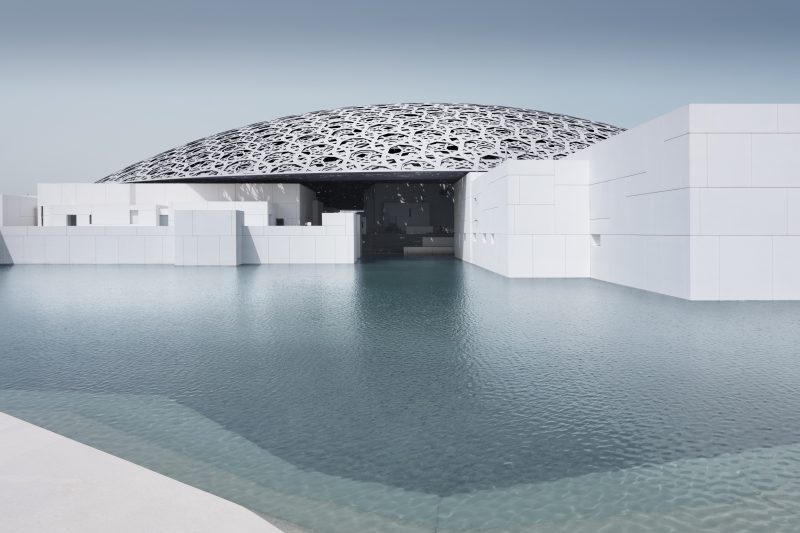 Louvre Abu Dhabi has welcomed more than two million visitors since it opened in 2017. The museum is celebrating its second anniversary this month, after the launch of new programmes and artworks.
The V&A has appointed Gus Casely-Hayford as the director of V&A East. The attraction in Queen Elizabeth Olympic Park is one of the V&A's most significant and ambitious developments. It is set to open in 2023.
The Metropolitan Museum of Art has announced The Costume Institute's spring 2020 exhibition. It will be called 'About Time: Fashion and Duration', and will be part of the museum's 150th anniversary celebrations.
Theme parks
Universal Orlando Resort has announced dates and details of its celebrations for Christmas 2019. The Wizarding World of Harry Potter will be transformed, while attractions include Grinchmas and the Holiday Parade featuring Macy's.
Dubai-based theme park developer and operator Sim Leisure Group is looking to expand to China and the Asean region. The company owns and operates the Escape theme park in Penang.
Disneyland Resort is giving Snow White's Scary Adventures in Fantasyland a major refurbishment in 2020. The dark ride from opening day in 1955 will get new show sets, props and scenes.
EuropaCity CEO Benoit Chang responded after President Emmanuel Macron withdrew support for the Greater Paris project, which he called "outdated and old-fashioned". EuropaCity was scheduled to open in 2027.
Universal Orlando Resort has announced the opening date of its eighth hotel, Universal's Endless Summer Resort – Dockside Inn and Suites. The attraction has also unveiled new renderings of the hotel, set to open in spring 2020.
SeaWorld has announced its 36,000th animal rescue since it opened in 1965, continuing its mission to help injured, ill and stranded animals. The company supports dedicated rescue experts, animal care specialists and veterinarians.
Water parks
American Wave Machines, a leading wave pool, surf park, and wave technology company, has released a teaser video of the PerfectSwell pool at DreamWorks Water Park in American Dream. The video features pro surfer Rob Kelly.
More attractions
Cirque du Soleil JOYÀ at Vidanta Riviera Maya in Mexico is celebrating its fifth anniversary with a reimagined, theatrical menu. The attraction is the only Cirque du Soleil show in the world to include a culinary experience.
The Friends pop-up experience is moving to Boston with authentic replica sets and more than 50 original props from the show.
Walltopia is unveiling details about The Tree Course at IAAPA Expo 2019. The Tree Course is an interactive, entertaining ropes course.
The Maritime Aquarium at Norwalk is expanding with a big seal exhibit and 4D movie theater, in response to a railroad bridge replacement. Construction on the new additions is now starting, and they are set to open in 2020.