Aerospace Bristol, based at Filton, north of Bristol, UK, opened in October. It showcases Alpha Foxtrot, the last Concorde to be built. The museum also has a fully equipped learning centre. Its facilities allow school and youth groups to deliver learning programmes, develop STEM skills and explore careers in engineering.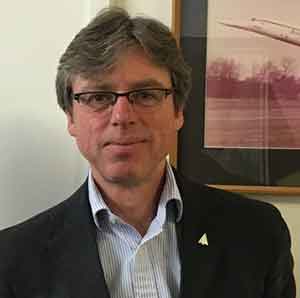 Blooloop caught up with Lloyd Burnell, Director of the Bristol Aero Collection Trust, the charity which runs Aerospace Bristol.
"I came into this with absolutely no experience of having worked in museums," Burnell says bluntly. "I had no experience of having worked in the aerospace industry. Nor did I have an interest in aviation heritage."
Burnell was a businessman working in advertising marketing services when he was approached by trustees of the Bristol Aero Collection Trust. They were impressed by his extensive experience in setting up and running businesses. He also had wide experience in financial management, stakeholder management, communications, and financial planning.
"At that point, a number of museum managers and directors had been interviewed," he says. "But it was fairly evident that, given the nature of the project, the board was looking for somebody that could act as a project director. They wanted someone to work with all partners, both internal and external, to articulate and arrive at a vision and mission. They needed to develop a coherent business plan, and to do all the stakeholder management around that, leading and establishing the fundraising efforts."
The process, he said, has been long. "There were a lot of people with a lot of different visions and views on what this should be."
A collaboration of expertise
Since opening on the 17th of October, the museum has garnered rave reviews both online and directly from visitors. "It looks as though we've got the pitch and the tone right," says Burnell. "It's enough to engage, but still be accessible across the board.
"In the first weeks we've had a lot of intergenerational groups, which is particularly satisfying. We are still completing works at the moment, and adding stuff. It should get a little bit better each week."
The museum is a collaboration of expertise. "Gateway Ticketing provides the integrated ticketing system that we're using through their Galaxy system," says Burnell. "It runs off the back of our own system, Microsoft Dynamics. It manages ticketing, all our retail, donations, event bookings, groups, linking back into finance through World Pay and back-ended into Sage."
Exhibition design group Event Communications were the main designers. Beck Interiors were the main fit out contractors while Belgian company Meyvaert were the show-case manufacturers and designers.
"On AV we worked with three companies," says Burnell. "Sysco, for hardware and Spiral Productions who did the AV. Then we've got some very interesting 3D projection shows, which were done by Projection Artworks."
Lighting was by DHA Designs. Graphic design was covered by Surface Three – "They've done a great job" says Burnell. "On interactives, we worked with a company called SetWorks, and another called Aivaf."
Learning is at the heart of Aerospace Bristol
Burnell worked with a number of external consultants including culture and heritage luminaries. He harnessed expertise and drew the diverse visions into a project that was robust, compelling, deliverable, and fundable.
"Through this process we got to a position where it was decided –quite rightfully – that learning would be put at the absolute heart of this project. Other matters would have to support that. We have a great deal of content around participation and conservation. However they are there to add to our outputs around learning, particularly around science, technology, engineering and maths for young people.
"There is, broadly across the piece, a wide appreciation and understanding of the contribution that Bristol made and continues to make to the aerospace industry, using the achievements and stories of the past, as a way of inspiring young people to take an interest in the subject area for the future."
After the first Heritage Lottery funding round, the team brought in a fundraising officer. After the second round, Burnell's next two appointments were Collections and Learning Managers.
Lloyd Burnell says, "They then drove the exhibition development. They worked very closely to ensure that learning was embedded in all the exhibitions, and was not an adjunct. The whole exhibition has learning at its heart."
Making engineering accessible yet robust
The exhibition has been developed to be accessible to a general public audience. "Whilst retaining the intellectual integrity of what we were doing, we had to ensure that in making it accessible, it wasn't dumbed down. You can't cut corners when you're dealing with matters of engineering technology. It has been a real challenge to do it in such a way that it is still robust and defensible."
Working with leading experience design agency Event Communications, the team ensured the exhibition would be accessible to both 'dippers' and 'divers'. Visitors could come in at a relatively low level, or take the opportunity afforded by archive stations, AV and other options to drill down and access more information.
It was essential to ensure good output irrespective of people's learning styles – they are visual, auditory, or kinaesthetic learners.
"We made sure that we catered for all of those across a wide audience. From those that know absolutely nothing about the subject matter, right through to the enthusiast.
"We have a huge number of enthusiasts and very knowledgeable people within the organisation, and we have drawn on their knowledge. Then we will start using their skills and knowledge as visitor service hosts or gallery guides. They can then add another layer, whether it be technical, historical or anecdotal."
Feedback and evaluations will tailor the level of information that volunteer hosts deliver.
Meeting the curricular needs of schools
The museum now has a learning team of three people, a learning manager and two officers. The team deliver activities both in the 150 m² learning studio and two further learning spaces. They also use the exhibition gallery floors where there are workbenches, and STEM learning interactives in place.
"They will also start doing more outreach in the future," says Burnell. "From opening through to the end of this autumn term, we have schools in every single day.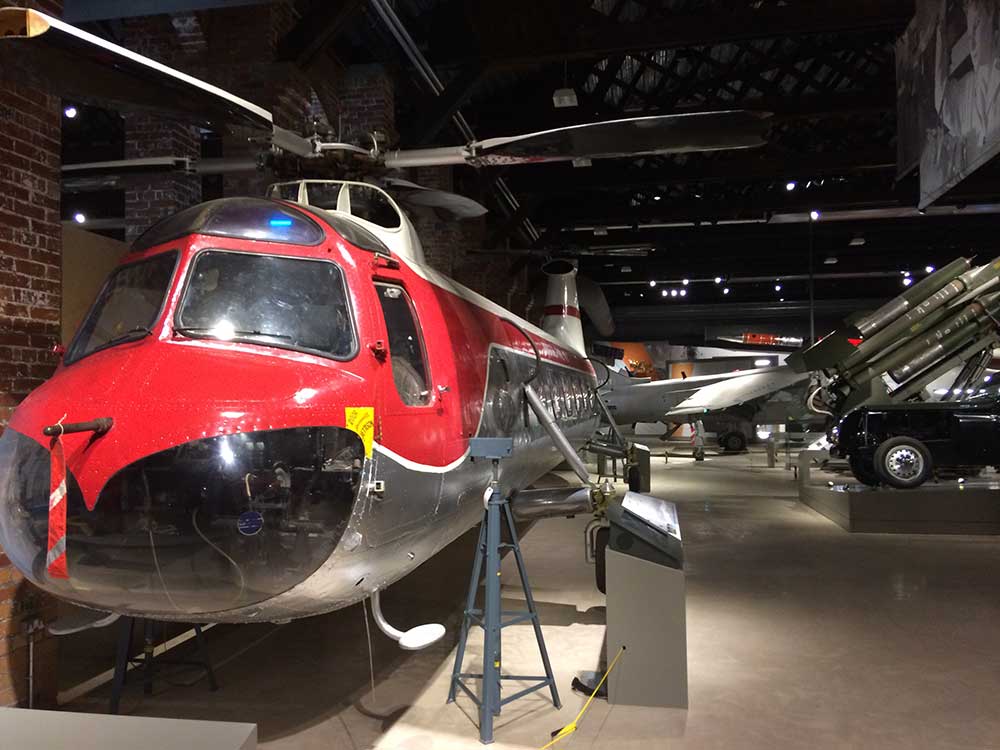 "We have done a lot of pre-consultation ensuring that we are meeting the curricular needs of the schools at their various key stages, and we are developing activities to fit in around that.
"We had already built a very strong network of schools that were interested in supporting, and who we had been consulting."
Technology enhances learning
The technology in the museum is designed to enhance learning. "We are not using AR or VR as yet, though we will be," says Burnell. "At this stage, the interactives that we are using are a combination of mechanical and AV based.
"A series of mechanicals explain the forces of flight, how you control an aircraft, how engines work. Then there are a series of AV touchscreen interactives which explain how different types of engines work.
"We look at where you can pull the engines apart. At how aircraft wing configurations change, for an aircraft to be able to take off, cruise and land. There are about seven or eight touchscreen archive stations, where you can drill down into personal stories from our archive. There are oral history stations where you can listen to first person accounts."
Plans are in place to add simulations or AR to the offering. "Our corporate partners, BAE and Airbus in particular, do use a lot of augmented reality and VR. So, over time, we will start bringing some of that in, whether we do it on the gallery or, more likely, bring it in as part of our learning programs."
Exhibits expose technology and engineering
Many of the objects on display are working exhibits, presented in such a way that they expose the technology and engineering behind them. "A number of the engines that we have on display are cutaway. They are rotating and they are lit so that you can actually see the mechanics," says Burnell.
"Where we have cockpits, they have been animated so that either there is a simulation running in the cockpit or you can actually get up close, and all the lights will be up.
"There is a Bristol car on display where half of it has been cut away so you can see all the engineering. There's an aircraft fuselage that has been cut away.
"The idea is to bring alive the engineering behind the object, and then supplement that with all the stories of the people, the processes and the ideas. We look at the innovation that went into it; the social history stories surrounding the development of the industry in this area."
A chronological storyline gives focus
"The exhibition is a result of a huge amount of consultation with a large group of internal and external knowledgeable people," says Burnell. "They were coordinated by interpretive specialists TGAC headed by Tim Gardom and Alison Grey. They are very good at bringing all that together into a coherent structure."
The decision was made to create a largely chronological storyline. "It does have a beginning, in terms of the foundation of the company in 1910 by Sir George White. It doesn't have an end, in that this region is still the largest aerospace hub within the UK. It's home to Airbus, GKN, Rolls-Royce, BAE, et al. There's an enormous supply chain providing employment for tens of thousands of people. That is where we are working with all our corporate partners."
The exhibition draws visitors through seven eras of aeronautical history. Within each era the spotlight falls, not only on science, technology and engineering, but also on the social, local, regional and global historical content.
"We go through Pioneers, the First World War, World War II, post-war, the 50s and 60s," says Burnell. "Then we go through to the 70s and 80s, where there is a big section around the Cold War, guided weapons, and space development. Then we move into the modern era. Finally there is a section which is about what is happening today, and looking into the future. That's all housed in the main museum building, which is a grade II listed World War I hanger."
Bringing stories alive
"We look at science and technology. We look at aviation in the world, covering how aviation impacted upon world events, and world events impacted on aviation. Then we deal with local community, how this area has changed. A further topic revolves around A Day's Work. These are people stories, all about ordinary people coming together to do quite extraordinary things. There a very strong emphasis around people and the first person, wherever we possibly can.
"We have used an enormous amount of imagery from our archive. It brings the stories alive and makes them very people-focused."
The last Concorde
The museum's big attraction is, of course, the last Concorde ever to fly. The iconic plane obviously plays a part in the narrative exhibition. However its story is tackled in detail in the separate new-build housing Concorde itself, alongside its exhibition.
Concorde has achieved almost legendary status both locally, among the thousands who worked on the aircraft, and nationally. It's a tribute to its innovative design and technology.
"The response is very heartfelt," says Burnell. "Concorde is a great source of pride. It was quite ground-breaking technology, when you consider what was being achieved in an age where there was no CAD/CAM. There were no meaningful computer designs.
"It is quite remarkable that in the same year as the first man set foot on the moon, an aircraft flew at twice the speed of sound."
Images courtesy of Aerospace Bristol.