In July 2021, as the industry began to recover from the COVID-19 crisis, blooloop announced the launch of the first-ever blooloop Innovation Awards, presented with AREA15. The aim was to recognise the way in which the attractions industry has responded to the pandemic and to celebrate its spirit of innovation, which has stayed strong throughout.
The blooloop Innovation Awards 2021 are judged by a panel of thought leaders and industry experts, recognising the most innovative products and projects driving the future of the visitor experience. The panel was in search of groundbreaking new projects, products, services from around the world, which push the boundaries of what has been done before.
Innovation Awards 2021 showcase talent & ideas from across the industry
The winners will be announced live from AREA15 during blooloop V-Expo, which takes place from 4 – 6 October 2021. There are 13 different categories, as follows:
Immersive – enthralling with a deeper, richer environment
Interactive – from the highest tech to the simplest human interaction
Storytelling – engaging with a compelling narrative theme or IP
Technology – tech-driven projects advancing the experience
Digital – improving the visitor journey and experience
Spectacular – experiences that lift the spirit
Places – innovation in the built environment
Splash – from water slides to aquaria
Inclusion – accessibility for all
Engagement – from viral social media campaigns to moving museum exhibits
Sustainability – reducing an attractions' environmental impact
Thrills – getting pulses racing – from coasters to horror
COVID – innovations that help attractions re-open and stay open
Three roundtables will take place on 5 October as part of blooloop V-Expo, between 12 – 3 pm BST, where candidates will be discussing their entries in more detail. All award entries also have a showcase, where V-Expo attendees can learn more.
Ahead of next week's event, we're taking a look at some of the Innovation Awards 2021 entries to give you a sneak preview of the ideas that will be on show:
Express da Vinci
Express da Vinci Group presents Express da Vinci in the COVID, immersive and inclusion categories. With the tagline Save the Planet – Travel Digital, Express da Vinci is the first portable observation flights and digital travels simulator in the world.
In response to two of the most pressing challenges that the planet currently faces, namely pollution and COVID-19, it is aiming to attract investors and brands to invest in the global network of 1000 Express da Vinci simulators, like flight and travel stations in the cities, working in cooperation with European and international technology companies.
It says that this centralised, global network of simulators can help people to save the planet by travelling digitally, therefore decreasing transport emission levels, as well as preventing the spread of viruses such as COVID-19.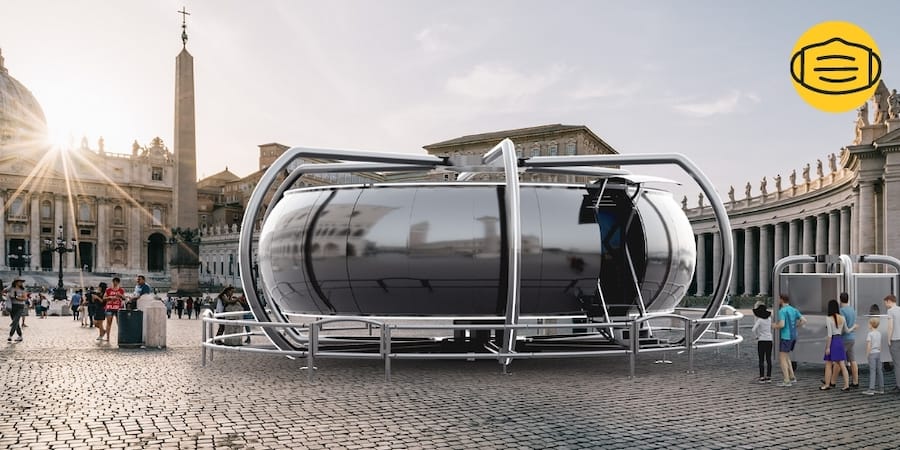 The portable travel stations will form part of a city's infrastructure, increasing people's ability to travel digitally. Through this, they will be able to explore architectural heritage in historical cities and enjoy the beauty of the natural heritage sites around the world.
According to the group's research, the Express da Vinci simulator can be operated profitably in every middle-size city in the world. It is designed to operate in active, busy venues in major cities, such as squares and avenues. A case study showed that they can be operated for 300 days a year, with an average of 1000 visitors per day or 300 000 per year. With a ticket price of 20 euros, the investment will be returned in two years of operation.
LoQueue Virtual Queuing
In the categories of COVID, inclusion and technology, accesso has entered its LoQueue Virtual Queuing solution into the Innovation Awards 2021.
As a result of the pandemic, operators have faced a host of challenges that have caused them to rethink entire operational models, including queuing. Long, crowded physical lines detract from a great guest experience, as well as posing a safety concern for guests in an age of physical distancing. Responding to this, accesso launched its 100% virtual queuing model in March 2020.
With this, operators can make virtual queuing available to all guests at no additional cost for a variety of rides and attractions throughout their venue. As a result, guests are free to explore attractions, visit food and beverage options, and shop for gifts and souvenirs – which is both more enjoyable for them and more profitable for the operator.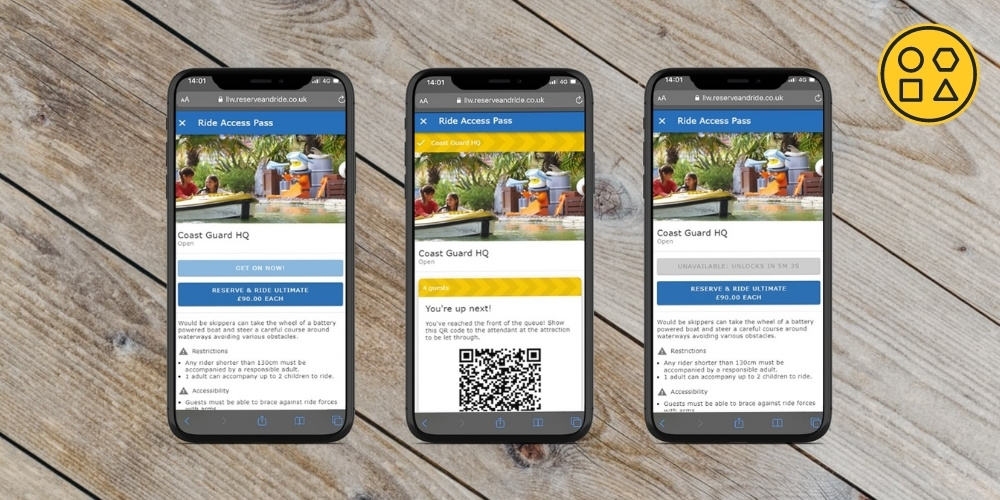 The solution is already in use at several major attractions, including Walibi Holland, Parc Astérix, Holiday World and Village Roadshow Theme Parks. As a testament to its success, Parc Astérix and Walibi Holland have renewed their 100% Virtual Queuing partnership through 2022 and 2025, respectively. A 2020 Walibi Holland survey showed that nearly 75% of guests preferred virtual queuing over a traditional queue. The majority also said they would be more likely to visit the theme park in the future if it remained intact.
In addition, accesso has also created Reverse Queuing, backed by LoQueue technology, to guests with disabilities the peace of mind they seek while providing equitable access for all guests across a venue.
This operates as an inverted virtual queue. Rather than counting down the time until a guest with disabilities and their family can board a ride, they are allowed to skip the line and board right away. Afterwards, they go through a "cooling down" period, representing the amount of time they would have waited standing in the physical queue. During this time, the group is free to shop, catch a show or grab a bite to eat. Once the "cooling down" period has ended, they are able to board their next ride.
Turning Point
Louis Alfieri, principal and chief creative officer of Raven Sun Creative, has entered Turning Point into the categories of engagement, interactive and technology. The Raven Sun Creative core team will support this project, including Tim Madison, senior writer, Amy Kole, writer, Barbara Drahl, editor and Jake Bienek, 3D models.
Introducing the project, Alfieri says:
"Imagine if Burning Man, Twitch, all of recorded history, today's artists, and global issues all over the world could collide to co-create in real-time, make a difference, and inspire solutions. Time to think bigger. The time is now."
Alfieri will leverage his extensive connections throughout the experiential, cultural, and gaming sectors to realize the project. Companies such as Unity, Unreal, Kraftwerk and others would participate.
Turning Point is a global issue, artist, media and creative based experience that will blur the lines between the physical and digital worlds in real-time to trigger a change in the future of humanity.
The Turning Point experience is the phygital mash-up of Twitch, MR-VR-AR, Burning Man, The Met, Chihuly in Tel Aviv, Sydney Vivid, Real-time gaming in Unity and Unreal, real-time artist creation around the globe, satellite speed communications, mobile technology, real-time global activism, and real-time human interaction using centuries of data, for solving global issues.
HOLOGATE BLITZ
HOLOGATE has entered HOLOGATE BLITZ in the digital, immersive and technology categories in the Innovation Awards 2021. This is a fusion of virtual reality, motion simulator, and futuristic craft that allows players to explore new worlds across land, sky, sea, space, or another dimension.
The introduction of virtual reality has made an immeasurable impact on the entertainment landscape. For the first time, players are now active participants inside a 360° limitless space where they can look and move in every direction and have a deep interaction with their environment.
HOLOGATE first introduced the world to the multiplayer VR experience with its ARENA platform. HOLOGATE BLITZ builds on this by giving the player even more freedom of mobility and providing a futuristic vehicle that they can explore worlds in.
Through a formula of bespoke design, construction, and synchronization of the physical motion and virtual reality graphics pairing, the HOLOGATE BLITZ is a nausea-free platform with smooth and noiseless movement. It is also durable, meaning that it can operate continuously in an entertainment venue.
Curatours
Cooperative Innovations has entered Curatours into the immersive, storytelling, sustainability and technology categories.
Curatours is a social tour platform, for culture and heritage, allowing people to visit incredible places filled with art, artefacts, stories, and friends. Visitors can access tours of museums around the world from their desktops, phones or VR headsets. In VR it's an immersive experience and on other devices, it feels like a cross between a video call and playing a multiplayer game.
Curatours is a free to download app offering three types of cultural tours: self-guided, which can happen at any time; pre-recorded, where guides appear at relevant points to share information; and live-guided, where users book a timeslot to interact with an expert within the digital space, in real-time.
Chaperone
Dapper Labs Ltd. has entered Chaperone into the Innovation Awards 2021, in the digital, engagement, inclusion, interactive and sustainability categories.
Chaperone is a comprehensive and sophisticated brand experience platform. It allows the brand owner, be it a theme park, a museum, a zoo, a palace, a resort, an aquarium, a biome, an immersive art experience, a virtual circus, a location-based entertainment facility, or even an experiential retail and entertainment complex, and their designers, to create powerful personalised engagement experiences for their audiences. It connects the brand to its audience in every single way possible.
As well as being smart and knowing who, what where and when, Chaperone is also friendly. It can talk to anyone, in any language, and anything in machine language.
It takes all of this data, information and knowledge and by offering high-value personalised interactions with the visitors, converts it into knowledge and understanding. Understanding for the brand to learn deeply about their audiences, and understanding for the visitor to more deeply, and personally engage with the brand and whatever related subject matter they are interested in.
This means that everyone and every group can have their own, personalised and interactive experience with the venue or brand, either en-route, at an exhibit, or at home.
Mixed-reality games
ValoMotion has entered its mixed-reality games in the categories of engagement, interactive and spectacular. This includes ValoLeague, ValoApp, ValoClimb and ValoJump.
ValoLeague merges sports, games, and competitions to create the first-ever Active eSports League for Mixed-Reality (XR) trampoline and climbing wall. This is available around the world at over 700 installations in more than 60 countries and is running over multiple competition seasons throughout the year.
Games from ValoClimb, the original augmented climbing wall, and ValoJump for single and multiplayer gaming, transform immersive gameplay into a global sports league. The combination of physical sports and digital gameplay encourages an active lifestyle for sports and gaming enthusiasts regardless of age or skill set.
ValoApp, the official mobile application, adds the layer the new generation of players expects: mobile, shareable, anytime. Players use ValoApp to log in to their profile before the gameplay to store their personal videos in one easy platform, creating memories and sharing them on the spot.
ValoClimb is a fully automatic attraction designed to turn a regular climbing wall into an immersive digital experience where the players get to play high-quality games while climbing. This features Valo Motion's body tracking software, which is so precise that it turns an ordinary climbing wall into a virtual touchscreen.
The company also took its proprietary body tracking technology and combined it with a screen and a trampoline or an air track to create ValoJump, as well as connecting two mixed reality trampoline games together to create the world's first two-player game for a trampoline. Two different players can jump on two separate trampolines while appearing together in the same game world.
Worldbuildr Software
Worldbuildr has entered the Worldbuildr Software Suite in the digital, interactive and technology categories in the Innovation Awards 2021. This is a first-of-its-kind virtual production tool, built to be used by all stakeholders in any given LBE project as its design progresses from concept to creation. Using Worldbuildr, designers can collaborate remotely and still see their shared attraction take shape together on any device at any time, from their smartphone to their desktop to their high-end VR headset.
Although many companies have been using game engines like Unity and Unreal to previsualize entertainment attractions for several years now, they all use a workflow that involves one or more software engineers coding within the game engine and then ultimately exporting a static video to be played back for presentation or design purposes.
Rather than trying to justify the cost for creation of a previz "ride-thru" video during a concept phase, Worldbuildr aims to divorce previz entirely from project-specific costs. Instead, it is a seat-based subscription software that can be used for all projects at any point in their development process.
It's the first software of its kind that has been fully designed within a game engine and then actually published as a software product, complete with an intuitive drag-and-drop interface and no coding ability required. An added UI layer of buttons, custom dials, and dropdown menus provide non-technical users with the tools they need to visualize their experience, figure out the show timing/programming, maximize their guest flow, and accurately predict their return-on-investment.
Convious AI-powered system
Convious has entered its AI-powered system into the digital, engagement and technology categories. This is an all-in-one solution that empowers venues to create seamless customer experiences within one tool at all digital touchpoints, before, during and after the visit.
Before the visit, the solution helps to persuade visitors with the advertisement module, attracting them to the website. Here, engagement begins as they discover a venue, and continues with a wonder bar, pop-ups or trigger buttons, providing discount offers and easy to access updates. Visitors can also take advantage of the dynamic pricing to chose their own price and to purchase add-ons like parking and food.
During the visit, for a seamless entrance experience, visitors have their tickets in the venues' mobile app, simply scanning these at the barcode reader. In addition, thanks to the park map on the mobile app, the visitor can navigate easily and can also use the heat map functionality to see where it is crowded, and where it is not. Operators can send push notifications with discounts and updates during their time on site. Guests can also take advantage of mobile ordering, to save time queueing for food.
Then, after the visit, operators can send a 'thank you for visiting' email, as well as offers and newsletters. The Convious solution also allows operators to retarget visitors via advertisements on their favourite websites, and to send a push notification on their birthday.
Wētā Workshop Unleashed
Wētā Workshop Ltd. has entered Wētā Workshop Unleashed: A Fantastical Film FX Experience into the Innovation Awards 2021, in the immersive, interactive and storytelling categories.
For more than 25 years Wētā Workshop has applied creativity and craft to blockbuster movies, consumer products, tourism attractions, interactive projects, and location-based experiences. In December 2020, it opened the doors to a new visitor attraction in Auckland, NZ, inviting guests of all ages on a guided journey into a Fantastical film effects facility.
Storytelling is at the heart of everything Wētā Workshop does and using its experience it has invented three original film concepts from the genres of horror, fantasy and sci-fi. Visitors journey through the experience in an unfolding immersive narrative, interacting with the hands-on physical models, props, and effects we have imagined and created for these movies.
While the pandemic means New Zealand's borders were closed and its tourism industry was threatened, Wētā Workshop made the decision to continue to design, build and bring its vision for this experience to life, believing that sharing its creative story could bring joy and inspiration to others in a fun, educational and engaging way.
PlayNeo
Attraktion! has entered PlayNeo into the immersive, interactive and technology categories. This is designed to take out of home gaming in groups to a new level.
So far only possible in pure VR experiences, PlayNeo's Play Cabanas are the first attraction products where guests can free roam and use an interaction device to interact with digital content on a screen or a projected environment, without screen boundaries or the need for VR glasses.
Screens can be curved, combined (as in Play Cabana) or even 360 degrees. The interaction device "active shieldz" can be used in 360 degrees without sensors or additional tracking and will track users hand movements precisely in the direction towards targets.
This allows for the creation of an engaging group dynamic, as players physically see each other, and also involved spectators, who can see the same digital content as the participants, again without the need for VR glasses!
AR Hybrid Quest
BoldMove Nation has entered AR Hybrid Quest into the Innovation Awards 2021, in the categories of storytelling, digital, technology. This combines physical and virtual experiences in such a way that this scavenger hunt adds an extra dimension to LBE, boosting footfall and retention in an easy and affordable manner.
AR Hybrid Quest can enhance existing infrastructures and optimise visitor flows with intuitive and accessible gameplay. This mixed-reality game takes place in a dedicated or themed area and leads players across an adventurous indoor or outdoor trail. This can be entered via a virtual and physical portal, which augment an entire environment for an all-immersive feeling.
Using their own device, guests download instructions and are then guided along different physical marked stations with virtual assignments in order to reach their mission or target, which can be a physical treasure room, forest or the Marsu Nest, depending on the IP. The game can be initiated digitally before the visit, during the physical stay and afterwards to extend the experience.
Different configurations are available, combining virtual or hybrid portals and content to build the best visitor experience.
AR Hybrid Quest adds to the immersive experience by letting the guests actively participate and help the characters accomplish their mission. BoldMove offers a choice of different IPs like the Marsupilami's Incredible Supply Hunt, Trader Joe's Gold Chase and Save the Mushies. Customised IP and theming can be developed, with seasonal dimensions for team building and private events like anniversaries.
This interactive treasure hunt offers an opportunity for loyalty programs and community building. Players can share their scoring and images via social media channels, whilst park owners can guide visitors to shops or more quiet areas.
Immersive Photo Interaction
Showtime Pictures has entered Immersive Photo Interaction into the interactive category, aiming to revolutionise how photography concessions operate with the world's first immersive capture system with AI-controlled cameras and facial recognition enabled self-service kiosks.
Pictures are captured in front of giant LED screens with a camera system that does not require photographers. Entire backgrounds are removed, without a green screen, through AI-powered software and all cameras are controlled by AI. The facial recognition software finds the customer's image within two seconds and displays it on interactive screens, with unlimited types of media and background choices.
The kiosks are integrated with touchless payment systems and all orders are printed upon purchase, within 20 seconds. As soon as they have paid for their images, customers can access them on their phones through the company's personalized website. They can also send a selfie of themselves on their mobile device and the system will deliver all their images to the phone within 3 seconds without needing an app.
Journey to the West theme park
Christie has entered Journey to the West theme park in China to the immersive, spectacular, storytelling and technology categories, in the Innovation Awards 2021.
Attractions at China's Journey to the West theme park take guests through legendary battles and famous episodes using gigantic dome-shaped screens and holographic displays on curved screens courtesy of Christie projectors, AV-over-IP solutions, and media servers.
One of the main objectives of Journey to the West theme park is to create a highly immersive experience for guests. Attractions such as "Battle with the White Bone Spirit" and "The Cave of Silken Web" showcase vivid 3D projections on nine large domed screens (each with a diameter of 6 meters) and five curved screens (each measuring 6 meters in length and 7.2 meters in height) respectively, which transport guests right into the exciting storylines and action sequences.
The visuals for these dark rides are accomplished by Christie's high-performance laser projection systems, including the D4K40-RGB pure laser projectors, as well as HS and GS Series 1DLP laser projectors.
Arctic Adventure: Exploring with Technology
Moment Factory has entered its Arctic Adventure: Exploring with Technology exhibition into the immersive, interactive and technology categories at the Innovation Awards 2021, created in collaboration with the Museum of Science Boston.
This experience transforms the gallery space into a believable arctic world where the sun rises and sets, weather patterns change, and animals migrate with the seasons. In this fully immersive environment, guests are empowered to play an active role in the experience, where they not only get to learn about technologies used in the arctic, they actually get to use them.
They are invited to metamorphose from spectator to actor, from observer to do-er, to become arctic researchers. Using analogue, physical and digital technologies such as drones, hydrophones, ground-penetrating radar and ice core drills, visitors explore the dynamic, constantly changing environment of the far north.
Guiding the concept was the notion of "content exploded," which was achieved through the synchronization of sound, light, touch, vibration, and temperature.
Care was taken to seamlessly integrate hardware and controls into the scenographic design to keep the environment as immersive as possible. Energy and environmental concerns were approached as overall life-cycle, sustainability, and hygiene priorities, through the use of easy-to-clean equipment and long-life systems programmed to power down at night automatically.
Arctic Adventure signals a sea change to visitors by transporting them to an environment unlike any other they've experienced at a museum before. With opportunities to interact with real technology, visitors of all ages and abilities transform into active participants who can explore what these tools reveal about climate change through experiential learning.
Parallel Pursuit
WhiteWater has entered Parallel Pursuit into the Innovation Awards 2021, in the interactive, splash and thrills categories, meeting the need for a marquee water slide attraction on a tight budget with a small footprint.
Parallel Pursuit is a duelling water slide that redefines the racing experience. Up until now, racing slides can be found in two forms: open and rolling slide paths that go straight down to the finish or a second type that adds in separated enclosed flumes that twist and turn.
With this new water slide, two riders can race down their own lane, while being able to check if they are ahead or behind and yell at each other during the race, even on curves and in enclosed sections.
Parallel Pursuit's innovation lies in its lower separating walls that allow opposing racers to see and hear each other throughout the ride, even on turns, all in a flexible small footprint configuration, with a price tag that is surprisingly affordable.
Available as either a mat or a body slide, so headfirst or feet first, Parallel Pursuit creates a one-of-a-kind, true side-by-side racing experience through low separating walls that have been thoroughly tested for comfort and safety. These low dividers contain each rider in their lane through straight segments and hairpin turns, in both open and enclosed sections, in speeds of up to 32 kph (19 mph).
With the interactivity that Parallel Pursuit offers, guests are motivated to compete with each other over and over again. Parallel Pursuit is also designed to be highly configurable in height, length, ride position, thrill level and visual effects. It can be stand-alone or easily added to an existing slide tower to fit in the tightest of footprints and around existing structures.
Vantage
Vantage Technology has entered Vantage into the categories of COVID, digital and technology. This allows operators to create a personalised, seamless experience for each of their guests, understanding guest behaviour so that they can send visitors notifications they are interested in, at the right moment and at the right place.
With Vantage, attractions can see which, and how many, guests and team members are located where, meaning that operators can move crowds, adjust queues, and optimize the number of staff. Vantage goes beyond online ticketing, virtual queuing, and cashless payment, combining smart wearable technology with behavioural analytics.
Vantage produces real-time and historical data overlay, revealing revenue opportunities for the right place, the right time, and the right demographics. It results in a personalised experience for guests before, during and after their visit, with push notifications, reminders, information, offers and more. Guests can even collect loyalty points.
The solution gives attractions the insights they need to operate proactively—not reactively—with intelligence from data such as dispatch rates, crowd density, per caps, and inventory tracking for activity slots, premium areas, merchandise, and food and beverage. It also enables dynamic pricing and dynamic crowd control, therefore reducing inventory and queue time and potentially increasing dwell time.
New products on show at blooloop V-Expo
As well as the exciting Innovation Awards 2021 entries, there will be more new products and services on show at blooloop V-Expo too. For instance, Simworx, the dynamic media attractions specialist, will be showcasing the latest additions to its vast product portfolio and sharing its recent project accomplishments. Joined by their new Global Business Development Manager, Paul Kent, the team will be announcing how they intend to branch out further into the FEC market with their new products.
Simworx's new Alpine Racer VR attraction delivers a dynamic but compact and affordable solution for smaller vendors that immerses guests and offers a taste of sledging at high speed down the snowy alpines. Its competitive gameplay allows riders to play against their friends in pursuit of the highest score which can be tracked on the game app's worldwide scoreboard.
Extending the company's Flying Theatre selection is the addition of Simworx's latest Fly Motion Attraction. A hybrid of its Immersive Tunnel and Cobra Dark Ride Theatres, the Fly Motion offers a more accessible Flying Theatre experience designed for venues with low ceiling heights.
This offers a 30 seat capacity and an optional track system that allows guests to board in a separate loading area before moving through for a grand reveal of the showroom. Riders are fully immersed by the combination of dynamic motion, special effects, surround sound and 3D film resulting in a unique, adrenaline-inducing Flying adventure like no other!
Despite pandemic circumstances, Simworx recently delivered the Reodor Felgen's Hyperakselerator ride for Hunderfossen Eventyrpark in Norway. The attraction, which has been a big hit, features characters from the famous Norwegian author and illustrator, Kjell Aukrust's, Flåklypa Universe.
Consisting of four of Simworx's 8-seater Stargazers that utilise 6DOF motion simulators, the ride vehicles are themed to represent the Hyperakselerator from the story complete with on-board special effects – including water spray, wind, and leg ticklers – and even an 'interactive' Hyper boost button for guests to press at the appropriate time to enhance the story's realism.
There will also be exciting news from SPREE Interactive, the provider of active free-roam VR experiences. SPREE recently supplied its Virtual Reality Arena to Costa's Family Fun Park in Pennsylvania, where it has replaced the attraction's traditional coin-operated arcade.
Tickets avaiable
Tickets for blooloop V-Expo 2021 are still available, here. Attendees will have the opportunity to see all the Innovation Award 2021 entries, as well as watching the winner being announced by AREA15's Winston Fisher at 5 pm BST on 5 October.
The three-day programme will deliver a line-up of expert speakers, who will be discussing the latest trends, providing thought leadership and highlighting key projects.
Speakers to date include:
Waleed Abdel-Fattah, SVP Hill International
Mohamed Al Zaabi, CEO, Miral
Tzo Zen Ang, TZA Consulting
Michael Beneville, Chief Creative Officer, AREA15
Kimberly Beneville, Co-Founder, Beneville Studios
Ngaire Blankenberg, Director, Smithsonian National Museum of African Art
Mark Fisher, Chief Development Officer, Merlin Entertainments
Winston Fisher, CEO, AREA15
Helen Fothergill, Service Manager – archives, gallery & museums, Aberdeen Art Gallery and Museums
Andy Fuller, Head of Marketing, Sales and Admissions, Pleasurewood Hills
PY Gerbeau, CEO, The London Resort
Doug Gurr, Director, Natural History Museum London
Vince Kadlubek, Founder and Director, Meow Wolf
Nick King, Chief Development Officer, The Red Sea Development Company
Camiel Kraan, CEO, Convious
Grant Mackenzie, Interim Director, David Livingstone Trust
Eugene Naughton, President, the Dollywood Company
Suhanya Raffel, Director, M+ museum
Sumathi Ramanathan, Vice President Market Strategy & Sales, Expo 2020 Dubai
Ali Rubinstein, Chief Creative Officer and Co-CEO, Meow Wolf
Terry Sanderson, Business and Development, Dreamcraft
Mark Stepanian, President, CAVU
Brent Strong, Executive Creative Director, Walt Disney Imagineering
Nick Sharp, Chief Digital Officer, National Gallery of Art
Steve Tatham, Executive Creative Director, Universal Creative
The blooloop 50 Museum Influencers 2021 and the blooloop 50 Theme Park Influencers 2021 will also be announced live at the event. Plus, blooloop is hosting the announcement of the winner of the Storyland Design Challenge and AREA15 will also be revealing the winner of the AREA15 Rise Award ($20,000) and the runner up ($10,000).
Attendees can take part in speed-networking sessions and chat with peers during the speaking sessions.
The blooloop V-Expo was conceived in 2019 as a sustainable alternative to in-person events. As part of our commitment to becoming greener, we will be donating £5 from every ticket sold to WWF's Climate Crisis Fund.