Here's our IAAPA Expo Europe 2019 review.
It's time to bid farewell to a fondly used industry abbreviation. Fifteen years after IAAPA acquired the Euro Attractions Show (EAS), the event continues to go from strength to strength.
Given a new lease of life as IAAPA Expo Europe, the three-day trade show and conference took place from the 17th to 19th September. Attendance at the event eclipsed that of the last ever EAS in Amsterdam in 2018 by 100. That's 15,900 versus 15,800. Just over 11,000 of those were classed as qualified buyers, browsing the booths of a record 648 exhibitors.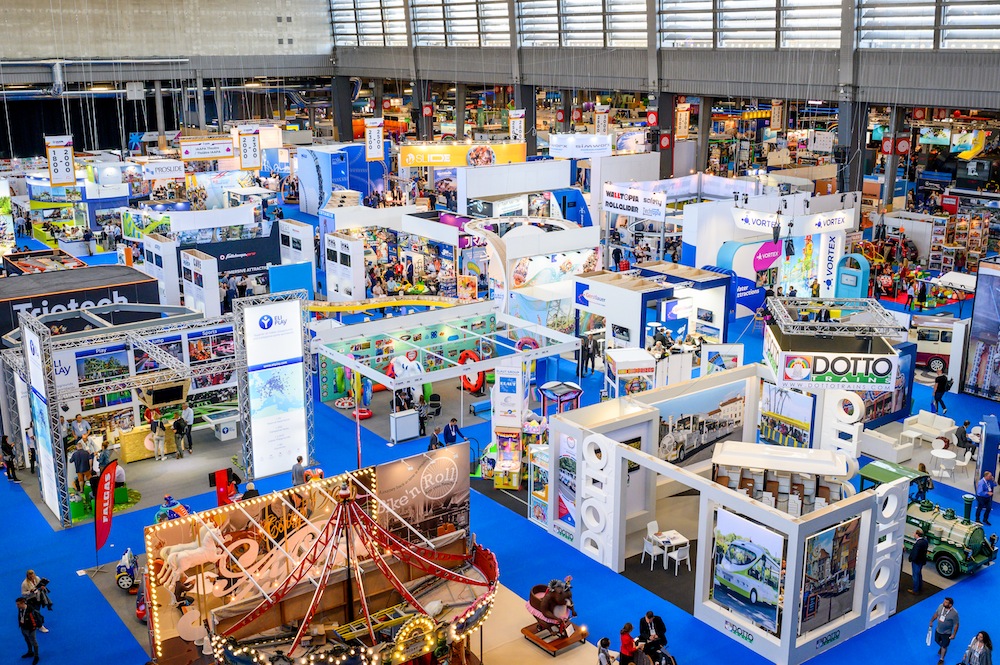 In contrast to last year, all exhibits took place inside a single hall. The location was the Paris Expo Port de Versailles exhibition centre in the 15th arrondissement. Here, attendees enjoyed a packed programme of official and unofficial events.
"This week's show demonstrates the strength of the attractions industry throughout the EMEA [Europe, Middle East and Africa] region, and the rest of the world," said IAAPA EMEA executive director, Jakob Wahl. "The trade show floor was the most expansive IAAPA Expo Europe has ever had. In addition, our outstanding speakers – many from France – ensured the conference was informative and valuable for all attendees."
Here's what Blooloop picked up on in Paris:
Pre-IAAPA Expo Europe events
In addition to various IAAPA board meetings, Disney's Newport Bay Hotel hosted the IAAPA Institute for Attractions Managers from Saturday to Monday, September 14 to 16.
On Monday, Parc Astérix was also the centre of attention when it hosted a number of related events. These included the sold-out IAAPA Safety Institute and EDUtour. The latter also included a visit to the park Mer De Sable.
Then on Monday evening, Parc Astérix provided the backdrop for the 10th anniversary European Star Awards. Presented by the German magazine Kirmes & Park Revue, the awards recognised outstanding parks, rides and attractions, both new and old. During the ceremony, the host venue was named second best family park in Europe, just behind Disneyland Paris.
Meanwhile members of the British Association of Leisure Parks, Piers and Attractions (BALPPA) met for drinks at the Novotel Vaugirard Montparnasse hotel. Given the great September weather in Paris during the week, no one had any worries about the rooftop location.
Art and Artistry with Disney
Elsewhere on Monday, Walt Disney Imagineering hosted an event entitled An Evening of Art and Artistry with Disney Imagineers at La Nef du Palais Brongniart. David Wilson, vice-president of Euro Disneyland Imagineering, compared the imagination that had gone into such a beautiful building to that of Disney Imagineers' efforts around the world.
Invited guests learned of new developments at the group's six global theme park resorts. They also learned about its cruise ships, including three new vessels being built in Germany. Europe has been a major source of inspiration to Disney over the years. The continent was also Walt Disney's ancestral home.
Wilson also acknowledged the contribution Disney's partners from across Europe have made to Disneyland Paris. With the resort's Walt Disney Studios Park set for a €2 billion transformation over the coming years, there will be many fresh opportunities for industry vendors and TEA members, who made up a large percentage of those in the room.
The three new themed areas coming to Walt Disney Studios were also discussed by David Wilson and Daniel Delcourt, deputy director-general of operations at Disneyland Paris, during Thursday's new Future Feature lunch session.
For a company that can sometimes be quite tight-lipped about its plans, IAAPA Expo Europe gave a rare glimpse into Disney's European activities.
Compagnie des Alpes contributes
Parc Astérix owner Compagnie des Alpes (CdA) also operates two attractions in the centre of Paris. Each of these hosted events during the week. On Tuesday, straight after the show, the Jardin d'Acclimatation hosted the official IAAPA Expo Europe Opening Reception.
These 159-year-old pleasure gardens reopened last spring following a €60 million refurbishment by CdA. The French group now runs the park on behalf of the LMVH (Louis Vitton Moët Hennessy) Foundation. Several of the park's new Steampunk-themed rides and attractions, including a beautiful carousel by Concept 1900, were available for the event's 1,283 attendees to sample on the night.
Whimsical Parisian performers and quality food and drink added further to the networking event. It had a tough act to follow after 2013's magical EAS Opening Reception at the Musée des Art Forains. Steeped in the same rich amusement industry tradition, it arguably came close. In addition to this, Mov(e)motions hosted its own well-attended party.
There were selfie opportunities galore on Wednesday evening when the TEA took over the ground floor of Musée Grévin. The mixer event at one of the world's oldest wax museums, also part of the CdA portfolio, allowed guests to mingle with themed entertainment colleagues and a few famous faces.
More awards, attraction happiness and a view to die for
Following Monday's European Star Awards, Park World magazine presented its Excellence Awards for a second year on Wednesday evening. The venue for the black-tie affair was the Le Méridien Etoile hotel.
One further reception to mention is WhiteWater's Wednesday night gathering. This had fabulous views overlooking the Eiffel Tower and River Seine.
In addition to the networking, IAAPA offered more than 100 hours of in-depth conference sessions, featuring contributions from 131 industry experts.
The sole speaker on Tuesday lunchtime's A Neuro-Scientific Approach to Happiness at Attractions session was Polin Waterparks' Söhret Pakis. She looked at the evolution of the human brain. We have the same fears and urges as our caveman ancestors, but must cope with very different stresses thanks to modern technology.
People's brains develop when they are out of their comfort zone, said Pakis. That could be riding a waterslide, or simply stimulating the mind with a walk around the park. Lots of research still needs to be done regarding the effects of rides on the brain, she said.
Retail, entertainment and queue busting education
In one of two Tuesday afternoon sessions on Retailtainment, JRA's Shawn McCoy talked about the trend for designing attractions in which visitors have a better experience if they buy a certain product. An example being The Wizarding World of Harry Potter's magic wands at Universal's parks in Florida, California and Japan.
There was an interesting observation from a member of the audience, who noted the Karls Erlebnis-dorf attractions in Germany started as retail outlets but have evolved into theme parks. Yet the rides now featured at each site are really just 'pre-shows' to the themed retail experience that follows.
One of the best-attended sessions on Wednesday afternoon was on the topic of reducing attraction queue lines. So popular, in fact, there was almost a queue to get into the room! There were smiles when Disneyland Paris' Jerome Lebron spoke on the false logic of wasting time looking for passengers to fill a couple of empty seats. It's actually more efficient to let the ride vehicle go. "Let it go," he said. "Let it go, let it go…"
From France to the Middle East
Alongside the main conference programme were ticketed educational opportunities and keynotes such as Wednesday's Leadership Breakfast with Nicolas de Villiers of Puy du Fou. The French park operator spoke about his team's unique approach to live entertainment and recent expansion into Spain. As well as the Future Feature from Disneyland Paris, there were two other lunch sessions during the week.
On Tuesday, LDP's Yael Coifman led a panel of French attractions industry executives. This included François Fassier from Compagnie des Alpes, Looping Group's Laurent Bruloy and Benoit Chang of the proposed EuropaCity.
The attention turned to the Middle East and Africa for Wednesday's Lunch & Learn. Ferrari World Abu Dhabi's Bianca Sammut highlighted the efforts the park goes to make its international workforce feel part of the team and part of a family when they are far away from home.
Saudi Arabia has set itself a goal of becoming a top global 10 tourist destination by 2030. And ex-Disney executive Bill Ernest, CEO of SEVEN (Saudi Entertainment Ventures), is the man with a $64bn wallet to help achieve that. He outlined plans to develop a network of 20 new multi-use entertainment sites across the country. The first piece of the jigsaw? The nation's first public cinema for 35 years.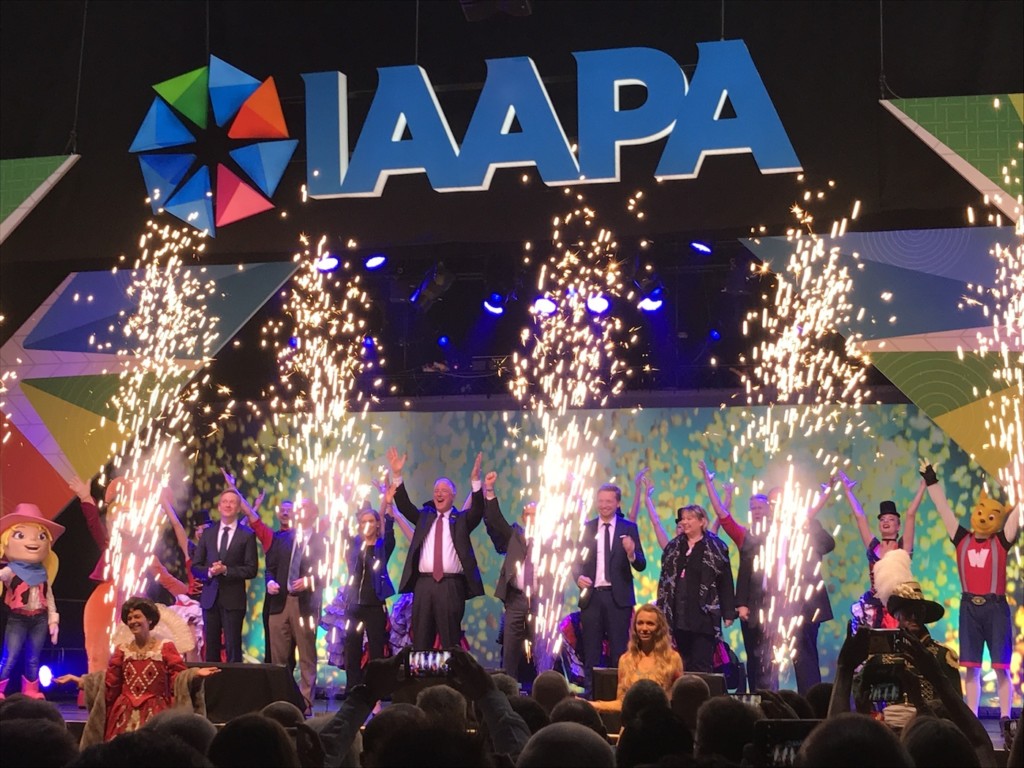 Putting the (A)frica into IAAPA EMEA
Since IAAPA Europe expanded to become IAAPA EMEA there has been more talk about the Middle East than Africa. Yet there's huge potential across Africa which, as Sabine Lehmann of Attractions Africa reminded us during Lunch & Learn on Wednesday, is a continent, not a country.
Crucially, it's a young continent, with a median age of just 19, a growing middle class and increased urbanisation. And with the population predicted to rise to 1.68 billion by 2030, it will eventually have more citizens than China, the USA and Australia combined.
The continent will come under the spotlight again in January when IAAPA EMEA stages its first Summit in South Africa.
It wasn't just mega-projects such as EuropaCity and those planned by Saudi Entertainment Ventures that were highlighted. Former Bobbejaanland operator Jackie Schoepen took a booth on the show floor to market his Captain Jack aviation experience concept. Once it is up and running in Belgium, he hopes to franchise it to other regions around the world.
Blooloop also spoke to original Futuroscope president Daniel Bulliard. After launching Parc Spirou last summer in the south of France, he's already planning a second, larger park elsewhere in the country.
It seems the European theme park market has not reached saturation point just yet. According to IAAPA's Global Outlook Report 2018-2022, theme and amusement parks across Europe will entertain more than 179.6 million guests this year alone.
Views from the show floor
"The European market for us has been pretty stable over the years," said Intamin's Sascha Czilbulka. "The production line is full for the foreseeable future. Launch coasters are still going strong for us. We were also proud this season of Tigeren at Djurs Sommerland, which picked up an award for Best Thrill Ride."
"This was an excellent show for Vekoma," said the Dutch ride manufacturer's Charlotte van Etten. "We met with customers from Europe, Middle East, USA and Asia. In addition to the many pre-scheduled appointments, we had good walk-in traffic from the floor. The European market is definitely growing. For 2020 we have 11 new coasters scheduled to open!"
Benoit Cornet on the Alterface booth said, "Popcorn Revenge is proving popular. We expect to see more rides in Europe, including possibly some French parks. We are also in discussions regarding a whole themed area in a park using the IP."
A thirst for theming
"Europe must be expanding because we are getting lots of interest from Eastern Europe," said Scruffy Dog CEO, Joe Bright. "The quality of projects is good. There seems to be a higher interest in creativity – 'How do we take this ride and make it extraordinary?' We've had several meeting with shopping mall developers too, who understand the importance of adding themed entertainment to their offering. All in all, it's been a good one."
"This was our third year exhibiting at IAAPA Expo Europe," said MK Themed Attractions' Lars Nielsen. "Our international brand and portfolio of quality themed concepts have grown considerably over this time. It is our belief that the European attraction industry is experiencing great growth, with an increased focus on theming. We managed to close a lot of deals at the exhibition including new themed elements for Liseberg's Kaninlandet children's area."
"It was lovely to be in Paris and meet so many industry friends," said Marjolein van de Stolpe of the Leisure Expert Group (LEG). "From the What's New video during the Opening Reception, you could really feel that there is a strong development going on in Europe. At LEG, we are creating some beautiful new areas and rides for some great parks. Also, Halloween keeps growing in Europe. This year we will deliver eight Haunted Houses."
Press conferences in Paris
Seven press conferences took place during the week. These included announcements about Aardman's collaboration with Sally Dark Rides on two new dark ride concepts, Triotech's partnership with CL Corp and a number of new ride innovations from Zamperla. Red Raion also launched their new film Black Hole- The Multiverse War at the show.
The French multimedia show specialist ECA2 actually does much of its work outside Europe. It shared details of its latest production in China. For The Legend of Pangu in Lanzhou, the firm uses "every technology we know" to create a 26-minute show that takes place twice-nightly in a custom-built arena with a retractable roof.
The press conference from Europa-Park was in a busy and somewhat hot room. "We want to get you used to the temperature inside Rulantica," said Michael Kreft von Byern. He was speaking of the park's second gate waterpark, which will open on November 28, and which will be air-conditioned to between 32 and 34°C.
Details were also revealed of the Snorri Touren dark ride that will share the same storyline as the waterpark. This should be open by December, with a soft opening possible as soon as October. A ride vehicle for the attraction was also on show at the Mack Rides booth during the show.
Michael Mack spoke of the positive performance this summer at Krønasår – The Museum Hotel, which opened in June. "We thought the new hotel might affect occupancy of the other hotels at Europa-Park," said Mack, "but fortunately we experienced 100% occupancy over summer even before the waterpark had opened." He went on to hint that in due course Mack Rides will build a monorail to link Krønasår to the other hotels on site.
Dark rides and flying theatres
On Tuesday afternoon, Simworx staged a press conference to discuss its AGV dark ride and Mini Flying Theatre. The former, said the company's managing director Terry Monkton, is "the most technically advanced dark ride vehicle on the market today."
Attendees also enjoyed a video of some of the vehicles in action at Simworx' UK factory. Each features a motion base on top of a chassis. This can move forwards, backwards and sideways over a non-linear path. A clever feature is the way the vehicles charge while in the loading station.
As with the AGV, the Mini Flying Theatre makes a kind of attraction previously unaffordable to medium-sized parks a possibility. The first unit, opening soon at Baoson Wildlife Park in Vietnam, has 20-seats but a 24-seat version is also available. Both ride systems are priced competitively in comparison to others on the market, but Monkton gave another reason for choosing Simworx. "Thanks to our government's efforts, the pound is so cheap. As a result, there has never been a better time to buy British!"
The roots of EAS
Euro Attractions Show's metamorphosis into IAAPA Expo Europe is now complete. But how did it get there?
The first EAS in Paris was back in January 2004. Then, a giant marquee was home to the exhibitors, in a car park at Disneyland Paris. The weather over the week was challenging, and at times it was hard to forget you were under canvas. The event never took place in a tent again. Among the visitors that year was a delegation from IAAPA. They were keen to tour the show IAAPA had just acquired from the European Association of the Amusement Supplier Industry (EAASI).
Founded as the Euro Amusement Show, the first EAASI-backed event was actually part of the ATEI show at London's Earls Court in 2001. The following year, EAS exhibitors boosted numbers at Interschau in Düsseldorf, Germany.
The Euro Attractions Show
It was not until 2003 that EAS gained standalone status when it was staged in Genoa. The location was in part due to the strong Italian ride manufacturer presence within EAASI. The year after it moved to Paris, and then Vienna in January 2015, when IAAPA took full control.
The Austrian capital hosted the event again in winter 2006, rebranded as Euro Attractions Show in an acknowledgement of the widening scope of IAAPA's membership. The show switched to its current autumn timing with a memorable event in Munich. There was also an even more memorable Opening Reception at Oktoberfest, in 2008. It has since continued to move around Europe.
What a difference 15 years make
Whilst the 2015 get-together in Gothenburg, Sweden, was for convenient due to the close location of the convention centre, adjoining hotel and 'ensuite' amusement park (Liseberg), IAAPA has now settled on a handful of popular cities that, for most visitors from Europe, are just a single flight or train ride away. As well as Paris this includes Amsterdam, Berlin, London – next year's host city – and Barcelona (2021).
IAAPA has more than doubled attendance since it acquired the event in 2004. Ticket prices have climbed steadily over the years (both the exhibition and the opening reception were once free). However, the scope and quality of the show, its conference and events programme have improved considerably too.
Over the past 15 years, the association has also established a credible regional presence. This makes it feel like an event run 'by Europe for Europe' – and increasingly the Middle East and Africa too.
See you at IAAPA Expo Europe 2020
The timing of IAAPA ExpoEurope in London (September 22 to 24) is interesting given the UK's imminent departure from the European Union. Yet with over 500 companies already having reserved their space, by hook or by crook we'll all get there.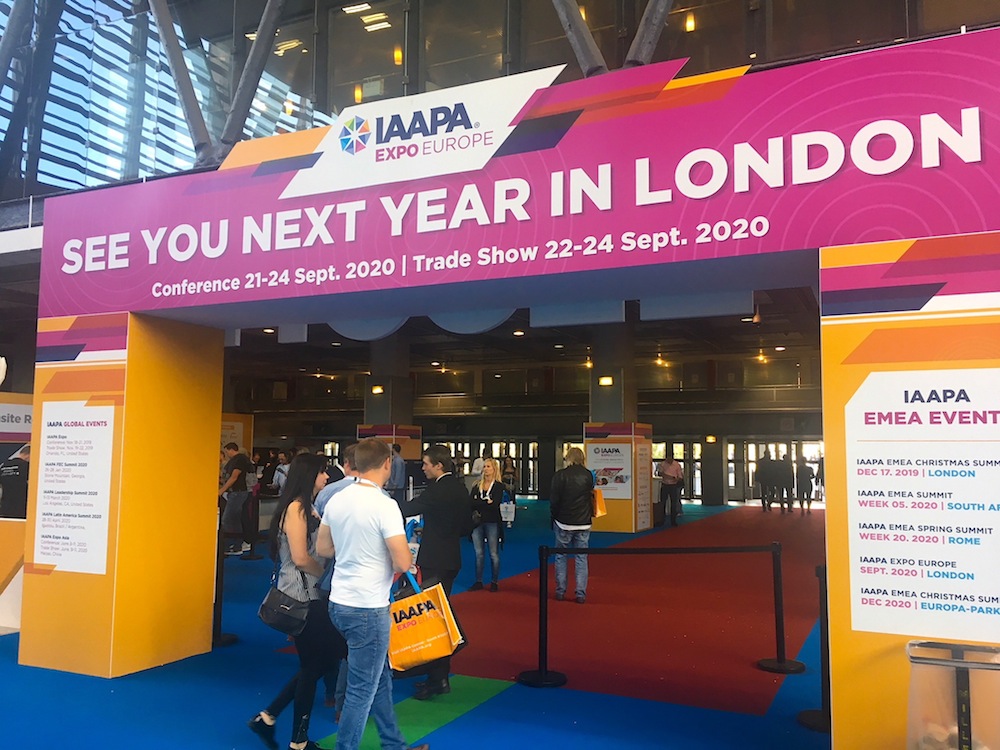 Additional images courtesy of Mov(e)motions, the TEA and various companies featured. Inaugural IAAPA Expo Europe sponsors included accesso, Brogent Technologies, DOF Robotik, Embed International, EuropaCity, Gateway Ticketing Systems, Interlink, iPlayCO, JRA, Leisure Development Partners (LDP), Mack Rides, Polin Waterparks, Proslide Technology, Simworx, The Producers Group, Vekoma Rides Manufacturing, Wärtsilä Entertainment and WhiteWater.