After another tumultuous year for the global attractions industry, which saw more lockdowns and new variants as well as record vaccination levels and a staycation boom, many are hopeful for recovery to continue in 2022. With the situation changing frequently, it can be difficult to predict what the future holds. So, to get some insights and find out more about some of the key trends to watch, blooloop spoke to two of the global attractions industry's leading consulting firms.
Firstly, we talked to Christian Aaen and Edward Shaw from Entertainment + Culture Advisors (ECA,) an international advisory firm focused on economic and market analysis for world-class destination entertainment and cultural developments. For this interview, they focused on Asia Pacific.
Following this, we also spoke to Yael Coifman and Michael Collins of Leisure Development Partners (LDP), a leading consulting practice focused on leisure and entertainment real estate, to gain insights into the European and North American markets.
Looking at Asia Pacific
"If you look across the region in 2020 and 2021, it was a truly unprecedented year," begins Aaen, founding principle of ECA.
The vaccination rate, which will be one of the factors playing a key role in the recovery period, differs across the region. While China, Singapore and Japan have good levels of vaccination, there are still quite significant regional differences.
"For instance, India, Indonesia and Vietnam are at much lower levels. But we're hoping that they can catch up as part of countries reopening in the region," says Aaen.
"The pandemic had a very significant adverse impact on attendance levels across the region. Overall attendance was down between 50% and 90% across Asia.
"Markets such as China are rebounding more quickly because of the large customer base and domestic tourism. Mainland China is not as dependent on international tourism as, for example, Hong Kong, Singapore, and Bangkok."
Development trends
In terms of developing trends and innovation, there is a continued focus on a broad range of theme parks and attractions formats:
"Firstly, we have mega parks, major regional parks and children's parks. Then we have branded family resorts, for example, LEGOLAND.
"There are also cultural show-based parks. We're seeing domestic, local and also international models, for example, Puy du Fou coming into Asia and China. Similar to trends in Europe, we are also seeing more pop-up and travelling experiences. For instance in China with Cityneon, and teamLab from Japan opening up successfully in a number of locations in Asia."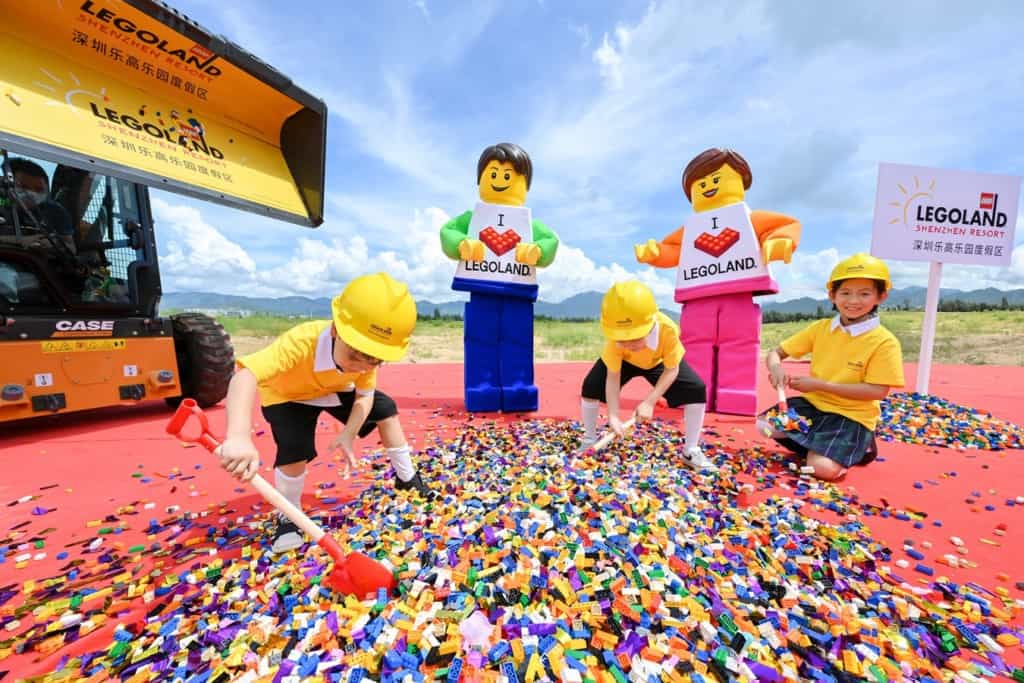 "And then also we see continued focus on the indoor LBE branded attractions in urban districts and in malls. Plus, again similar to Europe, more visitor centres and brand home experiences are opening."
IP is another key attraction trend, says Aaen:
"This is international IP but there is also an increasing focus on domestic IP and local content, as well as video gaming IPs.
"Finally, we have seen during 2020 and 2021 that technology and innovation have reimagined the guest experience. For instance, things like pre-booking and virtual queue lines have had a positive impact, in terms of visitors having more time in the parks to spend on food & beverage, and per-caps have been up by quite a bit in 2021."
Universal Beijing
Of course, the big project of the year in this region is Universal Beijing Resort, which opened in September 2021.
"We're very excited about this project finally opening," says Aaen. "It's been more than 20 years in the making and was actually my first China project. I went out there in 2000, 2001, when we looked at both Beijing and Shanghai for a comparative analysis. At that time, the attractions landscape in China was in a very early stage.
"Universal Beijing represents a major mega park investment. They're expecting, according to local government sources, above 10 million, maybe up to 12 million visitors, depending on COVID rebound, in 2022."
"It is a core destination covering around four square kilometres and is part of a much larger project, similar to Shanghai Disney. Universal's partners, Beijing Shouhuan Cultural Tourism Investment Company, are investing in up to 12 square kilometres, creating a culture and tourism district destination with hospitality, retail and supporting businesses, commercial and residential.
"This is part of an economic development strategy to monetize investment over a 20-to-25-year period. So, we think Universal Beijing will have a major positive impact. It's really a watermark development in China and Asia. The park is divided into seven major areas with key IP such as Harry Potter, Minions and Kung Fu Panda."
Projects to watch
In terms of some new attractions and trends to watch, Aaen highlights a few key projects in the pipeline.
"We are working with Puy du Fou on an interesting new indoor concept. SAGA is an immersive walkthrough experience with multiple storylines. It is set in Shanghai in the 1920s/1930s era with the actors as part of the walkthrough. "
"Puy du Fou is very excited about this concept. It could also be rolled out to other locations, other urban markets in Asia. We see great potential in this immersive concept.
"In southern China, we have the LEGOLAND Shenzhen Resort coming up in 2024. This is part of Merlin's strategy in China to open five to six plus mainland parks over the next three to five years, with LEGOLAND Shanghai and LEGOLAND Sichuan on the way too.
Key attraction trends in Asia
"Then up the coast in eastern China, we have the Eden Project, a nature/eco attraction similar to the UK location. This will be the first one in Asia and China, opening in 2023 with China Jinmao Holdings, as part of a new city development district. This will be the key cultural anchor with water as a theme.
"This is really showing the trend of focusing on nature experiences, educational experiences, and sustainable attractions. We'll see more of these projects in China and Asia Pacific."
"Another key project is the 11 SKIES (SkyCity) project by K11 and New World Development in Hong Kong, part of the Greater Bay area's largest indoor urban entertainment destination. This is 350,000 square metres and has a $2.5 billion investment initially, with associated commercial, office, hotel, lifestyle, wellness, and health. It's part of a longer-term expansion of Hong Kong Airport connecting to Macau and Zhuhai.
"Here, we helped advise on the indoor entertainment strategy. They will have six to eight key attraction brands, including the first flagship Kidzania in China."
A bright future
In outlook, Aaen says that Asia Pacific has very strong fundamentals in place:
"It's a large region with a growing middle-income population. There is a continued focus on leisure time and experiences. With economic growth above Western countries, this region will drive themed entertainment for the next 10 to 15 years.
"The recovery is underway, but this really dependent on vaccination rates improving. There has also been the overheating of some real estate developers in China, for example, Evergrande. We'll see what the fallout will be from that."
"Overall, there's a lot of pent-up demand for experiences. It's a very resilient industry in Asia. But we think the growth will first be in regional attractions and domestic tourism. Then you will see international tourism come up, starting with key travel corridors in the region.
"We expect tourism to rebound in 2022 and 23, and then to see higher growth in 2024 and a possible catch up by 2025 to the 2019 levels.
"Lastly, a key kind of lesson or takeaway for parks and attractions is that they will need to continue being proactive in their internal and strategic planning, being flexible and planning ahead, and having a reserve fund and reinvestment. It is even more important today to be ready to respond and adapt, through COVID and beyond."
Attractions trends in Middle East markets
Following this, Edward Shaw, a principal with ECA, gives an update on the state of the attractions industry in the Middle East, in particular trends in the UAE, Saudi Arabia and Qatar, the three markets where there is the most activity.
"In the Middle East attractions industry, the impact of COVID has been the dominant story. As with all global markets, COVID has dramatically reduced the ability for operations to function at full capacity across the Middle East, including the leading major attractions in the UAE.
"Attendance has seen a significant decline with many attractions being either closed or only partially open for much of the year as a precaution against the further spread of COVID-19. As a result, visitation to attractions saw a decline of anywhere from 50 to 75% plus across the leading destinations in the region.
"Nevertheless, there appears to be sunlight at the end of the tunnel. Leading attraction markets within the GCC, including the UAE, Qatar and KSA, have been proactive in the distribution and administration of the COVID vaccine."
Recovery forecast
Looking to the potential recovery of the tourism market in the GCC region, Shaw says:
"We foresee a further three-to-five-year recovery period for tourism to get back to 2019 pre-pandemic levels. We expect domestic tourism to recover in advance of international tourism.
"The continued slow pace of recovery will make operational efficiency critical to maintaining operating margins and profitability. At the same time, reinvestment will be essential in order to drive repeat visitation in the resident market and domestic tourist market."
New projects show attraction trends
Despite the impact of COVID, development in the region has continued during 2021. There have been several new openings in the UAE, Qatar, and KSA. One such project is Ain Dubai, which officially opened in October 2021. This is the largest and tallest observation wheel in the world.
"The wheel is part of the Bluewaters destination. This is also home to the first Madame Tussauds in the GCC, operated by Merlin Entertainments. 2021 also sees the reopening of the Dubai Safari Park, which reopened this fall after undergoing a two-year renovation between 2018 and 2020, only to have to close again due to COVID."
After a year's delay, Expo 2020 Dubai also opened in October and will run until 31 March 2022. The 438-hectare World Expo includes participants from 192 countries and focuses on three sub-themes of opportunity, mobility and sustainability.
Giga-projects and more
Turning to attractions trends in Qatar, the 30,000 square-metre Quest indoor theme park at Doha Oasis also opened this year. It includes over 30 rides and attractions, as well as the world's tallest indoor roller coaster and tallest indoor drop tower.
In Saudi Arabia, PIF, the public investment fund, and its holding company Qiddiya Investment Company (QIC) are developing numerous giga projects across the country. The goal is to open up and diversify the economy over the next decade.
"Numerous mega-scale projects are in the pipeline, first of which is slated to be the Qiddiya project outside of Riyadh, which will have a Six Flags theme park and major waterpark, along with several other attractions," says Shaw.
"In addition, Saudi Entertainment Ventures or SEVEN, which is more focused on domestic tourism, is developing 20 entertainment complexes across 14 cities in the kingdom. This includes branded and non-branded attractions, from water parks to adventure parks and large scale indoor FECs."
A growing market
According to Shaw, the GCC is currently in the growth phase of the tourism industry cycle.
"We are seeing an increasing rate of new high-investment commercial attractions introduced into the market. In conjunction with that growth, IP integration has become more prevalent throughout the Middle East, especially in Dubai and Abu Dhabi, and it's expected in Saudi Arabia in the near future."
"Major pipeline projects include the upcoming Motiongate Dubai expansion with a new Lionsgate zone, including John Wick, and Now You See Me themed rides, the new Warner Bros. World Abu Dhabi hotel and SeaWorld Abu Dhabi on Yas Island. Plus the 137,000 square metre Aquatar water park in Lusail City, in conjunction with the Qatar FIFA World Cup.
"Despite the project investment in IP inclusion, commercial attractions in the region are currently in the mid-range, relative to other international markets. Due to a more limited market scale to support the attractions, it will take time to build into and be absorbed by the market."
IP is growing attractions trend in the region
"As evidenced by emerging attraction markets, from China to Southeast Asia to the Middle East, IP continues to grow in strength and in the public interest," continues Shaw. "Developers are increasingly focused on incorporating intellectual property in their developments as a mode of driving visitation to their destinations.
"At the same time, IP owners, in particular large-scale media and entertainment companies, are going through a period of consolidation and accumulation as major studios merge, and new players emerge and bring onboard major brands and IP."
"Recently, the industry has seen Disney's acquisition of Fox and the pending the merger of Warner Bros. and Discovery. There are also new players, such as Amazon, which is purchasing MGM Studios.
"Netflix is also creating its own experiences based on its shows. It recently announced the acquisition of the Roald Dahl Company with the aim of building immersive experiences based on the iconic stories."
Europe and North America
Michael Collins and Yael Coifman go on to give a North America and Europe overview, as well as looking at the impacts of COVID-19 and some emerging attractions trends.
Starting on a positive note, Collins, senior partner at LDP, says:
"During this COVID period, we've been very focused on the giga projects and smaller projects in Saudi Arabia, and the wider region to some degree. Now we're seeing the resurgence in feasibility work throughout Europe, including new markets in Eastern Europe, and in the Americas.
"That's really encouraging because we're a barometer for everybody else in the industry. If we're busy now, that means the design companies, the ride suppliers and so on are going to be busy over the coming years in those regions."
Vaccinations & restrictions
There are also some positives to be taken from the vaccination rates in both these regions, as well as around the world.
"Countries like the UK, Israel, the UAE were initially leading the charge in vaccination rates, but things have evened out a lot now. As Christian showed, there are still gaps in Asia, and there are countries like India that have a long way to go. But in terms of Europe and the Americas, that gap has narrowed.
"Where we're seeing a big difference still is around entry requirements. Restrictions vary wildly. That will play into how existing attractions fare, particularly those that are traditionally exposed more to international visitation."
The impact of COVID on tourism
COVID-19 hit tourism globally around the world when it first hit in 2020.
"This graph shows how international overnight tourist arrivals were hit in 2019 and 2020 and then the forecast by the European Travel Commission, in conjunction with Oxford Economics, in regard to the degree that tourism will recover," says Coifman, senior partner at LDP.
"In an article right at the beginning of lockdown, we also looked at case studies and did a forecast. We felt that, on balance, it would be about two or three years for recovery. And this chart reflects more or less what we forecast.
"Clearly, there were some things we were not aware of at the time, which has slowed things down somewhat. One of those being the emergence of new variants and another one being how long it would take a vaccine to come to fruition, and how long it would take vaccination rates to get to where they are today. The way that this was politicised in some countries has slowed it down a little bit."
Leisure travel to grow faster than business travel
Given these factors, Coifman says, it may take longer than initially forecast to recover to 2019 levels.
"Also, over the last year, business travel has been replaced by Zoom meetings or virtual conferences. While leisure travel will probably bounce back as things reopen, on the business side this might take a little bit longer to grow as we take a more pragmatic approach. Not just in regard to cost but in terms of carbon footprint."
The long-term outlook for travel and tourism, in general, is fantastic
"With the growing middle class in so many regions around the world, there's still a huge emerging market in terms of leisure travel," adds Collins. "So, I think that the long-term outlook for travel and tourism, in general, is fantastic."
Attractions trends fuelled by staycation boom
One of the things that has become clear over the last couple of years is the importance of domestic tourism.
"As the borders were closed, we tracked how much spending from domestic or international tourism has changed," says Coifman. "There was a very strong hit to international spend in the various regions in the world because the borders were closed."
"What's more interesting is that, as we see things starting to grow in 2020, the proportion of total spend base from domestic versus international is much higher. That is very important when we look at people's propensity and desire to travel. They want to spend and they will travel where they can because they want to.
"Consider things like the ability to get an Airbnb booking in the UK during the school holidays over the summer – it was impossible," says Collins. "That pent up demand really emerged. For the 2021 figures, when they emerge, we're going to see some pretty incredible staycation and domestic travel figures across many regions."
Theme park attendance post-COVID
The LDP team then go on to look specifically at theme park attendance.
"Of course, we know that [theme parks] took a massive hit in 2020," says Collins. "What we see though is that in North America the impact was a little greater than in Europe and there are a lot of contributing factors to that. There were different opening times that were allowed, different restrictions around capacity, and many other factors."
"There were policy changes from state to state," says Coifman. "For instance, if we look at California versus Florida, California is a very blue democratic state, Florida is a very red conservative state. They had very different policies, with regards to opening up."
"Florida opened up in July 2020, but California could not open up the parks until April 2021. And the requirements for masks and for vaccination certificates etc. range so much from one to the other. You can't ignore this difference in politics and the impact that it had on the performance of these parks in either state."
"This time last year, when we touched upon some primary research around willingness to visit parks, we saw in the US there was a division between people voting on the left and the right, and their willingness to reintegrate with the industry, which I think is interesting and potentially compounds these factors," adds Collins.
Pent-up demand
"But it's not all bad news," says Collins. "We've just talked a little bit about that staycation benefit, and we are seeing this when talking to our clients and partner attractions in various different markets. They are saying the staycation boom is real.
"In Europe in particular, there has been a lot of support for people in terms of their incomes. There have been some generous furlough schemes and things like that. For instance, in the UK, people's salaries were protected up to almost 80% with many individual employers paying the difference."
"So, people didn't lose their income but they were restricted – they were sat inside and not spending. As they re-emerged from lockdowns, they had a lot of money to spend. We've spoken to a lot of attractions that have seen significantly higher retail spend. They are even seeing people choosing more expensive food and beverage items, even if the length of stay is the same."
Changes in booking habits
"Quite a lot of attractions have also seen that admission yield has improved and that was less anticipated," says Collins.
"Part of that is around new trends in attractions booking habits. One of the things that we've observed is a real shift in the willingness to pre-book. Many parks that have resisted forcing their guests to pre-book have now had the opportunity to embrace technology and bring their guests into the mindset."
"One waterpark that we are working with had pre-booking available before, but now require pre-booking. They have flattened seasonality and particularly they have flattened the weekly profile and they've spread people into time slots in the day that they wouldn't normally have chosen.
"So, rather than people clustering around the early afternoon, they can spread people pretty much evenly throughout their entire visiting take. That's made it much easier to operate. It's given them a more stable staffing schedule. And it's made it much more comfortable for the guests and that's shown both in terms of customer satisfaction and spend."
COVID speeds up attraction trends
"Prior to COVID, people were starting to embrace technology more and more on the consumer side, but a lot of attractions were a little bit reluctant," says Coifman.
"They didn't see that the worth of the expense of integrating the systems etc. What COVID has done is push the parks and attractions to embrace technology. And they have really benefited from it, and it's improved the customer experience as well. As far as we're concerned, that technology is here to stay."
What COVID has done is push the parks and attractions to embrace technology. And they have really benefited from it, and it's improved the customer experience as well.
"Also, by doing everything online, the parks have better access to their guests. They can maintain that ongoing customer relationship, even when the guests are not in the park. Operators can make sure that they are still top of visitors' minds with promotions, special events etc. So, it maintains that bond between the guests and the park when they're at home too."
Retailtainment
"The next thing we'd like to touch on is the role of attractions in retail environments," says Collins. "We all know that retailers were having a tough time pre-COVID, and this is being accelerated. So, this is not a new trend, it's an accelerated trend."
"There are so many great concepts now that have been specifically developed to address retail settings. This is an interesting space. We have worked on a lot of these projects, with several built already and many under development now. There are some fantastic things that can be scaled to different markets.
"Retailtainment is not new. But COVID really this has put a rocket underneath at this trend."
Millenials spearhead new attractions trends
"We have, in the past, talked about millennials as a market segment, looking at their different expectations," says Coifman.
"They don't want possessions; they want experiences and the ability to show off their experiences on social media. What we're seeing now though, which is very interesting, is we're seeing millennials as not just a market segment, but also as attraction designers and developers. They are starting to design for their own needs."
"For example, things such as the new Monopoly life-size attraction, which recently opened in London. Here, people go in and play a life-sized version of monopoly. This is a blend of an immersive experience and escape room challenges. It's designed by millennials and it's reacting to that market segment and their desires.
"There is also competitive socialising, reinventing the night out after work. Nowadays, you can go out with your friends to play a game, go play some mini-golf, have a craft beer or cocktail and have a good meal. It's more about the experience. We're really seeing this segment of the attractions market taking charge of these new attraction concepts we see every day."
COVID leads to new ideas
Looking at new attraction trends, some were spurred on by COVID, says Coifman:
"One of the interesting trends that came out of COVID, and will probably stay, is how inventive operators found ways to keep consumers in their cars, while still providing them with compelling experiences. This has been seen much more in the United States, which is clearly more of a car driven society than most places in Europe."
"You have things like the drive-thru Boo Zoo, for example, in San Antonio, the Dinosaurs Around the World Jurrasic Quest, which is a travelling exhibit, the Van Gogh experience in your car, or even just regular outdoor drive-thru cinemas.
"All of these were things that came out of the need for social distancing during the pandemic. But they are probably are here to say in regard to the unique experiences they offer people.
"Taking it one step further, we saw a pop-up drive-thru screening of a new Croods movie at Universal CityWalk. The interesting thing is that you drove through this preshow environment before you watched the movie itself. So, they're taking the theme park attraction design rules and applying them to this outdoor drive-thru experience."
Pop-ups, immersive expereriences and new spaces
"Staying with the theme of pop-ups, these are everywhere, and rightly so," says Collins. "Permanent attractions are capital intensive businesses that can often take a long time to repay. They need great markets to justify that initial Capex. But pop-ups allow operators to go into markets that offer opportunities but don't necessarily have the scale of market to allow for a long-term business at scale to work."
Another trend to watch is a case of where there is tragedy, there is often opportunity: the closure of high street retail.
"It's something we touched upon a little bit last year," says Collins. "But we're now really seeing the outcome of the entertainment industry engaging with high street retail spaces that are effectively voids for landlords.
"For example, in the UK, we have the Doctor Who Time Fracture experience in London. It combines an attraction type that we have talked about previously, this kind of immersive, theatre-based attraction content, with the trend for taking up space leftover from retail."
Empty office space
"Also, in the past 18 months there have been many people working from home," adds Coifman. "And there are quite a few offices located in downtown locations that are now reconsidering where their workforce should work. A lot of them are looking at, for instance, three days in the office, two days at home, and downsizing their office space."
Downtown areas and city centres are going to have to find a way to recreate themselves.
"So, it's not just retail space that is available. It's also office space that we should consider as potential homes for attractions and experiences. Essentially, it's not just malls. Downtown areas and city centres are going to have to find a way to recreate themselves."
Thinking big in Europe
We have already touched on how the trend for giga projects is huge in the Middle East. However, Collins says that this trend is also in evidence in Europe.
"For instance, The London Resort is a mega project by anyone's measure. It is an ambitious destination combining a mix of uses, anchor attractions, resort properties, retail, dining and so on. We're working on other projects that would fall into this mega category in other parts of Europe too. It's great to see that kind of development and ambition in the European market."
"On this topic, we also have to look at North America as well," says Coifman. "After all, where was the idea of a multi-theme park destination resort born? It was in Anaheim and in Orlando. And they're continuing to build on what they have already. For example, with Epic Universe, and the new Marvel land and Star Wars etc.
"Those destinations are just continuing to build themselves up, to maintain their position as the leading giga projects when it comes to entertainment destinations."
Intergrated resorts and high-levle theming
"Another key attractions trend is the proliferation of both water parks and integrated water parks and resorts," says Collins.
"For instance, Kalahari Round Rock in Austin, Texas, which opened in late 2020. This is a huge project. It has 100,000 square feet of indoor waterpark and a pretty much equal-sized convention centre and then almost 1000 keys of hotel accommodation linked with that business.
"It's an integrated leisure and conference facility. This expands on what Great Wolf and Kalahari have done elsewhere, with a much larger footprint on both aspects."
"In Europe, we've seen Liseberg press on with their major waterpark hotel project. What's interesting about Liseberg, and also Rulantica at Europa-Park is that these guys are going beyond theming. They've actually developed full storylines behind the parks," says Coifman.
"Those are storylines that stand on their own, separate from the adjacent parks. To the point where Rulantica actually has developed their own IP which they're starting to bring out of the park, through publications and videos. This gives people the opportunity to experience the stories at home. Therefore, of course, this also drives them to come back for repeat visitation."
Good news for attractions industry
"Finally, the last key trend that we wanted to mention is attractions becoming brands," says Coifman.
"So here we have both Puy du Fou and the Eden Project. They have both been leaders in the industry in regard to what they offer. Now they are taking that knowledge and know-how and rolling it out internationally."
"There's a lot of good news out there," concludes Collins. "We think that technology is here to stay, and behaviours have changed in a very positive way in terms of guests pre-booking and things like that.
"There's lots of good news for operators and there's a lot of interesting developing new content all around the world. So, in LPD's view, the future really is bright."
Top image: London Resort