After the coronavirus pandemic caused IAAPA's annual show in Asia to be cancelled, the company launched IAAPA Virtual Expo: Asia.
The show took place from 28 – 30 July 2020. IAAPA Virtual Expo: Asia featured over 100 exhibitors in virtual booths, as well as nine education sessions. Over 4,000 participants attended the three-day digital event.
During the virtual expo, attendees voted for their favourite virtual booth. Polin Waterparks won 'Best Booth Downloads', Thembuilders Philippines, Inc was chosen as 'Most Engaging Chat Room' and Extreme Engineering was awarded 'Best Booth Videos'.
Sponsors of the event included Brogent, Christie, Gateway Ticketing, DOF Robotics, ECA2, Kraftwerk, Triotech, WhiteWater, Premier Rides, Polin, Proslide and KCC Entertainment.
Exhibitors at IAAPA Virtual Expo: Asia
Immersive Arts, a design firm that specialises in realistic, multi-sensory attractions and visitor experiences, gave a preview of a new patent-pending ride system at the show.
One of these is an unharnessed fall system. In an industry-first, this system allows riders to fall up to 9.1 metres without wearing a guest harness. The ride instead uses other safety measures and features a slim, one-rider design that can be expanded for multiple guests. It will officially debut in November.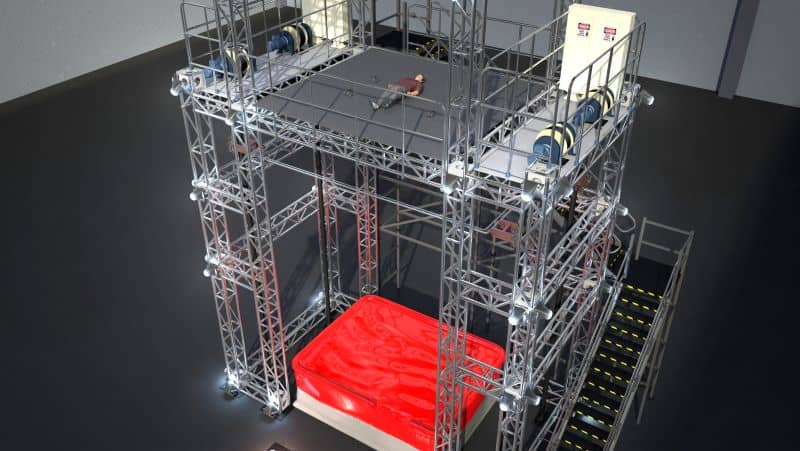 Alterface, a leader in interactive technology, showcased its Salto! show control and ride management solution. This system can control light, media, sound, special effects and other show elements. The company recently used this system to transform the interactive simulator, Terre en Colère at Vulcania.
Red Raion, the CGI studio specialized in media-based attractions, also exhibited. The company's Content Experts were available to talk to attendees about creating CGI content for their media-based attractions. Red Raion also showcased its new Flying Theatre Movies. The company has already created two high-quality CGI titles for flying theatres: Black Hole-The Multiverse War and Aladdin-The Bachelor Party.
ICE NOW launched The Frostland FEC at the show. The Frostland includes ice and snow-themed rides and attractions for all ages. It comes in three footprints: mini, classic and adventure. They are supplied mostly prefabricated, making them easy to install into existing premises.
Nine education sessions at IAAPA Virtual Expo: Asia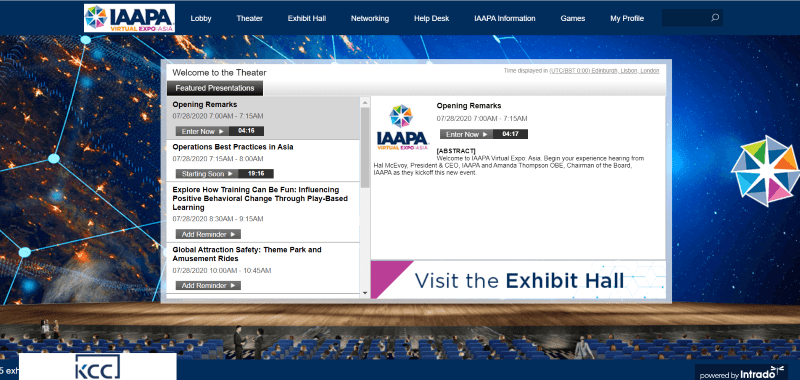 The education sessions all took place in the virtual theatre. They were kicked off by a video from Hal McEvoy, IAAPA President & CEO and Amanda Thompson, Chairman, welcoming attendees.
McEvoy said how pleased IAAPA was to produce this event full of "thought-provoking and inspiring sessions" as well as networking opportunities. Thompson applauded the first virtual expo for the industry during a difficult year.
Operations Best Practices in Asia
The first educational session at IAAPA Virtual Expo: Asia was sponsored by Proslide. Daan Duijm, Director of Operations and Set-Up at Sun World Holding Vietnam, explained that Asian parks generally opened later than European and American parks, and so they haven't had as much time to learn best practices.
Cultural differences also affect guest experience and staff performance. Asian theme parks are using more technology than their Western counterparts. Safety protocols may be different in different locations. For example, some theme parks in Asia will need to include tsunami safety protocols. You may even need to provide snake handling training for your staff!
And it's time for the first session from Daan Duijm at #IAAPAVirtual, sponsored by @ProSlideTech pic.twitter.com/Vha8hEssrD

— Blooloop (@Blooloop) July 28, 2020
In the live question and answer session, someone asked Duijm what Western theme parks can learn from Asia. He replied that Asian theme parks are leading on their use and development of technology. They are also able to implement new ideas and technologies very rapidly, especially in the wake of COVID-19.
Explore how training can be fun: Influencing positive behavioural change through play-based learning
Brian Tang is the Founder and Chief Ding Officer at Ding Maker International Consulting Limited. He spoke at this IAAPA Virtual Expo session, which was sponsored by Polin. Tang explained how he makes training more fun by using Lego.
In his training sessions, Tang asks participants to build Lego blocks in response to questions such as 'what are your strengths'. These Lego block responses open up conversations between participants, allowing participants to reveal information about themselves as well as getting feedback from team members.
Using the Johari Window psychological principle, this exercise helps everyone to understand each other better. This leads to a change in thoughts and feelings in participants.
Then Tang changes their behaviour by making them build their ideal leader out of Lego in two teams. They then have to build a shared model together and then connect their own models to the leader model.
Participants are encouraged to see what behaviours they have themselves that they would like to see in an ideal leader. This gives them something to improve upon. This change in behaviour is more effective because it comes from the participant, not the session leader.
Global Attraction Safety: Theme Park and Amusement Rides
Franceen Gonzales from WhiteWater moderated this session, sponsored by Jinma Rides. In it, Kathryn Woodcock explained her report on accidents in the attractions industry. Woodcock examined 365 days of attraction accident media reports to create this report.
Since Woodcock only looked at media reports, she explained that there will be events that were reported internally that didn't make it into the press. Furthermore, a lot of the news items were malfunctions because these are interesting stories for the media.
When you look at the data, it seems that drownings are very high within water parks. But this could just be because they are news-worthy stories, and other types of accidents in water parks are less reported on. Gonzales did comment that, as an industry, more needs to be done to encourage swimming lessons.
Supporting best practice
Woodcock also highlighted that India has nearly as many deaths as America with fewer attractions. This is concerning but emphasises that operators around the world should come together to help each other with best practices. Gonzales added that IAAPA can help to bring them together.
It is important to understand what the media is reporting on because it affects how the public views the industry. Although it is tempting for an operator to not comment after an accident, Woodcock said that to stop misrepresentation they should provide clarifying language and feed facts to the media. Formal media training is very useful for operators to learn how to do this properly.
The first day concluded with an IAAPA Trivia Networking House hosted by June Ko.
Automation and Digitalization in Attractions Operations
The second day of education sessions at IAAPA Virtual Expo: Asia started with this session sponsored by Christie and moderated by Randy Josselyn from Gateway Ticketing. The speakers were Aaron Glade, Anna Danau and Joseph Leung.
Josselyn emphasised that this talk would discuss technology becoming more accessible. Danau explained that technology can make ride safety and documentation automated and easier for staff members.
Digital checklists and digital manuals are more consistent and accurate. They also help to empower team members as they know they have the correct tools to do their job. It's also easier to update these digital documents, saving money.
Glade said that automated check-ins with a health monitor could become the future for hotels or concerts. Operators in Asia after COVID-19 are trying to digitise this process by using hidden thermal cameras. He said that facial recognition could soon replace wearables as a less intrusive way to see who you come into contact with.
Digital technology is vital
Leung explained that there are an incredible 2 billion phones in China – everyone uses them. No one uses cash anymore. So digital technology has become a vital part of life in the country.
Guests at attractions can now order food in a queue at an attraction, then the food is delivered to them. Many attractions also use a guest's phone to give them a discount if they eat at a location further into the park This encourages them to move around the park more.
Everyone on the panel agreed that technology can't replace people, since the attractions industry is a people-based industry. People still want to see smiling faces. However, technology can be used to create a safer and more seamless environment.
What Can Water Parks Learn from Theme Parks, and Vice Versa
WhiteWater sponsored this session at IAAPA Virtual Expo: Asia, presented by Brad Loxley, Noel Dempsey, Chris Perry and Dawn Tong, with Nathan Jones from CAVU Designwerks moderating the panel.
Tong started the panel by explaining that the level of investment in theme parks is higher because they are 10 – 20 times the size of a waterpark. However, waterparks are an attractive and approachable investment. This is because they have a shorter payback time, due to the smaller initial investment.
Perry noted that theme parks are excellent at driving revenue. For instance, driving guests through gift shops after getting off a ride. Waterparks can learn about ancillary revenue from theme parks. However, waterparks do a great job of getting VIP guests through cabanas and VIP areas. Theme parks should think about how they can attract this high-end guest.
He also explained that the layout of both attractions changes the level of accessibility. It is easier at a theme park to get guests to the front of a ride. But a lot of waterpark rides are high up. Waterparks should use topography to help with this accessibility issue.
#accessibility is important for both water and theme parks. Waterpark accessibility requires more thought because the entrance is often above ground level #IAAPAVirtual pic.twitter.com/KYu52XR8FV

— Blooloop (@Blooloop) July 29, 2020
Relaxation & theming
For Dempsey, the mind-set of guests is very different when visiting the two attractions. People go to a waterpark for a more relaxed day. So, the layout of the waterpark features a central leisure zone. But a day at a theme park is a more planned experience. Dempsey thinks theme parks could recreate this central leisure zone to create a more enjoyable relaxation space for guests.
Loxley emphasised that theme parks are good at theming, from the queue to the gift shop. This prolongs the experience. Water parks are slowly starting to see this level of theming.
Waterparks do an incredible job of virtual queuing and capacity management, especially with RFID bands. More theme parks are starting to do this because of COVID-19. However, Loxley believes they should do even more.
Learning Lab: Strategic and Tactical Approaches to Turbo-drive Park Revenues
Mark Shaw is the Executive General Manager of Eureka Skydeck and Eureka 89 Fine Dining and Events. He discussed how to turbo-drive park revenues in the final talk of day two of IAAPA Virtual Expo: Asia, sponsored by Gateway.
He emphasised that employee behaviour is influenced by the leadership team. Therefore, it is vital that they discuss their commercial strategy and follow through with team meetings and different management systems.
Ensure your company has a deliberate, proactive strategy to increase your revenue. One good way of increasing your revenue is by considering the guest journey at your attraction. Work out the dwell spots for guests and put merchandise or snacks there.
Shaw explained how attractions could increase revenue through ticket strategies. If your attraction is good, then people will pay more. So, don't be afraid to put up your prices a bit.
Encourage people to book tickets in advance by giving them a significant discount. Or offer guests a discount on another day ticket whilst they are in the attraction. Shaw emphasised that it's easier to get visitors to return once they have experienced the attraction.
Insights on The Changing Expectations of Asset Management and Safety In The Attractions Industry
The final day of education sessions at IAAPA Virtual Expo: Asia started with Chris Deaves, Clinton Ford and David Randall discussing asset management and safety. Brogent sponsored this session.
The session started with an explanation that an asset is anything that derives value. For instance, money, people, equipment or buildings. Reactive safety management in the attractions industry is often done well. However, proactive safety management can often be done better.
External forces, such as COVID-19 or new regulatory requirements can force your asset management and safety to change. These forces could change the cost, performance or risk within an attraction. Any alteration to one will affect the other two.
COVID-19 means that attractions are introducing maximum capacity limits and increased supervision. This means there is an increased per cap operating cost. The panel agreed that we should look at the positive effects of the pandemic. Virtual queueing enhances the guest experience, so it is likely to remain in place.
How Interactive Edutainment Digital Content Empowers FECs in the AsiaPacific Region
Harry Lu, Founder & CEO of Sindrax Technology, discussed edutainment in this penultimate session, sponsored by KCC Entertainment Design.
Lu started by explaining the power of children in a Chinese family, as they bring the buying power of both parents and grandparents. Education spending is incredibly important for parents in China. So, by combining education and entertainment you are likely to entice parents.
Edutainment is becoming more popular globally in FECs and museums and has been seeing an increase in China over the past three years. Combining digital and physical elements, such as a ropes course with digital projection, is a popular option for many locations.
Harry Lu from @SindraxTech discusses the challenges for FECs after COVID-19 and suggests some ways they can respond #IAAPAVirtual pic.twitter.com/aNMiOiPmE1

— Blooloop (@Blooloop) July 30, 2020
Lu gave some top tips for FECs looking to implement edutainment. It is important that your edutainment content and design matched the design of the FEC. By frequently changing the content, FECs can encourage repeat visitation. Leveraging a successful IP can help children connect emotionally with your location and content, and therefore they feel more comfortable.
Several FECs create a mobile app that children can play to earn rewards points that can be spent in the location. Although these games can normally only be played in the FEC, during the COVID-19 pandemic they have been extended. Children playing these games at home continue to build a relationship with your brand. Plus, earning reward points encourages them to return to your FEC once it reopens.
CEO Speaks
The final education session at IAAPA Virtual Expo: Asia saw Tom Mehrmann, General Manager of Universal Beijing Resort, David Rosenberg, VP of Monterey Bay Aquarium and Sonaal Chopra, CEO of The Entertainment and Education Group talk on a panel moderated by Victor Danau, Director of Operations & Development Asia Pacific, Ripley Entertainment. Premier Rides sponsored this panel.
Danau askes about leadership styles, and everyone said that you must be collaborative. For Chopra, he is a collaborative leader, encouraging his team to own their decisions. He emphasised that his leadership style stems from his personality so he is always authentic.
For Mehrmann, the most important thing is to "be involved and allow the team to be a part of everything you're doing". His leadership style doesn't change based on the culture he is in. But, he does ensure that he always listens to other people in the room.
Rosenberg agreed, saying that you need to show the behaviour you want your staff to show. He is outside the aquarium greeting the first visitors. And that is the type of engagement he wants his staff to show too.
All three CEOs agree that it's important to be collaborative in your leadership approach. Tom says to "be present, be involved and allow the team to be a part of everything you're doing" as a leader #IAAPAVirtual pic.twitter.com/y4fjnlWyjZ

— Blooloop (@Blooloop) July 30, 2020
Mixing leadership and management
When asked about mixing leadership and management, Mehrmann explained that he works out the core skills he looks for in leaders and management. Then he trains and hires staff to those core competencies.
Keeping the team motivated during COVID-19 can be a challenging task. Rosenberg explained that communication is key at a time like this. It is important to still recognise staff for their good work and to focus on the good.
Chopra agreed, saying that investing in technology has helped them to stay connected. Be honest with your team so they can understand the reality of the situation. Then you can work together to get through the situation.
Mehrmann also used technology to continue communicating with his team, using a weekly live-stream to keep them up-to-date. All three CEOs are optimistic about the future, due to the pent-up demand following the pandemic.
Following IAAPA Virtual Expo: Asia – more industry events
IAAPA will hold its annual Expo in Orlando in November to provide more education sessions, exhibitor stands and networking opportunities.
From October 13-15, join us at blooloop V-Expo for the global virtual conference and exhibition. Hear from industry leaders, network with your peers, meet up with friends and make new contacts. You can also visit exhibitor booths featuring live chat, meetings, webinars, downloads and videos.