The International Association of Amusement Parks and Attractions' annual expo took place November 12 to 16 at the Orange County Convention Centre. IAAPA celebrated 100 years as its International Attractions Expo 2018 broke records. Here are our highlights.
Sponsors included: Platinum – accesso, LDP, Dynamic Attractions and Gateway Ticketing. Gold – Polin, DOF Robotics, iPlayCO, ProSlide, Thinkwell, Vekoma, WhiteWater and Wärtsilä. Silver – JRA, Kraftwerk, Mack, Nassal, The Producers Group and Triotech.
Record-breaking
The expo was notable for its record-breaking scale. 42,000 registered attractions industry professionals attended, more than ever before. Furthermore, the five day expo pumped an estimated $77.2 million into the Orlando-area economy.
1,151 companies displayed innovative new products and services on 600,375 net square feet of trade show floor space.  26,600 qualified buyers from around the world walked the trade show floor and 15,128 people participated in 149 education sessions.
For the first time, the trade show featured an additional expo space – the exploration station – with more than 140 exhibitors.
Kickoff Event
1,800 people were at the Kickoff Event in the IAAPA Theatre sponsored by Wanda.
Hal McEvoy, IAAPA CEO, said: "to say this is a dream come true does not even begin to express how I feel." He said he was hooked on the industry from the moment he was hired as a cast member at Walt Disney World.
Hall of Fame Inductions
Next was the induction of 11 industry pioneers into the IAAPA Hall of Fame. Announcing the list was Jack Morey, 2018 chairman of the IAAPA Hall of Fame and Archives Committee and executive vice president of Morey's Piers.
Pioneers, inventors, visionaries, and innovators
He said: "In celebration of IAAPA's centennial anniversary, we are honoring some of the finest and most esteemed leaders in the history of the IAAPA Hall of Fame. These pioneers, inventors, visionaries, and innovators each made lasting impacts on the global attractions industry we know today, as well as the association. We honor these exceptional individuals for their hard work, dedication, and leadership as we welcome them into the IAAPA Hall of Fame."
Inducted into the Hall of Fame were:
Edward Joy Morris, Morris Chute Company, United States (1860-1929)
Irving Rosenthal, Coney Island, Palisades Amusement Park, United States (1895-1973)
Alfred R. Hodge, National Association of Amusement Parks / IAAPA, United States (1881-1946)
Levitt Luzern Custer, Custer Specialty Co., United States (1888-1962)
Dr. Harry Wegeforth, Zoological Society of San Diego, United States (1882-1941)
Frank Hrubetz and Lee Eyerly, Eyerly Aircraft Company, United States, (1906-1987) and (1892-1963)
Phil Dexter, Big Surf Waterpark, United States (1927-2014)
Marcelo Periales, Neverland, Argentina (1955-2013)
Gary Story, Premier Parks / Six Flags Entertainment, United States (1955-2013)
Alexander "Al" Weber, Jr., Paramount Parks, Palace Entertainment, Six Flags Entertainment, Apex Parks Group, United States (1952-2016)
Family, friends and colleagues collected the awards on behalf of the legends.
Liseberg Applause Award
Next to be announced was the winner of the Liseberg Applause Award. As McEvoy said: "in our industry, when we see excellence we celebrate it."
The finalists of the award were Portaventura, Spain; Universal Studios, Japan; and Xcaret, Mexico. Xcaret took the award, with Andreas Veilstrup Andersen, Chairman of The Applause Award Board of Governors, saying: "With an original and creative vision, Xcaret has created one of the most unique and authentic park destinations in the world. The park is balancing world class experiences, based on native culture and natural attractions, with sustainable operations and a strong commitment to the local community."
IAAPA rebrands
During the Kickoff event, a brand new identity for the association was revealed. A new logo and brand identity reflect the strategic direction of the association.

Jeff Klocke, chairman of the IAAPA Branding Taskforce, said: "This new identity is the result of a thoughtful, three-year strategic initiative led by many IAAPA members.
"Through surveys, interviews, and research we came to better understand how members view IAAPA, and what services and resources they need and want from the association. IAAPA members shared they value the vast diversity found within our industry, and view IAAPA as the source to make lasting connections and feel inspired."
Andreas Andersen, 2018 chairman of the IAAPA Board of Directors, said: "As IAAPA wraps up its centennial anniversary, we now look to build upon its history as we evolve, refresh, and strengthen IAAPA's brand image for the attractions industry around the world. While the IAAPA brand has a new look and feel, the association will continue to serve its members and uphold the highest levels of professional standards. IAAPA remains focused on helping produce safe and memorable experiences for all, and we look forward to this newest chapter in IAAPA history."
Announced during the International Attractions Expo 2018
There were a huge number of press conferences with various partnerships and projects being announced.
WhiteWater revealed a new brand, with the strapline "Be Boundless." They also revealed a unique new product. Vantage empowers guests to customize their experience and better navigate a park by using the tool's engagement platform.
Guest behaviour is then translated into meaningful insight. This enables parks to make real-time and strategic decisions that optimize operations.
The company also announced some exciting new partnerships. It will partner with Cirque du Soleil to open a Cirque themed water park and will also work with VR Coaster, Holovis and Life Floor.
Polin revealed a new completely see-through waterslide and a new immersively themed waterslide. They even had a research facility complete with lab-coated scientist and test-tubes. This highlighted the innovation driving the company forward.
Triotech showcased their Virtual Reality concept featuring Ubisoft licensed properties Rabbids and Assassin's Creed.
Another highlight of the booth was Rabbids Team Battle, a high-capacity duelling interactive attraction. In this two teams will battle it out in an oversized multi-sensory arena.
Each audience member is seated in a D-BOX motion seat equipped with a new style light blaster, providing individual feedback. The team scoring elements are designed to drive interactivity and provide high replay value. An enveloping 270-degree screen combined with wind, light, and haptic effects enhance the immersion.
Sally Corp. also announced that they have developed PortAventura World's new Sesame Street dark ride, opening in 2019. Developed together with the Sesame Workshop, the new attraction will be the first Sesame Street dark ride in Europe. The family-friendly experience will be located in the SesamoAventura area of the main PortAventura park.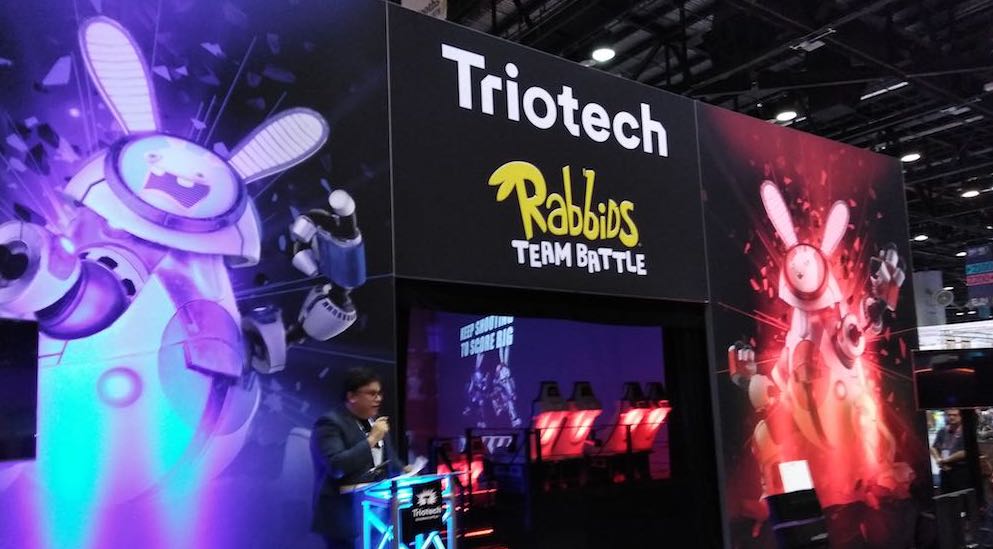 Education sessions
15,128 people took part in 149 education experiences during the expo. These ranged from seminars and panel discussions to multi-day institutes and symposia. There were also various behind-the-scenes tours.
A particular highlight was "Charming the World", the annual "Legends" session,  Two legends of the industry who know more about charming based on culture than most are Roland Mack and Tom Mehrmann. Mack is the founder of Europa-Park, and Mehrmann is President of Universal Beijing.
Chairing the session was Bob Rogers, founder of BRC Imagination Arts. Opening the session, he said: "yours is not a job, it is a calling. Our work can touch the heart of a guest from a different culture."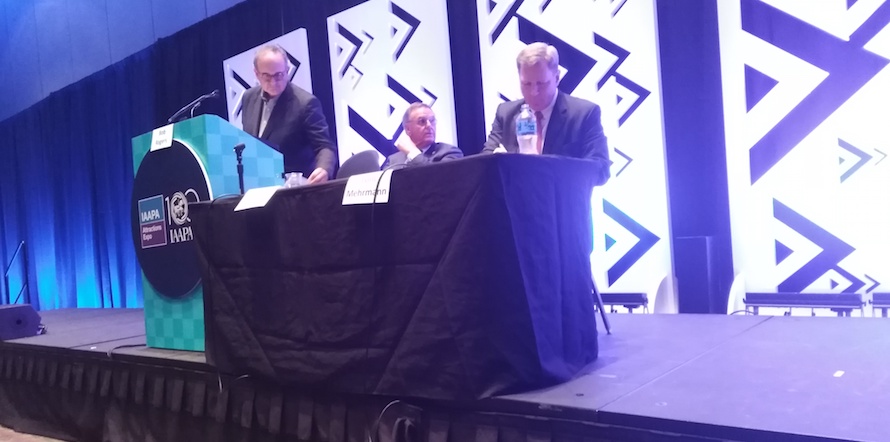 Mehrmann and Mack are also united in one respect: in both instances, Disney arrived on their turf. For Mack, Europa-Park faced competition from nearby Disneyland Paris. Mehrmann was appointed Chief Executive of Ocean Park Hong Kong in 2004, when Disneyland announced its move into Hong Kong.
Rogers asked: "in each case, the Mouse arrived with almost unlimited funding, and their mission was to steal your business. How did you feel?"
I got the job because Disney was coming
Mack said: "I can remember the day I read in the newspaper. We do about 1.3 million people from France. I was really scared. But after they opened, we had an increase in visits. We invested a lot to be much more comparable."
Mehrmann said: "I was recruited specifically because Disney was coming. So my answer was I was grateful that Disney was coming, I got the job because Disney was coming." He added that the arrival of Disney pushed the government into introducing a tourism pillar in the economy.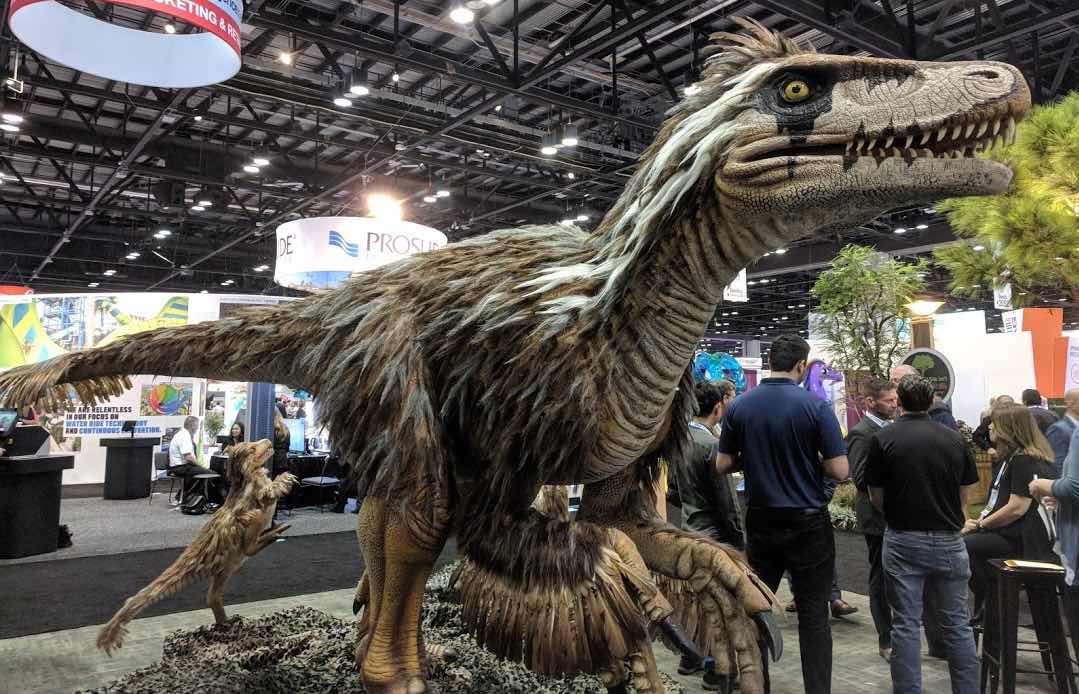 Awards
The 2018 IAAPA Service Award winners were announced during the annual GM and Owners' Breakfast. They were:
IAAPA Lifetime Service Award Winner – Julio Vanegas, ICAE, Carruseles S.A., Bogotá, Colombia
The IAAPA Outstanding Service Award Winner – Jim Futrell, National Amusement Park Historical Association, Pittsburgh, Pennsylvania, United States
IAAPA Meritorious Service Award Winner – Robert "Bob" Williams, ICAE, Calaway Park, Calgary, Canada
The IAAPA Board of Directors Special Service Award Winner – Alexander "Al" Weber, Jr.
In addition, Dynamic Attractions scooped Best New Product Concept in the Brass Ring Awards for the Dynamic Duel Power Coaster. Holovis and WhiteWater also took Brass Ring Awards for new products.
The Themed Entertainment Association (TEA) also revealed the recipients of its annual Thea Awards.
Parties
The annual Blooloop party was held on Tuesday night at BB King's Blues Bar at Pointe Orlando. An invite only event, it saw over 600 key industry professionals enjoy live music, nachos and plenty of drinks.
It was generously supported by Gold sponsors Polin Waterparks, Alterface and DIT and by silver sponsors Simworx, zoOceanarium, Gateway Ticketing, Interlink, Offshore Surf, Picsolve and Christie. Guests on the patio enjoyed a mapping display created by LCI Productions and powered by Barco projectors.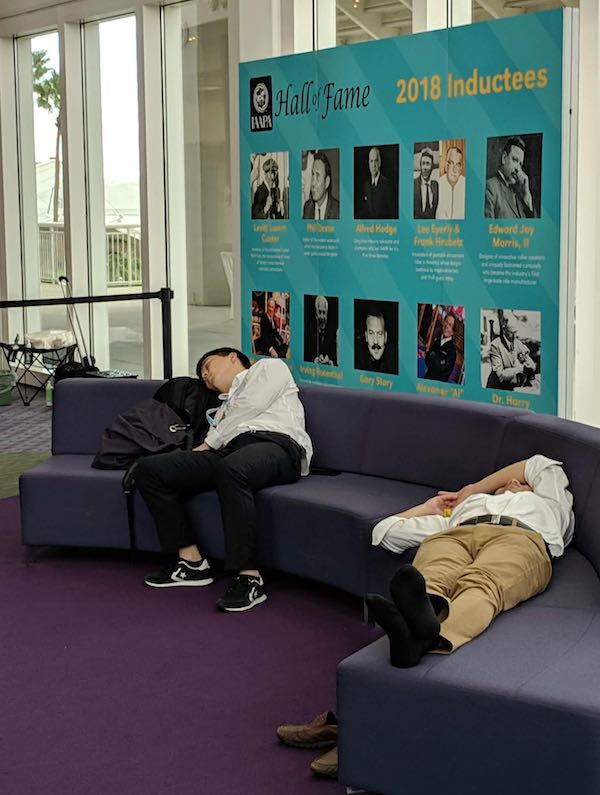 (A full gallery of photos from Picsolve is available on Facebook.)
IAAPA's Centennial Celebration took place on Thursday night at Universal Studios Orlando. It was attended by 3,600 people. The party featured live music from the Barenaked Ladies, as well as the chance to ride some of Universal's newer rides including Race Through New York with Jimmy Fallon and Fast and Furious. Thousands of professionals had the chance to mingle through the lit up streets of Universal Studios, with food and drink outlets open for refreshments.
On Monday, Gateway Ticketing celebrated its 30th anniversary in style at Andretti Karting.
Industry parties were also held by Holovis, the TEA, Nassal and Ride Entertainment.
After an exhausting but exhilirating week, one can't but help look forward to 2019 when a certain Force will be ubiqitous.
And finally, a huge thanks to our fantastic party sponors!