The Asian Attractions Expo (AAE) 2017 took place at the Marina Bay Sands Convention Center on 13 – 16 June 2017.  On the 13th, blooloop also held its annual Asian event, blooloopLIVE Asia, which this year was hosted by Singapore's Asian Civilisations Museum.
So with the attractions sector booming in Asia and last year's Asian Expo proving a great success, how did the week in the Lion City measure up? Here are the highlights of a humid week.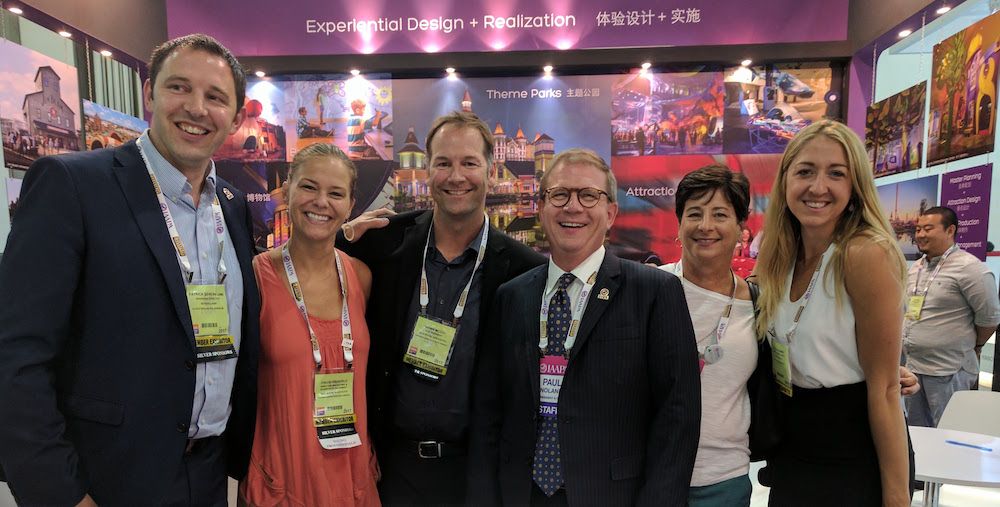 How many attractions professionals does it take?
The International Association for Amusement Parks and Attractions (IAAPA), which runs the AAE, reported that over 7,500 people attended the event. Of these, 5,100 were "qualified buyers", over half of whom were attending for the first time. 375 companies – from 34 countries – exhibited. The education sessions were also popular, almost doubling in size and the trade show floor was the event's second biggest, at 10,170 sq. meters.
Although numbers were clearly down on last year's Asian Attractions Expo in Shanghai, attendance nonetheless showed a 42% increase on the last time the AAE was held in Singapore back in 2013.
Sponsors for the event included accesso, JRA, Kraftwerk Living Technologies, PGAV Destinations, ProSlide Technology, Wartsila North America, and WhiteWater.
blooloopLIVE Asia
The Asian Civilisations Museum hosted the third blooloopLIVE Asia conference on the 13th. With a focus on Asia and a packed line-up of leading industry thinkers and key players, it proved an informative and illuminating afternoon. It was sponsored by Polin Waterparks, Triotech and Picsolve with superb technical, design and AV support from ICONPATH curated Experiences. Sterling support organising the event was provided by Thibault Paquin of Celebrating Life.
150 attendees first heard an overview of the history of the attractions sector in Singapore from The Park Database's Wonwhee Kim. A whistle-stop tour of the island's development, Won lead us through the importance of the rubber and tin industries, the Haw Par Empire (Tiger Balm), the greening of the city and the development of the attractions business. It was, as his summary had promised, "an entertaining romp".
Then, Entertainment+Culture Advisors (ECA)'s Dominic Wong highlighted key projects in the pipeline. In a comprehensive review he detailed the markets in, among others, Hong Kong, China, South Korea, Japan and Malaysia. Young Asians, he said use travel as "a form of self-expression". It was a neat taster for the upcoming Attractions Landscape report, version 2 of which will be released soon.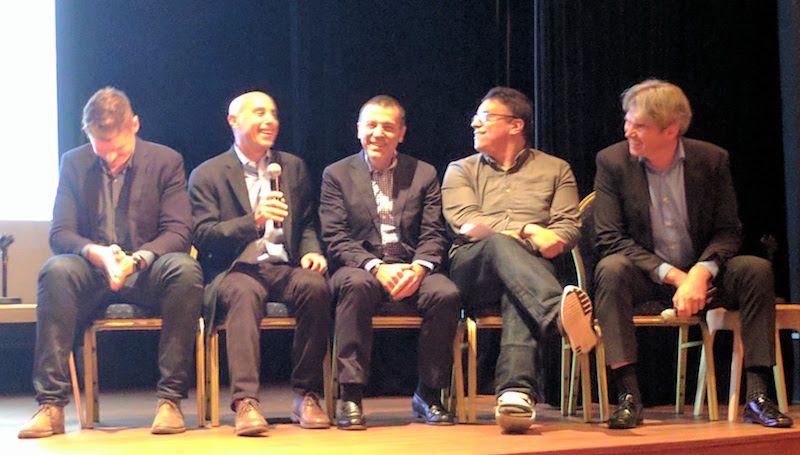 Technology and synergy. And immersion
Next up, a panel of technologists (above) were quizzed about the developments in the region. Andrew Darrow, recently named as Chief Strategy and Business Development Officer of The Void, Ernest Yale, CEO of Triotech, Tejix Director Henry Corrado and ICONPATH's Michael Reid discussed the technology, moderated by LCI Productions' Director Rob Paul. All agreed that story was key, technology merely an enabler. Furthermore, Darrow said that though "Immersion" was vital, it was a much overused word.
Moving on, Karin Lau and Alan Mahoney, Managing Director and Design Director respectively of Pinnacle International then presented two practical sessions. Karin's focused on working with Chinese developers and Alan's on the evolution of waterparks in Asia.
UBISOFT's VP Location Based Entertainment, Jean de Rivieres, then presented on the synergies between the gaming and attraction worlds. Where attraction owners speak of attendance, gaming companies refer to "registered players". Maintenance in gaming is a "patch" and operators are "live community managers". Like the big theme parks, gaming companies view the entrance cost as being only half the story; once a person is in the park or playing the game, he or she can still spend much more. For In-park spending read In-game spending.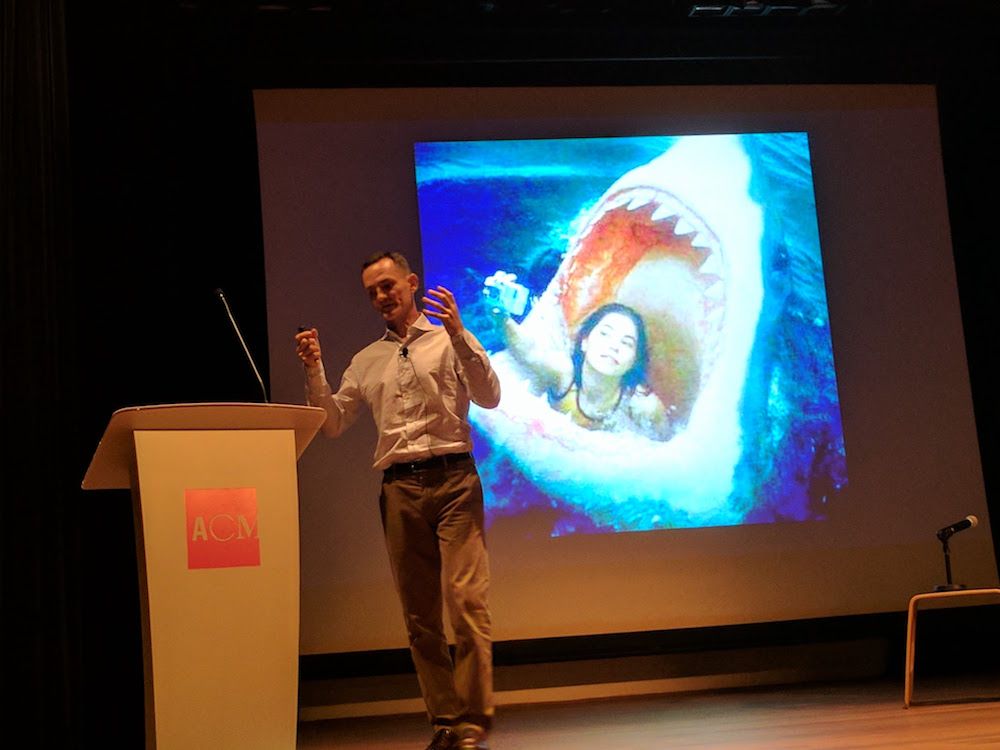 Four thought-provoking sessions followed, each speaker bringing a unique perspective with his experience in Asia. Patrick Andrey is MD Walltopia Asia Pacific. A climber, he spoke eloquently about the importance of physical play. Today's selfie-obsessed culture was also referenced (above). He also highlighted the recent example of Alex Honnald, a free-climber, who scaled Yosemite's El Capitan without a rope, suggesting this was the greatest ever sporting achievement.
Intimate apparel and little green men
Peter Wilson is a writer and theatrical prodcucer. He spoke about the importance of theatrical entertainment in theme parks. He also discussed his latest creation, The Pearl of the South Sea show at the recently opened Jakarta Aquarium.
As an Attorney-at-Law with Paul Hastings LLP, Tim Mackey has worked on some of the biggest theme park deals in Asia. He presented with just one slide – of little green men – and told delegates about the importance of attention to detail in such negotiations.
Whilst he looked like a corporate lawyer, he spoke with humour and honesty about the challenges faced when stake-holders are looking to rush through a deal that seems on the face of it, pretty simple. It's the little green men that are the problem, the unforseen problems and it is Tim's job to keep an eye open for them.
Kevin Barbee (above) is Senior VP and Chief Creative Officer with IRMS. He has huge experience across Asia and was Chief Designer of Universal Studios Singapore, the US$1.4bn theme park on Singapore's Sentosa Island. He gave a diverting and entertaining presentation about how Disney worked with brands. Little did we know that Disneyland opened with a bra shop ("Intimate apparel") as a partner.
An unintimidating wine
The day's final session saw three panelists discussing operational challenges in Asia. These were Enchanted Kingdom CEO Mario Mamon, Victor Danau, Director Asia-Pacific, Ripley Entertainment and Shaun McKeogh VP of Management Resources.
The evening was rounded off with cocktails, canapes and wine-tasting courtesy of The French Cellar, whose mission is to, "make French wine accessible, unintimidating and fun". Unintimated by the free wine, blooloopLIVE delegates bravely met the challenge.
Meanwhile at the Asian Attractions Expo
Science Centre Singapore hosted an event to announce two new interactive experiences created to celebrate 40 years of interactive science. These are The Mind's Eye (created by experiential design firm JRA) and Professor Crackitt's Light Fantastic! – a Mirror Maze experience by Maze designer Adrian Fisher Mazes.
Canadian media-based attractions firm, Triotech, announced that it is creating two new attractions for South Korea's Jeju Shinhwa World theme park. One is an interactive Dark Ride and the other is a "unique, interactive Walkthrough". Both will be anchor attractions in Larva's Adventure Village, based on TUBAn Entertainment's popular Larva IP.
Austria's Kraftwerk Living Technologies revealed its next-gen 4D SFX motion seats (including a unique VR experience) and its Hybrid Dome Theatre.
Alterface's rotating theatre has been reimagined by the Belgian company, which showcased the Spinning Interactive Dark Ride – Popcorn Revenge® at AAE. With design and theming from Dutch attractions company Jora Vision the ride proves an immersove and engaging experience on a small footprint.
Adventure play specialists Clip n Climb were showcasing their succesful family climbing challenges and Ropes Courses Inc. were exhibting at the event for the first time. Both are part of the rising trend of adventure play and attractions in Asia.
Experiential designers, Holovis revealed their rideable gaming robots. The R3ex (Rideable Realtime Robot Experiences) was showcased on partner Kuka Robotics booth and spent the week thrilling – and turning upside down – unsuspecting riders with in a VR fueled taxi around the mean streets and skies of Singapore. The slow, almost balletic movement of the robotic arm belied the unexpectedly vigorous nature of the rider experience. Not for the faint-hearted!
Announced on the show floor
Economic research company AECOM and The Themed Entertainment Association (TEA) introduced their latest Theme Index and Museum Index. The report reveals mixed attendance results in 2016 with notable growth in the waterpark business.
French company CL Corporation showcased its VR sports simulators, created for Samsung. They are also supplying Ocean Explorer immersive attractions to the new National Geographic branded entertainment centres, the first of which opens in Shenyang, China this month.
CAVU Designwerks introduced its Turbo Racer and Eagle Force rides together with its DreamCraft VR product to the Asian market.
Technology company ICONPATH revealed its bespoke gourmet interactive experience, PALATE. This delivers a new dimension to dining. Video mapping technology uses the table, crockery and glasses as a canvas, an engaging starter before the starters.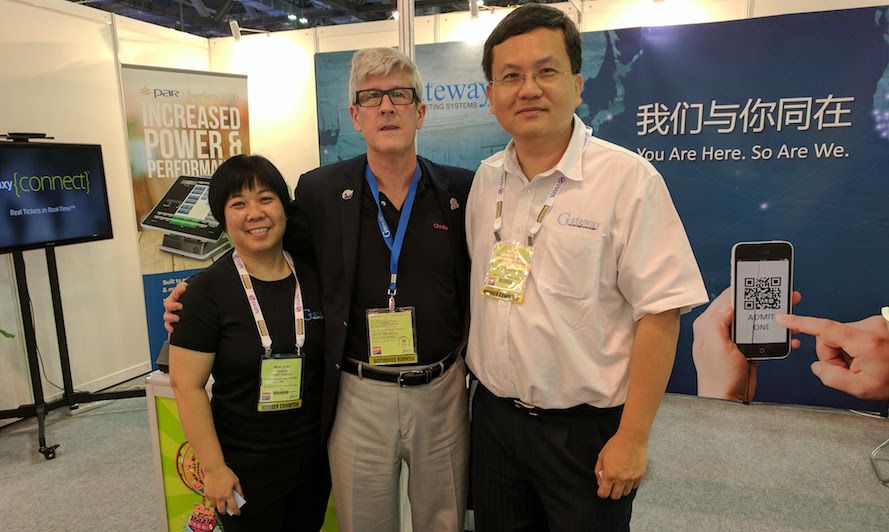 After hours
Like every IAAPA Attractions Expo, the trade show itself is for many people only half the reason for them being in town. Many companies don't exhibit at the Asian Attractions Expo but are nonetheless there for the parties and the networking.
After blooloopLIVEAsia we had cocktails which went on until 8. Then after this it was Jeroen's Nijpels party at Ce La Vi at SkyPark, Marina Bay Sands. With sponsors including Mobaro Park and Simworx, the spectacular views affored from the top of the hotel were a great start to the week and a fitting end to a first night in Singapore.
The next night saw over 600 people attend the Asian Attractions Expo opening night reception at Universal Studios Singapore. It was sponsored by JRA and accesso. The UK's Department of Trade (DIT) also held an event on the Thursday.
Education sessions at the Asian Attractions Expo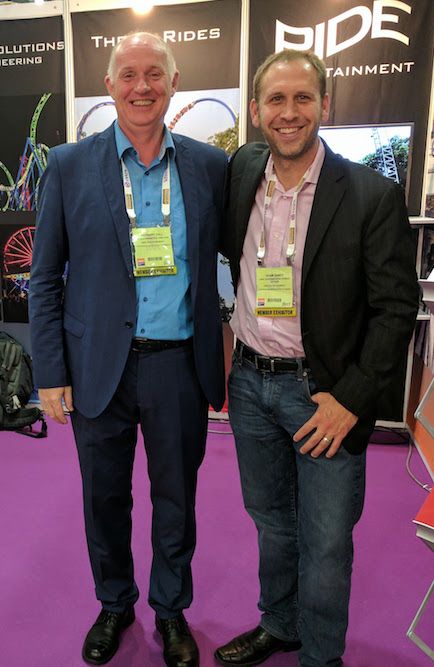 IAAPA's education sessions were packed out through the week. We saw Chris Perry – CEO WhiteWater West SouthEast Asia Co. present, "Play is the Universal Language of our Business".
Shared experience, said Chris, is "the nuts and bolts of what we do". Whereas once we used to go away and talk about where we had been, now it's a photo or social media sharing. He also suggested easy wins, where parks can encourage play. Face painting is an obvious example, creating both revenue and fun at a very low cost.
Another we caught was "A World of Multimedia Spectaculars". Sponsored by creator of inconic water rides ProSlide, this session featured ICONPATH's Michael Reid alongside Jean–Christophe Canizares, Chairman and CEO, ECA2, Jack Ellison, Director, H2O Events; and Paul Rivet, Director, Entertainment, Walt Disney Attractions Japan, Ltd.
Canizares said, "Multimedia shows keep guests on site to stay longer. They enjoy the park for longer, spend more and increase revenue. In Asia guests go out for dinner earlier, so night time shows are particularly good at keeping people in the park after dinner."
Reid added, "Challenges working within a specific exisiting space, to work with the space appropriate to the environment. We work with close up shots for tv broadcast. These have to be detailed and perfect. We also need to remember what it looks like from the last row at the back at height and scale, it is a great challenge"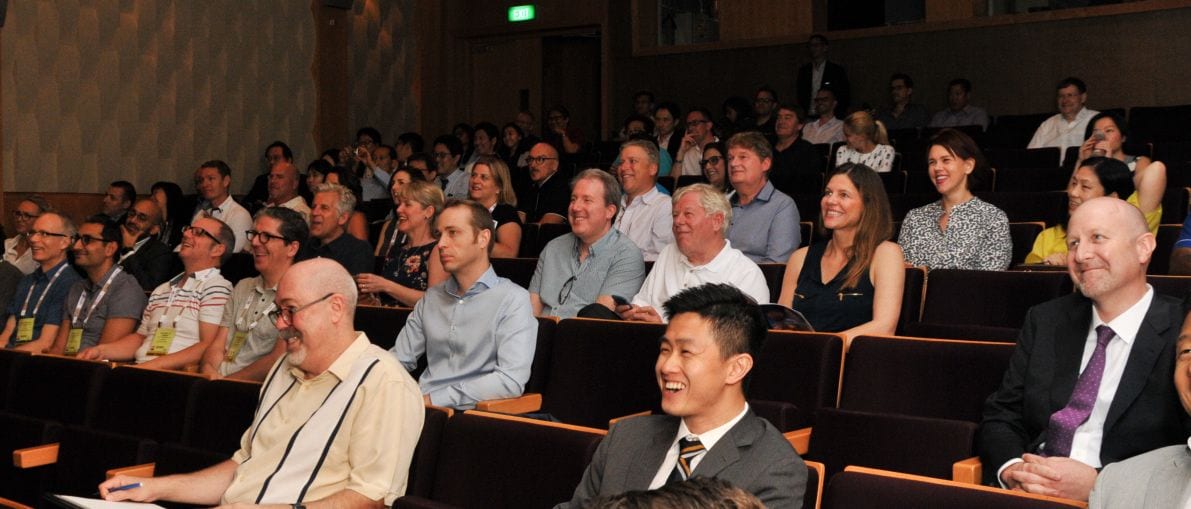 Wrapping up
Paul Noland is IAAPA President and CEO. He was pleased with the Asian Attractions Expo. "The excitement this week was felt throughout the show floor, the education sessions, and the events as participants gathered at Asian Attractions Expo. It is the premier place in the Asia-Pacific region where industry executives exchange ideas and experience innovations".
Like Wonwhee's presentation, the week was, as ever, an entertaining romp. And if the earlier American Endodontics Association event shared the same hashtag (#AAE17) there was still plenty for attendees to get their teeth into.
The next Asian Attractions Expo will be held at the Hong Kong Exhibition and Convention Center in June 2018.
For a full gallery of images from both the Asian Attractions Expo and blooloopLIVE Asia click here. All images the author save the final audience pic by Picsolve.
To download conference photos please visit www.picsolve.com/bloolooplive and enter the following details: username – bloolooplive@picsolve.com, password – asia2017