During the five day event, 18 – 22 November, l they enjoyed educational sessions, social & networking events, and a huge trade show floor.
A record 42,600 people attended IAAPA Expo 2019. This included 27,800 qualified buyers from throughout the industry. They represented amusement parks, waterparks, family entertainment centres (FECs), zoos, aquariums, museums, science centres, resorts, and more. Attendees at the event came from all over the world.
"With the largest attendance in IAAPA Expo history, this year's event is a testament to the continued growth and strength of the attractions industry worldwide," said Hal McEvoy, president and CEO, IAAPA. "It's been an incredible week bringing together this vibrant and diverse community that continues to evolve in ways we've yet to imagine."
Platinum sponsors of IAAPA Expo 2019 included accesso, Brogent Technologies, DOF Robotics, Dynamic Attractions, Gateway Ticketing Systems, Leisure Development Partners and Omni Arena by Virtuix.
Amongst the gold sponsors were iPlayCO, Polin Waterparks, Spree Interactive, Thinkwell Group, Vekoma, Wärtsilä and WhiteWater. Finally, silver sponsors include Intercard, Mack Rides, Kraftwerk Living Technologies, JRA, ProSlide Technology and The Producers Group.
A warm welcome to IAAPA Expo 2019
At the kick-off event on Tuesday morning, sponsored by Brogent and JRA, McEvoy welcomed attendees to the show, saying "Together, we serve over 1 billion people. You create memories, you create magic, you stimulate economies, and you provide jobs. We are lucky to work in a field that is all about making people happy and creating opportunities."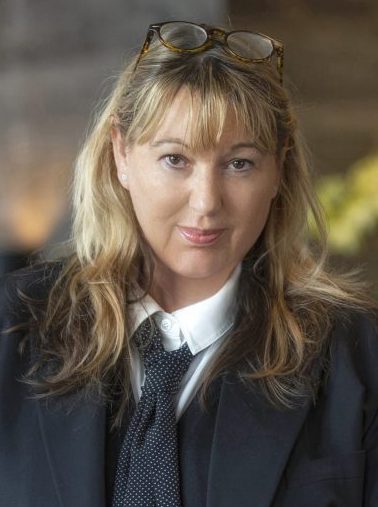 The outgoing IAAPA Chair, David Rosenberg, also took to the stage to talk about his year in the post. "One of the big highlights for me was experiencing IAAPA's main mission, to connect people and help create inspiration," said Rosenberg.
The new IAAPA Chair for 2020 is Amanda Thompson OBE, Managing Director of Blackpool Pleasure Beach, who was recently named in the Blooloop 50 Theme Park Influencer List. She spoke about her experience in the industry so far, as well as her intentions for the coming year:
"I've got lots of plans for the year. The most important thing to remember is that all of you here, the members, are the most important part of IAAPA. I am going to make a difference, and try and listen to as many people as I possibly can. We have a great future."
Kick-off event recognised pioneers
During the opening event, two pioneers of the industry were inducted into the IAAPA Hall of Fame. This award recognises people who have made a significant contribution to the industry. This year, the inductees were Frederick Langford and Alberto Zamperla (who also features in the Blooloop 50).
Frederick "Fred" Langford, of WaterWorld Products, USA, holds multiple patents and is regarded as the father of the modern-day water slide. He was the first to use fibreglass in water slide construction, and he also invented self-supporting beams in order to make rides longer and more exciting for guests.
Alberto Zamperla took over the Zamperla Company, based in Italy, in 1994 and has since grown the business to the extent that Zamperla rides can now be found in parks all over the globe.
"We are deeply proud to welcome these outstanding industry leaders into the IAAPA Hall of Fame," said Michael Collins, 2019 chairman of the IAAPA Hall of Fame and Archives Committee and Senior Partner, Leisure Development Partners, LLP.
"Fred Langford and Alberto Zamperla truly embody what the attractions industry represents — ingenuity, creativity, passion, and leadership. We are honoured by their commitment and contributions."
Educational sessions
Attendees benefitted from a wide range of educational and professional development sessions throughout the event. These covered topics from sustainability and family entertainment, to immersive design and making use of visitor data.
The President of Carnival Cruise Line, Christine Duffy presented a keynote speech at the GM and Owners' Breakfast, with Carnival's Chief Fun Officer Shaquille O'Neal.
Other memorable events included the Lunch and Learn: The Emergence of Authentic Reality session with George Walker, Creative Director, Universal Creative Studio, and Coca-Cola Presents: How to Become Self Made and Have a Rich Life in Every Way with Nely Galán, entrepreneur and author.
Immerse yourself in immersive technology
At a session entitled Immerse Yourself in Immersive Technology, Mel McGowan, Storyland Studios, Edward Marks, The Producers Group, Jos van der Steen, Holovis, Steve Trowbridge, RHETRO & Co and Jeff Prystajko, accesso, spoke about engaging visitors and enhancing brands through immersive experiences.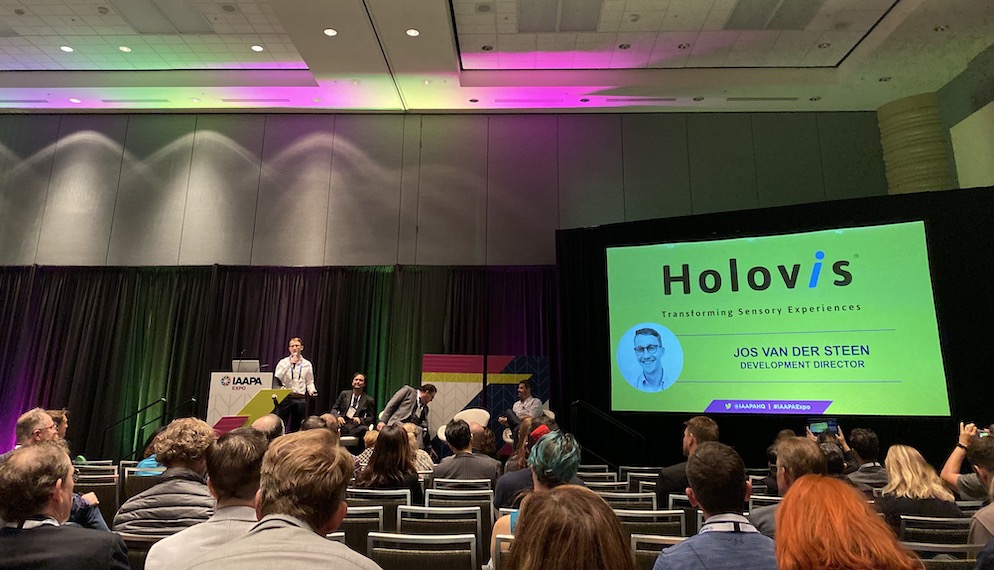 The Emotion-based museum experience
Another session, called The Emotion-based Museum Experience looked at the importance of making a genuine connection with visitors and engaging with them effectively. The panel featured Anna Slafer from the International Spy Museum. Also speaking were Diane Lochner from PGAV Destinations, Cynthia Torp from Solid Light and David Woody, Creative Director at Universal.
Slafer talked about creating memorable experiences at the museum, and how our ability to learn is affected by emotions. Lochner also explored the importance of creating an emotional arc and a visitor story.
Emerging trends in immersive design – new voices and perspectives
A large panel, including Cynthia Sharpe from Thinkwell and Shawn McCoy from JRA, spoke in a completely packed session titled Emerging Trends in Immersive Design – New Voices and Perspectives.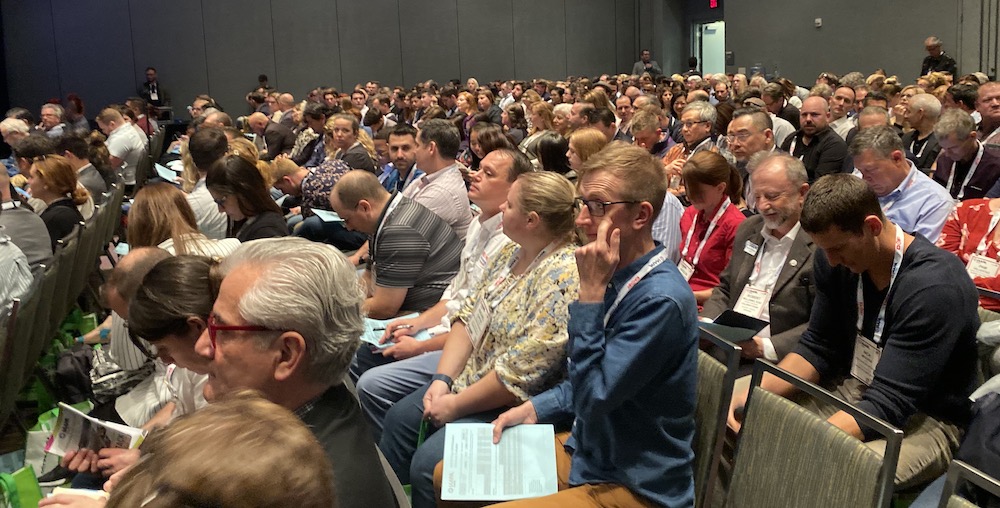 During this session, the panel covered some of the most interesting developments in immersive design. From VR experiences and the Untitled Goose Game to artificial intelligence and personalisation.
Going plastic-free- reducing single-use plastic at your attraction
Jerry Gilbert from the Event Network moderated a panel called Going Plastic-Free – Reducing Single-use Plastic at your Attraction. This looked at the environmental impact of single-use plastic and highlighted campaigns to tackle it. 300 million tonnes of plastic are produced annually. On average, we discard 185 pounds of plastic per person, per year, of which only 9% is recycled.
Disney Legends
"There is something very different about Star Wars: Galaxy's Edge…this is special," said Bob Rogers, kicking off the Disney Legends slot at IAAPA Expo 2019.
Scott Trowbridge (from our very own Blooloop 50) talked about the responsibility involved in bringing the much-loved world of Star Wars to life with Galaxy's Edge. Margaret Kerrison spoke about creating new stories and bringing something fresh and new to the franchise.
"We started with – what do we want our guests to feel like when they walk into the world?" said Chris Beatty. Anisha Deshmane added, "It was a new way of telling a story that hadn't been done before."
IAAPA benchmark reports
Melissa Teates, Director of Industry Research and Analysis at IAAPA, presented the association's Benchmark Studies for the six major segments; theme & amusement parks, waterparks, FECs, zoos & aquariums, museums & science centres, and other attractions.
.@IAAPAHQ's Melissa walks through the new IAAPA benchmark survey. Interesting finds: museum and science visitors travelled the furthest (81 miles) and themed attractions have an average higher age than museums (32 years). Report is free for members. #IAAPAExpo pic.twitter.com/oBMpt9btYz

— Blooloop (@Blooloop) November 18, 2019
We also got the chance to explore IAAPA's new headquarters in Orlando during the show, covering 7 acres, of which 50% is space for members services. Dynamic Attractions and Chance donated the rocking horse which is located at the front of the building.
The new building has a focus on sustainability, with solar power and electric car space.
Huge trade show at IAAPA Expo 2019
Out of the 42,600 people who attended IAAPA Expo 2019, 27,800 were qualified buyers. They enjoyed browsing the vast range of products and innovations on show.
Attendees could have a virtual Lego Minifigure of themselves created at the Holovis booth. Or try the latest VR offerings from companies such as Virtuix and Spree Interactive. Plenty of fun new games were on offer too. For example, the Storm at Triotech's booth, and Outnumbered by LAI Games.
Some of the most exciting technology that underpins leading attractions was also on show. For example, Ultraleap's hand-tracking technology.
DreamCraft Attractions showcased "Project Eve". This features a real-time digital human based on the look and movement of a real actor. We played noughts and crosses (Tic Tac Toe in the US) with "her". The technology involves photogrammetry and volumetric and performance capture. The detail and likeness were remarkable.
Breaking news from the show floor
Almost 40 companies held press conferences in order to announce breaking news from the trade show floor.
Legoland New York Resort teamed up with Holovis and ETF Ride Systems, to announce the Lego Factory Adventure. This will be the world's first ride experience featuring technology that turns visitors into Lego Minifigures. The press conference was held inside the newly unveiled ride vehicle. The resort is set to open in July 2020.
Fresh from his induction into the IAAPA Hall of Fame, Alberto Zamperla kicked off a series of announcements from Zamperla. This included Luna Farm and two brand new ride vehicles.
The company also revealed details of a whole season of birthday fun for Luna Park in Coney Island's 10th birthday in 2020. This will include the Big Wave Z, Ropes Course Adventure Zone, Super Flume Ride and Junior Coaster, as well as a new public space.
Triotech made the announcement that it will be creating Knott's Berry Farm's newest attraction. This is a reimagining of the classic "Bear-y Tales". Knott's Bear-y Tales: Return to the Fair will be a new 4D interactive dark ride. It will arrive at the California park to mark its 100th anniversary. Alongside this, the company also unveiled its latest VR game, the Storm.
More announcements
The Producers Group (TPG) and Extreme Engineering presented The Dark Rider. This new integrated ride and show system is created by TPG. It combines a proven aerial coaster track, modular columns, and state-of-the-art components. The cost-effective, turnkey product is powered by Extreme Engineering's coaster technology.
Brogent Technologies showcased new i-Ride and m-Ride locations for 2019 as well as planned installations for 2020. The company also revealed new mini simulation platforms and a new turnkey entertainment concept. This aims to replace the traditional racetrack with racing simulations.
After winning the THEA Award for Outstanding Achievement for Popcorn Revenge, Alterface also held a press conference. During this, it revealed plans to expand the Popcorn Revenge universe and IP in 2019. It also highlighted some exciting new technological developments.
Polin Waterparks announced Time Rider, a unique new waterslide with the world's biggest bowl. It has more than four pathways, lighting effects, zero gravity and an observation walkway.
Polin also showcased Glassy, the world's first fully transparent composites waterslide, as well as Splash Bucket AllCan. This is a new inclusive and interactive game for water parks. In addition, the team spoke about AIPIX, a user-friendly media experience, in collaboration with Pomvom.
Showcasing innovation
Intercard held a press conference at IAAPA Expo 2019 to highlight its new iReader Impulse. This allows operators to capture impulse players by accepting credit cards.
Meanwhile, Lagotronics and Ride Entertainment announced a Smurfs-themed GameChanger ride for Shimano Dream City theme park in Shanghai.
A huge crowd turned out for Falcon's Creative Group's press conference. This revealed more information about its new partnership with Katmandu Group. The first project, Katmandu Punta Cana will open in late 2020. This will be home to a signature attraction by Falcon's called Quest for the Multiverse. There will also be an innovative dark ride based on The Legend of Katmandu.
Simworx announced a new AGV Dark Ride vehicle during IAAPA Expo 2019. The company also showcased a new Mini Flying Theatre. This turnkey solution offers the full flying theatre experience, ideal for smaller parks, FECs and retail malls.
New projects on the way
WhiteWater assembled an impressive cast of industry leaders for its press conference on Wednesday morning. Firstly, it announced a worldwide licensing agreement with RCI Adventure Products for its Adventure Play range. It also revealed some exciting new projects at Adventure Island and Aquatica.
WhiteWater also explored some of its new parks and projects underway around the world, including the highly anticipated Aquatar in Doha, Qatar. This features the tallest slide tower the company has ever built.
In addition to this, the company demonstrated its commitment to guest safety by announcing partnerships with safety and technology company Mobaro and Life Floor. Finally, it also celebrated several awards wins. This includes the IAAPA Outstanding Service Award for Geoff Chutter, as well as two Brass Ring Awards.
LAI Games celebrated the success of Virtual Rabbids, alongside D-BOX Technologies who provided the motion technology for the popular game. LAI Games also showcased its new game, Outnumbered, designed to encourage repeat play.
Simtec Systems revealed details of its new HEXaFLITE 2.0 flying theatre platform, with 6DOF and a large range of movement. It includes an initial tilt movement and is available with 16, 40 or 80 seats.
More press conferences
"We are incredibly excited to bring this new technology to our industry," said Renee Welsh from Embed, as the company announced the new Mobile Wallet virtual game card, alongside a new range of wearables.
Walltopia also held a press conference, where it highlighted The Gamifier by Techtopia. This engages visitors, boosts repeatability and optimises business.
SPREE Interactive announced turnkey VR bumper car solutions. It also collaborated with Pixomondo to create the Mission to Mars free-roam multiplayer VR experience. This new development is part of SPREE Interactive's aim to become a VR platform for entertainment partners like Pixomondo and TV and movie studios.
CAVU Designwerks unveiled the industry's first intelligent trackless dark ride vehicle at IAAPA Expo 2019. This uses the technology behind intelligent self-driving units that serve the manufacturing industry at warehouse facilities. The self-driving vehicle is intelligent, autonomous and can adapt to changing environments.
Finally, Valo Motion showcased its new 86 inch screen for ValoJump. On the booth, it was demonstrating Super Stomp, the world's first two-player game on a trampoline. Visitors to the booth could also try their hand at one of the company's interactive climbing walls.
Social events at IAAPA Expo 2019
While IAAPA Expo 2019 had a packed schedule of educational opportunities, there was also plenty of time to socialising and networking with friends both old and new.
On Sunday evening, a special event for Women in the Industry was organised by Una de Boer, Director of Global Marketing at WhiteWater. This took place at the Hopdoddy Burger Bar, and was a chance for women in the attractions industry to network and share their experiences.
Gateway Ticketing Systems held its annual party at Andretti Indoor Karting & Games on Monday evening. Here, the company's clients enjoyed indoor karting, laser tag and a wide range of arcade games, while catching up with friends. Embed also welcomed its guests to Andretti's the following evening, while Intercard held a party at Rocco's Tacos, complete with signature 'Impulse' cocktail.
Parties galore
On Tuesday evening, Blooloop held a party at BB Kings, with thanks to its gold sponsors, Polin Waterparks and Alterface and silver sponsors Gateway Ticketing Systems, Interlink, ZoOceanarium Group, Scruff Dog Group and Omnico.
The event was also sponsored by Picsolve who provided the official photographs for the event. Meanwhile, LCI, Barco and 7th Sense provided the impressive projection mapping display that greeted attendees on arrival. 600 clients and friends of Blooloop enjoyed a chance to network and socialise.
Wednesday saw a packed schedule of events. Animax Designs hosted a party at The Pub, where some of its latest projects were on display, while Hologate welcomed guests to Lafayette's. RHETRO & Co., Farbound & Discovery Destinations showcased a range of projects at their cocktail party at Space #720. Across town, the Holovis team entertained guests at Urbain 40.
Finally, on Thursday, PGAV Destinations held its traditional pancake breakfast at Lafayette's. Complete with a pancake artist, t-shirt printing, buffet breakfast and live music. Oh, and a fair few inflatable zebras!
Thursday evening was rounded off by a trip to Universal's Islands of Adventure for the annual IAAPA Celebrates event. Guests enjoyed exclusive access to a very Christmassy Hogsmeade. Here, they could ride the award-winning new ride by Intamin, Hagrid's Magical Creatures Motorbike Adventure. Other areas open for IAAPA visitors were Skull Island: Reign of Kong, and Jurassic Park, including Jurassic Park River Adventure and Jurassic Park Discovery Centre.
Happy hours
Several companies also held happy hours on their booths. This included Sally Dark Rides, Triotech, Falcon's Creative Group and Embed.
Raising money for a good cause
IAAPA has partnered with the Give Kids the World (GKTW) Village for 25 years. At IAAPA Expo 2019, attendees raised around $155,000 for GKTW. This was through corporate donations, as well as a range of events including a golf tournament, motorcycle ride, fun run and walk. To date, IAAPA has raised over $1 million for the charity, which helps to create magical memories for critically ill children.
CEO Pam Landwirth spoke to runners before the start. The story of how Pam and her late husband Henri started GKTW is truly inspring.
Awards at IAAPA Expo 2019
IAAPA's Brass Ring Awards recognise theme parks, water parks, zoos, aquariums, museums, family entertainment centres (FECs) and suppliers. They identify excellence in food and beverage, games and retail, human resources, live entertainment, marketing, new products and exhibits.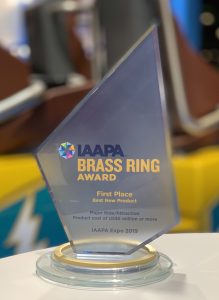 The Best New Product awards recognised several companies. This includes Intamin, Dynamic Attractions, WhiteWater, Zamperla, ProSlide, Valo Motion, Holovis, and wiegand.waterrides. A full list can be found here.
The association named Greg O'Neill (Leisure and Amusement Services, Queensland, Australia), Geoff Chutter (WhiteWater, British Columbia, Canada), and Ash Smart (Harbour Park, Littlehampton, UK) in the 2019 IAAPA Service Awards.
IAAPA also honoured Hank Salemi, park president of Six Flags Great America in Gurnee, Illinois, with a special Service Award.
Michael Browning is CEO and founder of Urban Air Adventure Park, in Dallas, Texas. He received the IAAPA Young Professional of the Year Award.
IAAPA Expo 2020
In 2020, IAAPA Expo will again take place at the Orange County Convention Center, from 17 – 20 November. In addition to this, IAAPA Expo Asia will run from 9 – 11 June in Macao. IAAPA Expo Europe will take place from 22 – 24 September in London.