IAAPA, the global association for the attractions industry, is gearing up to welcome the world's leaders in amusement and entertainment to IAAPA Expo Europe 2019. Formerly known as the Euro Attractions Show, the first event under its new name is also set to be one of the biggest yet.
IAAPA Expo Europe 2019 takes place from 16th – 19th September in Paris, France at the Paris Expo Porte de Versailles.
IAAPA Expo Europe 2019 Sponsors
Platinum sponsors of this year's event are Brogent, DOF Robotics, Leisure Development Partners, and Polin Waterparks. Gold level sponsors also include Gateway Ticketing Systems, Simworx, Vekoma and Wartsila. In addition to this, the silver sponsors are accesso, Embed/Booking Boss, Interlink, iPlayCo, JRA, Mack Rides, Proslide Technology Inc., The Producers Group, WhiteWater, Zierer and EuropaCity.
Professional Development
Over 100 hours of education sessions will take place during IAAPA Expo Europe 2019. These will cover a range of topics including revenue operations, guest experience, marketing, team management, sustainability and more. Attendees can also take part in a two-and-a-half-day professional development course at Disneyland Paris for new and potential senior managers. In addition to this, there will be an in-depth programme on safety.
Special events
Furthermore, a Leadership Breakfast will be held on 18 September. During this Nicolas de Villiers, président of Puy du Fou will explore the attraction's success.
Then, on the 19th September, Future Feature: The Future of Disneyland Paris takes place. Attendees will be able to hear from Daniel Delcourt, COO for Disneyland Paris. Also speaking will be David Wilson, Walt Disney Imagineering site leader for Disneyland Paris.
Lunch and Learn
Lunch and Learn sessions at IAAPA Expo Europe 2019 will also feature park leaders sharing insights into regional amusement park markets. Sessions on the 17th September will focus on European parks. Then, on the 18th September, the Lunch and Learn sessions will look at the Middle East and Africa regions.
The trade show at IAAPA Expo Europe 2019
This year's event will feature over 550 exhibitors in a 16,000 square metre space. This makes it the largest trade show floor in the event's history. Attendees will be able to network with exhibitors from all aspects of the industry. They will also explore a wide range of innovative products and projects. Here's a look at top booths and companies to see on the show floor:
mack animation #2731
mack animation, a leading studio for feature film animation and attraction media production will be present for the first time at the show. Having worked for many years on productions for Europa-Park, Ambient Entertainment and the Mack Family joined forces last year to create new company mack animation.
The company has completed their second Flying Theatre film 'Fly Over Mexico' and are working on the upcoming Dark Ride 'Snorri Touren' at Europa-Park in collaboration with Mack Rides, Mack Solutions and Jora Vision.
Attendees can arrange meetings with Tobias Mundinger and Lars Goldenbogen who will be representing the company.
Mobaro – booth #4424
The software provider will be highlighting various new features and upgrades to its existing products, such as downtime management, improved dashboards and widgets. Mobaro will also be handing out free copies of its latest publication, entitled "Best Practice Guidelines for Ride and Attraction Safety".
The team will be showing a range of client references at their booth. For example, recent projects with Port Aventura World as well as the Looping Group parks. Present at the show will be David Bromilow, Director Parks & Attractions, Jacob Overgaard, Sales Director Parks & Attractions and Jens Holm-Møller, CCO. Christoffer Borup, COO and head of Partnership Program; Henrik Have, CEO. Christian Rasmussen, CTO and Rasmus Andreassen, Client Care Specialist will also be attending.
ECA2 – booth #4020
A leading creator of multimedia shows and large-scale events, ECA2 will be showcasing its latest projects at the event. Attendees are also invited to visit the company's booth to meet its experts in creative show building and discuss future projects.
In addition to this, for the last two years, ECA2 teams have been working on a brand new immersive experience. It will showcase the story of China and the origins of the universe in an architectural landmark. This unique experience uses spectacular combined effects and custom technology to meet China's ancient storytelling tradition.
Present at the show will be Jean-Christophe Canizares, Chairman & CEO; Emmanuelle Charotte, VP Business Development; Nicolas Bouvet, CFO and Julien Causeret, Global Sales & Marketing Executive.
Scruffy Dog – booth #1038
The London-based creative studio has had a busy year, with the opening of a new TV and film division as well as having been awarded a multi-million-pound entertainment project in the UK.
The team, including Joe Bright, CEO, Jacqueline Hunter, Marketing Manager and Francisco Pérez-Rodenas, Business Development Director, will be waiting to meet delegates at their booth.
Concept 1900 – booth #1612
The leading carousel manufacturer will showcase some of its classic and new products at IAAPA Expo Europe 2019. The team will be presenting two different carousel styles. The first is an authentic-look classical carousel. Secondly, they will show a Jules Verne style attraction. This is inspired by the creations of the novelist. It features extraordinary creatures in addition to a metallic futuristic structure.
Delegates can also view a unique new attraction, Bike'n'roll. The fully mechanical bike will be installed on the stand where they can take a retro-style picture on it.
Painting with Light – booth #901
Painting with Light, a lighting and multimedia expert, will be providing a live light design for client's new projects on its booth at the expo. Clients can send in new projects ahead of the event, and the company will do a first mock-up live at the booth. It will also be highlighting its work on Popcorn Revenge at Walibi Belgium on screens at the booth.
Luc Peumans, CEO; Peter Van den Bossch, Business Unit Manager Leisure & Entertainment; Marc Van der Wel, Sales Manager; Jo Segers, Visual Designer and Davy Vandenreyt, Marketing Manager will be at the booth, and clients can email to arrange a meeting.
MK Themed Attractions – booth #3927
The Danish theming expert will be presenting its new Jungle theme. The booth will be one large immersive jungle themed experience, to highlight the company's expertise in creating complete themed solutions. Delegates can also view a new catalogue of completed projects, such as Colossos – Kamf der Giganten (Heide Park), Tigeren (Djurs Sommerland), Untamed (Wilderness area at Walibi Holland), Aqua Planet and Zik og Zaks Abeland (Jeserhus Feriepark).
Rene Hansen, CEO, Mathias Fenger, Managing Director and Lars Nielsen, Themed Attraction Specialist will all be available for meetings during IAAPA Expo Europe.
Simworx – booth #2424
Dynamic media attractions specialist Simworx will be showcasing the world's first immersive Superflume, opening in Trans Studio, Indonesia. The company will also be officially launching two major new products, the Automated Guided Vehicle (AVG) Dark Rides and the Mini Flying Theatre. A press conference for the launches will be held at the booth at 4 pm on Tuesday, September 17th.
It will also be highlighting a variety of recent rides installed over the past 12 months. Demand for dynamic attractions within a smaller space continues to grow. Also included at the booth will be a demo facility of the popular Paradrop VR, recently installed in locations in Dubai, Malaysia and the UK.
In attendance will be Terry Monkton, CEO; Edward Pawley, Sales Director; Rafael Smith, Sales Manager; Mark Whittaker, Sales Manager – FEC/LBE; Matt Wells, CEO – Paradrop; Claire Hughes, Head of Communications – Paradrop and Matt Clarkson, Creative Designer.
Fantawild – booth #3838
Theme park operator Fantawild has opened three new parks in the past two months in China and its famous theme park brands are among the most popular tourist destinations in the country. Delegates can find out more information about the company and its projects by booking a meeting with Anna Kuang, International Marketing Manager.
Embed/Booking Boss – booth #2343
Booking Boss, the award-winning ticketing and booking management platform, will be making its first appearance at IAAPA Expo Europe 2019. Designed for the attractions, tours and entertainment industries, the comprehensive web-based solution easily manages ticketing and bookings centrally. It can ease the guest experience, while also increasing profits and catapulting sales for the operator.
Embed, a leading worldwide supplier of point-of-sale and revenue management systems, will also be on-site to demonstrate its all-in-one solution, TOOLKIT. Embed's completely integrated system connects all business touchpoints. It brings together real-time prize inventory, guest bookings, POS, packages, reward schemes and game card kiosks in one streamlined solution.
Attendees can book a meeting here.
Frontgrid – booth #2424
Frontgrid, an expert in adventure leisure and virtual reality attractions, will be at the Simworx booth to announce the launch of the ParadropVR City Flyer. Visitors will also have the opportunity to experience the city flyer ride for themselves at IAAPA Expo Europe 2019 and can book a VIP test flight here. The world's first ParadropVR City Flyer recently launched at the King Power Mahanakhon in Bangkok and has had a positive response.
Matt Wells, CEO, Claire Hughes, Head of Communications and Mark Baxter, Global Account Manager will be present at the show.
Jora Vision – booth #4130
Jora Vision, a leading design and production company for themed attractions will be announcing a new project in Energylandia. It will also be highlighting its current project Snorri Touren in Europa Park and a recently opened Wine Experience in Hameau Duboeuf.
Jan Maarten de Raad, CEO, June Ren, Managing Director Asia and Robin van der Want, Project Development Director will all be available for meetings at IAAPA Expo Europe.
Holovis – booth #2844
The leading experience designer will be talking about its innovation around smart tracked environments and how they can be used to bring personalised experiences to guests. These can extend and enhance the guest experience. They also ensure the safety of guests, helping operators to plan new experiences and keep spaces flowing as they should.
Its proprietary solution combines computer vision with advanced capture mechanisms and sensor technologies. Therefore guests can take frictionless control of their adventure through personalised and customisable interfaces.
Peter Cliff, Creative Director, will be on the booth, and delegates can contact him to arrange a meeting.
Walltopia – booth #1686
The climbing wall, ropes course and active attractions company Walltopia will be announcing a soon to be released product called The Tree Course. This state-of-the-art ropes course is the most complex design the company has ever done. It has the capacity to entertain a large number of people.
Walltopia will also be showcasing the latest version of Techtopia's Gamifier. This will be installed on all of the attractions at the booth. Visitors can also find out about the new walk-though Walltopia Cave. This is an educational and explorational experience made of tall tunnels and chambers.
Furthermore, the booth will feature recently completed projects such as Rollglider in Tayto park, Ireland, the first dual line in Europe and Explorium, the biggest artificial cave in Europe and Fun Walls.
Zlatimira Bancheva, Sales Manager; Veneta Yanyova, Sales Executive; Iveta Krusheva, Sales Executive and Kalina Kodova, Sales Executive will be on the booth. Also available will be Pencho Penchev, Head of Design; Mariya Mladenova, Rollglider Brand Manage; Konstantin Karamfilov, Theming Product Manager and Dian Deskov, Techtopia CEO.
ROLLER – booth #944
ROLLER, the ticketing, CRM and POS specialist, will be showcasing its newly developed Self-Serve Kiosk for entry ticketing. This is a first of its kind, all in one system for session ticketing entry. It has recently been rolled out across several parks globally. For example, leading operators Circus Trix in the US, and Flip Out in the UK.
Attending the show will be Tom Freeman, Solution Manager EMEA and Steve Campbell, General Manager EMEA.
Emotion Media Factory – booth #2749
Emotion Media Factory (EMF), known for creating high-end multimedia entertainment, is currently working on several multi-media show spectaculars in China, Indonesia, Thailand, Italy and Africa. The company also recently completed the design and production work for another project. This is the world's largest sea stage, on Hainan Ocean flower Island.
Helmut Doerner, Product Development and Sales will be available for meetings during IAAPA Expo Europe 2019.
Garmendale – booth #3121
Garmendale, a leading theme park ride systems specialist, will be making an exciting announcement at the expo when it will be unveiling its new ride. The company has been keeping it quiet throughout the build, installation and commissioning process. However, it is now excited to share the project.
The official unveiling will take place on Tuesday 17th September on Garmendale's stand. David Shelmerdine, Managing Director and Kelvin Ensor, General Manager will be available for meetings.
ETF – booth #829
Leading ride designer and manufacturer, ETF Ride Systems, will be highlighting its recent successful projects at the show, for example, Popcorn Revenge and Sesame Street. Earlier in the year at the Thea Awards Gala, the Bazyliszek dark ride at Legendia in Poland – which features trackless Multi Mover vehicles by ETF Ride Systems – picked up an award for outstanding achievement.
Ruud Koppens, CEO and Ruud Jeen, Sales Director will be at the stand, and delegates can email to arrange a meeting.
Clip 'n Climb – booth #3133
Clip 'n Climb, an international leader in the fun climbing market, will be bringing an innovative new software application, Clip 'n Score, to IAAPA Expo Europe 2019. Clip 'n Score encourages climbers to challenge themselves by keeping a record of and trying to increase their scores. It uses contactless technology and users can play solo or as a team, competing for the highest scores.
The company has also produced an industry white paper, titled "The Future of Leisure". This will be available at the event. In addition to this, the company will be highlighting the newest challenge in the Clip 'n Climb range as well. Ascendor is a colourful 3D ladder, suitable for beginners and young children.
Delegates can arrange to meet the team at the expo by email.
Dynamic Attractions – booth #1942
Dynamic Attractions, a leading creator of cutting-edge theme park rides, will be featuring its new ride at Warner Brothers World in Abu Dhabi – Batman: Knight Flight. Earlier this year, the company announced that Jialong Parks had signed a Letter of Intent at IAAPA Expo Asia 2019, for up for nine of the world's most advanced rides. The formal signing ceremony took part in Shanghai during the expo.
At the booth will be Cindy Emerick Whitson, Senior VP of Business Development; Hao Wang, President and COO; Guy Nelson, CEO and Kevin Rohwer, Executive Director of Business Development. Appointments can be made by contacting Karen Zondag, Sales and Marketing Manager, who will also be present.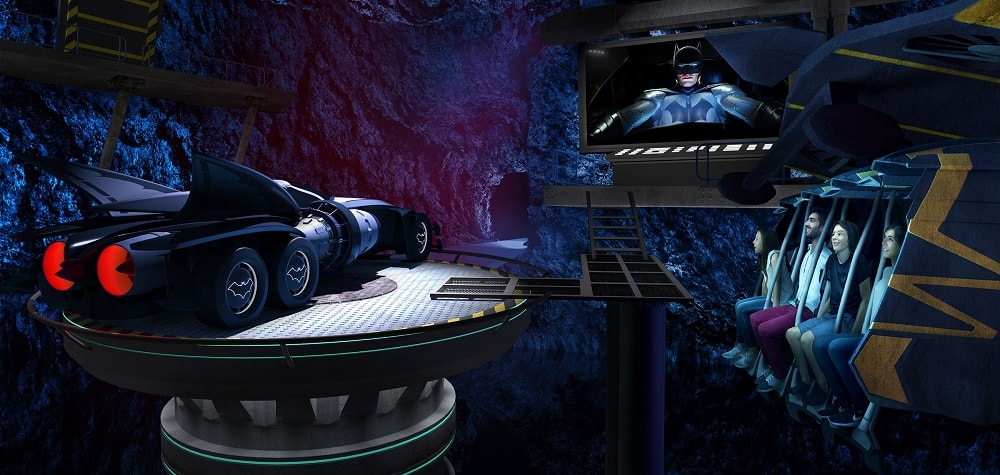 Waterplay Solutions – booth #4739
The Canadian aquatic play company will be showcasing a new product, released last autumn, called Waterways (Waterfall 3). This is the first time it will be on display in Europe. The modular design provides interactive fun experiences.
Lisa d'Entremont, Regional Sales Manager, will be at IAAPA Expo Europe 2019 and delegates can email to make an appointment.
Triotech – booth #1624
The creators of fun will be showcasing a range of new products at IAAPA Expo Europe 2019. For example, the in-house studio's latest movie for Triotech's XD Dark Ride interactive theatre – Carnival. This thrilling ride is set in an abandoned theme park. It takes viewers for a ride through the nightmare of a disturbed clown.
Triotech will also be highlighting its VR Maze – an innovative roaming virtual reality experience featuring popular exclusive licenses such as Ubisoft's Rabbids and Assassin's Creed. Furthermore, the company will be celebrating a milestone at the conference, with the 10th anniversary of Typhoon. To mark the occasion, it is showcasing a new edition. This has a brand-new look, a 4k resolution screen and a new 10-film selection.
A large team will be attending the event and meetings can be arranged by email. This includes Ernest Yale, President & CEO; Sylvain Larose, COO; Eric Beauregard, Vice President Sales; Karen Staley, Regional Vice President & Strategic Accounts; Vincent Brie, Vice President Operations & Strategic Accounts and Christian Martin, Vice President Marketing as well as other team members.
Vekoma – booth #1630
Vekoma Rides, the Dutch roller coaster specialist, will be highlighting some of its new designs and projects at the event. It will also be featuring its newly installed coasters. For example, the new Hyper Space Warp which was recently opened at Fantawild Changsha in China.
Earlier this year, the company celebrated the opening of its new suspended family coaster, Dragonflier. The ride is part of the new Wildwood Grove area at Dollywood, now open to visitors.
Delegates can email to book a meeting with a member of the team at IAAPA Expo Europe 2019.
LAI Games – booth #3445
Arcade game manufacturer, LAI Games, will be demonstrating new rides for the hit virtual reality game, Virtual Rabbids: The Big Ride. It's called The Big Expansion Pack, and it contains 3 brand new experiences.
In Kitchen Catastrophe, riders drive a toy car and have to navigate to escape from a Rabbid Chef from a pint-sized perspective. Coaster Calamity on the other hand is an extreme coaster adventure that takes riders though various heights, drops and logic-defying twists and turns. The final experience, Space Skirmish introduces a brand new interactive component, where players aim their VR headsets to shoot at targets and earn points. The company has now shipped over 500 units of the much loved Virtual Rabbids product.
Steve Bryant, International Sales Manager, will be at the booth, and appointments can be made by email.
Valo Motion – booth #3138
Valo Motion, a pioneer in combining interactive technology with physical activities, will be showing some new attractions at this year's event. This includes ValoJump, a trampoline game ready for visitors to conquer. Attendees will also have the opportunity to challenge their friends in the world's first two-player trampoline game, Super Stomp! In addition to this, they will experience the new graphics and visual experience of ValoClimb.
A large team will be present, and visitors can book meetings by email. This includes Raine Kajastila, CEO; Leo Holsti, COO; Sven Rösch, Head of Sales; Fana Immonen, Marketing Manager; Michael Groszewski, Sales Manager and Eldad Givon, Sales Manager/Business Developer.

Lagotronics – booth #3730
Lagotronics Projects, the media-based attractions specialist, will be highlighting its upcoming project, The Smurfs GameChanger, for Shimao's new Smurfs theme park.
It is a big year for the company, which is celebrating a milestone of 40 years in the business. At the booth, it will be showing a video on a huge screen. This will explore many projects, rides, attractions, events, TV shows and more from the previous four decades of work. Furthermore, it has also created a presentation book celebrating 40 years of successful projects.
Mark Beumers, CEO, Ralf Holzapfel, Sales Representative and Tom Bouwens, Sales & Marketing will be present, and delegates can arrange to meet them by email.
Simtec Systems – booth #2924
Simtec Systems, leaders in motion simulation, will be showcasing two recently completed projects at IAAPA Expo Europe 2019 – Sunacland Wuxi & Guangzhou. These are the world's first Flying Theaters working with a spherical LED screen instead of projection systems. The company will also be launching a new product later in the year at IAAPA Expo in Orlando.
On the stand will be Bernd Kaufmann, CEO & Owner; Andreas Stickel, Director Business Development; Dominique Brunet, Head of After Sales and Eckart Schulz, Consultant. Meetings can be arranged by email.
Endurescreens – booth #3457
Endurescreens, a specialist in the design, manufacture and installation of world-class projection screens, will be talking about several recent projects at the expo. This includes the Magic Glaze 5D at the Tonguan Kiln International Cultural and Tourism Centre (Changsha, China). It is one of the world's largest 4D theatres with a 45m diameter screen. Furthermore, it will be highlighting its work on the new "Beautiful Hunan" Flying Theatre, also at the Tongguan Kiln. This offers guests a six-minute flight experience over the scenic and cultural highlights of the Hunan region.
Endurescreens also recently completed the Planetarium in Ceske Budejovice, Czech Republic.
Lei Yin, Director of Sales, Ronald Potgieter, Quality Control & Project Manager and Elek-Li Sichun (Lucy), Corporate Communications will all be present.
Ropes Courses Inc. – booth #3112
Ropes Courses Incorporated, a leading adventure attractions company, has begun to include unharnessed net play into some of its product features. Unlike other products, there are no height or weight requirements that must be met prior to net play entrance.
RCI will be showcasing its entire product portfolio at the event, including Sky Trail, Sky Tykes, Clip 'n Climb, Sky Rail and Amaze'n Mazes. In addition to this recent projects will also be mentioned. For example, the newly installed Sky Tykes at Haven's Hafan y Môr Holiday Park in North Wales.
Jon Weston, Chief Sales Officer, and Dan Mooney, Director of International Sales will be in attendance. Visitors can email ahead of the show for a meeting.
Tejix – booth #914
Tejix, the audiovisual specialist, will be introducing special effects floor shaker actuators, in addition to an innovative loudspeaker system. Earlier this year, the company worked on the renovation of the entrance hall to the French theme park Vulcania. It now features a show that erupts before guests' eyes. This sets the scene for what lies ahead, immersing them in a red volcano landscape.
Alicia Seo, Edouard Trichet and Kazuki Uehara will be staffing the booth.
KCC Entertainment Design – booth #1236
KCC Entertainment Design, a leading creator of themed environments, has several new projects set to open, including The Smurfs Theme Park in Shanghai and Chocolate Kingdom in Yingde, China.
The company will also be talking about recently completed projects such as Snow Dunes in Qatar, which opened in August 2019 – this snow park set in the desert is a global first. Themed around a fantastical Arabian town from the distant past, with its very own Arabian-style castle. It provides fun snow play for the entire family at -4˚C all year round.
Yannick Maes, CEO; Reinhart Viane, Business Development Director; Filip De Schaepmeester, International Business Development Manager; Aurélie Dhondt, Office Manager and Volkert Lapere, Sales & Marketing Assistant will all be available.
Alterface – booth #2732
Alterface, a leader in interactive technology, will be showcasing Popcorn Revenge as a turnkey solution at IAAPA Expo Europe 2019. The ride has already had a successful first few months at Walibi Belgium and has been nominated for several awards since its launch. The full turnkey solution includes the dark ride, IP and merchandise.
Popcorn Revenge is based on Alterface's Erratic Ride technology. The non-linear ride concept provides visitors with unique experiences because the ride vehicles take different routes.
On the booth will be Benoit Cornet, CEO & Founder and Laurence Beckers, Creative Director. Visitors can arrange a meeting by email.
JRA – booth #2324
JRA, a leading experience designer, will be highlighting several recently completed projects. For example; the Friends Pop-Up Experience, New York City; Steelers Country at Kennywood Park, Pittsburgh, Pennsylvania; the Runaway Tram at Morey's Piers, Wildwood, New Jersey; the Toyota Experience Center, Plano, Texas; the Nancy & David Wolf Holocaust & Humanity Center, Cincinnati, Ohio; and the Mascot Hall of Fame Interactive Children's Museum, Whiting, Indiana.
Shawn McCoy will also be participating in the IAAPA Expo Europe session, "TEA Presents: Retailtainment (Part 1) – How Technology Can Interact with the Retail Experience" on 17 September at 1:30 pm.
Keith James, Owner/Chief Executive Officer; Chloe Hausfeld, Director – Marketing & Business Development; Shawn McCoy, Vice President and Dan Schultz, Chief Operating Officer will all be present.
Connect&GO – booth #2238
Connect&GO, a leader in RFID solutions for the leisure, sports and attractions industry, recently acquired another company and therefore will be adding its features to the Parkpass solution. Parkpass is a comprehensive solution developed for amusement parks, water parks and family entertainment centres. It provides end-to-end frictionless guest experiences that include everything from increased security features to engaging play & learn activations.
The company will also be introducing two recent projects that took place in Europe, one at London's Hyde Park Winter Wonderland and the other at La Folie Douce Hotels Chamonix.
Anthony Palermo, Co-founder; Dominic Gagnon, Co-founder and CEO; Sebastien Auger, VP of Sales & Marketing and Justine Foucher, Sales and Marketing Coordinator will be available. Meetings can be arranged by email.
iSlide – booth #4157
iSlide, the company behind interactive gaming technology for waterslides, will be showing what iSlide can do for water slides. It will be doing this through a video but also through the stand which is interactive – just like the systems it provides for water slides. Furthermore, iSlide will also be bringing a VR experience to show delegates what its products look like inside a waterslide.
Hennie van den Biggelaar, General Manager, Kevin Muilwijk, Sales Manager and Roberto van Welzen, Account Manager will all be attending the show, and appointments can be made via email.
FORREC – booth #2236
Leading entertainment design specialist, FORREC Ltd., will be showcasing some exciting upcoming projects at IAAPA Expo Europe, many of which are due to open in the near future. Additionally, for more information, delegates can visit the team at the booth for a chat.
Earlier this year, FORREC was part of a group of companies who presented the winners of the Cornell 2019 Theme Park Design Competition.
Cale Heit, CEO & President and Steve Rhys, Executive Vice President will both be present at the event, and meetings can be arranged by email.
The Producers Group – booth #221
Global theme park production company, The Producers Group will be highlighting the work it has done on three attractions at the newly opened Trans Studio Cibubur in Jakarta, Indonesia, including an action-packed stunt show. The company will also be opening two new attractions in Bali later this year.
Bob Chambers, Founder/Co-CEO, Michael Turner, VP Global Business Development and Judd Nissen, Director of Project Development will all be attending.
Electrosonic – booth #4707
Electrosonic, a leading international audiovisual and technology services company, will be showing a selection of new projects including the world's largest indoor theme park, Warner Bros World in Abu Dhabi, where it was involved in the design and build of the park's 29 rides and attractions.
Also showcased will be the new National Comedy Centre in the US, which uses AV technology to make every visitor the star of the show in a personalised immersive experience. In addition to this, Electrosonic will highlight its work on MGM Cotai in Macau, China, which houses the largest area of permanent indoor LED screens.
Paul Kent and Simon George will be representing Electrosonic on the stand, and meetings can be arranged by email.
Animalive – booth #4902
Award-winning interactive animation company Animalive launched AnimaChat at IAAPA Expo Asia earlier this year. Subsequently, at IAAPA Expo Europe 2019, the company will be launching the facial capture feature for it. This will add to the complete package of character interaction through sophisticated facial expressions.
Tabatinga Australia recently installed the latest AnimaChat system at their Tweed Heads location. They have a total of three locations. Birthday party and storytelling sessions for all three locations are now operated from Tweed Heads alone.
Ritu Srivastava, Sales & Product Communication and Ali Kord, COO will both be present and can be reached by email.
Drone Interactive – booth #3947
Drone Interactive, a specialist in drone-based attractions featuring augmented reality, will be demonstrating its new product, ARCADRONE. The award-winning attraction combines drone piloting with mixed reality video games.
The startup company won the Bpifrance Innovation Competition in February 2019. It also began its pilot installation of ARCADRONE in France earlier this year.
On the booth will be Philippe Onillon, Head of Sales and Marketing & Co-Founder and Vincent Rigau, CEO. Delegates can arrange an appointment by email.
Rainbow Productions – booth #2939
Rainbow Productions, a leading mascot manufacturer and character events company, will be highlighting a new manufacturing service available to the European attractions industry.
Due to the increased demand for puppets, rather than costume characters, Rainbow Productions has developed new designs, with and without technological requirements, and will be showcasing its new Pierrot Bear body puppet at the show. Body puppets also offer clients an interactive alternative or addition to their full-sized mascots.
At the stand will be James Barlow, Export Manager and Georgina Huckle, Creative Marketing Manager. They will also be joined by Simon Foulkes, Sales & Marketing Director on the first day of the show. Meetings can be arranged by email.
accesso – booth #2721
accesso Technology Group plc, a leading technology provider, will be continuing its core focus on ticketing, POS, distribution, guest experience and virtual queuing solutions.
For example, the company recently entered into a three-year strategic partnership with the New York Botanical Garden in order to integrate ticketing, eCommerce and global distribution systems for the popular attraction.
On the stand will be Tara Morandi, VP Marketing; Steve Drake, Senior Vice President Global Initiatives & Founding Team Member; Andrew Jacobs, President, accesso LoQueue and Managing Director; Seb Hinds, Director of Product, accesso LoQueue and Jeremy Gray, Sales Director. Attendees can arrange an appointment by email.
WhiteWater – booths #2250, #2254 and #2247.
WhiteWater, a leading waterpark manufacturer, recently announced the release of the Splash Factor Report. This is based on a survey of over 100 parks across the world. The paper will be available at IAAPA Expo Europe 2019. It provides readers with an in-depth understanding of emerging trends in the water ride market.
The company also celebrated a record-breaking installation of the Spinning Rapids Fusion water ride earlier this year. Lava Drifting opened in May 2019 at Shanghai Haichang Ocean Park. It is the world's first spinning rapids ride with actual rapid rivers. Furthermore, Lava Drifting is also the longest spinning rapids ride of anywhere in the world.
Main contacts on the WhiteWater booth will be Grant Poje, Executive VP of ERA; Geoff Chutter, President & CEO; Paul Chutter, Chief Business Development Officer and Nathan Jones, President, Park Attractions.
The Juice Films Ltd. – booth #2942
Leading media attractions specialist, The Juice Films Ltd., has launched a number of 4K films this year and also has new flying theatre films available for licensing. In addition to this, the company is working on a number of custom film projects.
Pauline Quayle, Director, will be on the booth, as well as Sales Executives Yulia Konstantinova and Philippe Vleesdrager.
wiegand.waterrides – booth #1015
wiegand.waterrides, a leading water ride and attraction provider, announced its latest product innovation, the Slide Coaster, at IAAPA Expo Asia earlier this year.
The company has also been nominated for the Park World Awards for one of its most recent projects, the Big Swing Slide at Bellewaerde Aquapark.
Hendrik Wiegand, CEO; Sirko Adler, International Sales Manager; Maximilian Dirrigl, International Sales Manager and Dr Stephan Spiller, Chief Technical Officer will all be present at the show. Meetings can be arranged by email.
DOF Robotics – booth #3724
At IAAPA Expo Europe 2019, DOF Robotics, producer of dynamic simulation platforms, will be highlighting new products and projects including Hurricane 360 VR, a unique 6 Axis Motion Ride with 360-degree rotation capability, 7 degrees of freedom and a whole range of special effects including water, rain, air blasts and even snow.
DOF Robotics will also be installing and showing RIOT VR for the first time at the event. The attraction features 2.1 sound system quality and special effects such as rain, fog and leg ticklers.
At the stand will be Mirsat Satis, Sales and Marketing; Ozgur Kucukates, Sales and Marketing; Mustafa Mertcan, President and Bakit Baydaliev, CEO.
Interlink – booth #1315
Leading water ride designer and manufacturer, Interlink, will be announcing details of its new immersive SuperFlume ride, opening soon at Trans Studio Cibubur, Indonesia.
Created in partnership with Simworx, the SuperFlume combines a motion base and immersive screens with a flume ride for a totally unique, world-first experience. The attraction uses 16-seater boats and a conveyor loading system. Riders will leave the loading/unloading station and sail through a dinosaur-themed area. After this, they enter an immersive tunnel section where their boat will stop. Here, huge immersive screens on either side of them will come to life. This provides a dinosaur rapid river adventure element.
John Hudd, Managing Director, John Davies, Commercial Director and Stefan Banholzer, Project Director will all be present. Delegates can arrange meetings by email.
Ride Entertainment – booth #3736 and #3738
Ride Entertainment, a leader in the supply and installation of some of the world's most thrilling attractions, will be continuing to showcase the Sky Sled and KCL lightning packages for Skycoasters, both of which have debuted in the past year. In addition to this, it will also feature the Skyline Attractions Skywarp Horizon. This recently opened at Sea World San Diego and has been a revolution in the world of compact thrill rides.
The company will also be highlighting recently completed projects such as Metallbau Pony Trek at Dollywood, Funtime Star Flyer at Six Flags Darien Lake and Sky Sleds at Fun Spot, Morey's Piers & four Six Flags properties.
Adam Sandy, President – Business Development will be present at IAAPA Expo Europe 2019, as well as Mark Rosenzweig, Managing Director – Business Development.
Katapult – booth #4707
Katapult, the international guest experience design agency, has announced that it will be premiering its new virtual reality portfolio tour, Woodland of Wow, at the show. Woodland of Wow showcases Katapult's design work. It features leading IPs and themed attractions from a variety of projects across the globe. It is an opportunity for delegates to take a look at what's new in the world of attraction design, all set in the backdrop of a whimsical, enchanted woodland.
The company is based on booth 4707 and delegates can book a slot here.
On the booth will be Kelly Herrick, Strategy & Development Director; Dawn Foote, Co-Founder & CEO; Phil Higgins, Co-Founder & CCO and Jonathan Bonner, Project Producer – Build Specifier.
Hero Zone – booth #4533
Hero Zone has designed a turnkey mobile four-player VR Game System for the Location Based Entertainment Market. The system is designed to maximize throughput with a small footprint and easy, lightweight, player setup. The inviting and colourful design of the Hero Zone Game System is also built with the intention to draw the attention of as many passersby as possible. Whilst the Hero Zone speaker system and LED lights will impress and excite players prior to their adventure.
The entire set-up will be portable as the smallest 4-player out-of-the-box VR platform on the market, occupying just 13.5 sqm. With less bulky equipment, delivery and set-up is quick- the entire system is designed to be dismantled and rebuilt in 1 hour.
The platform is making its worldwide debut at the show, and is offering attendees a €5k introductory discount. To qualify, join their mailing list here.
Meetings with the Hero Zone team can be arranged by email.
Themebuilders Philippines Inc. – booth #1439.
The specialist in theme projects and design will be present, highlighting its European projects such as Land of Legends at Bobbejaanland and Wickie the Battle and Dino Splash at Plopsaland de Panne. It will also showcase the farm animal theming of Wilde Gockel at Traumland auf der Bärenhöhle in Germany.
At the booth will be Joanne Ocampo, General Manager as well as Han Kuijpers and Christian Angenvoort, both Business Development.
Intercard – booth #1936
Intercard, the cashless payment provider, will be announcing its newest customers in the amusement category of the cruise ship industry. The company is also a finalist for a Park World Excellence award in the Best Ticketing and Access Control Product category. Award winners will be announced during the show.
Alberto Borrero, Senior VP of international sale and Alex Orban, Global Business Development Manager will be attending. Interested parties can book appointments by email.
Safari Thatch – booth #2666
Safari Thatch, leading suppliers of thatch and bamboo materials, will also be showcasing its latest products at the event. It will be announcing two new product lines, Cabanas and Pergolas.
Todd Carone, East Coast Sales Director, Douglas Brown, Midwest Sales Rep and Liz Gaston, West Coast Sales Rep will all be present.
Intamin – booth #2227
Intamin, the creator of record-breaking amusement rides, will be at IAAPA Expo Europe 2019. The company will be highlighting newly installed coasters and new designs and projects. For example, Taiga, which recently opened in Linnanmäki. It will also showcase Dueling Dragons, which opened in Guangzhou Sunac Land.
Meetings can be arranged by email.
CL Corp – booth #1924
CL Corporation, a leading creator of dynamic and immersive attractions, will also be present. It will be revealing some important news in a conference at IAAPA Expo Europe 2019. Delegates can find out more on the 17th September at 1 pm at the CL Corp booth.
In addition to this, it will be highlighting the newly opened Asterix 4D theatre. The attraction opened in April 2019 and boasts 300 4D seats with new special effects.
Christophe M. Lucchini, CEO, Déborah Attal, CSO and Laurent Mahy, CTO will all be present.
Other events and representatives at IAAPA Expo Europe 2019
In addition to the trade show booths, several other innovative companies in the industry will be present. They will be attending IAAPA Expo Europe 2019 in order to speak on panels or meet new clients.
Raven Sun Creative
Louis Alfieri, Raven Sun's Founder and Chief Creative Officer will be attending IAAPA Expo Europe 2019. He will be speaking on the panel "TEA Presents: Tips and Tricks to Renew and Refresh Your Facility". This takes place on Tuesday, September 17.
He will be touching on a recently opened project in his presentation, Reese's Cupfusion, an interactive dark ride, which debuted at Hersheypark in Hershey, Pennsylvania in May. Delegates can also email him for a meeting.
D-BOX
Although D-BOX Technologies, a world leader in immersive motion entertainment experiences, will not feature a booth, Nicolas Bohly, Sales Director and Nicolas Fournier, Account Manager can be found by the CL Corporation, LAI Games and/or Triotech booths. Multiple D-BOX partners will also showcase attractions featuring our technology, including LAI Games and Triotech.
The main highlight for D-BOX is the release of 3 new "motion-coded" content experiences for LAI Games' Virtual Rabbids: The Big Ride.
Picsolve
Picsolve, a leading digital content capture partner for visitor destinations, won't be exhibiting at the show, however, two team members will be attending to meet with current partners. They'll be discussing the recent Picsolve news about the Panora.me acquisition and the launch of the new Epic Selfie technology.
Leisure Development Partners
Leisure Development Partners, a leading consulting practice, will be sponsoring the business lounge during the event again this year and its core team will be based there over the week to meet with new and existing clients. Attendees will also be able to book the use of the private meeting room within the lounge during the week.
The business lounge is a relaxing space for any attendees to use for informal meetings or just to take a break during the show. There is coffee and tea/refreshments as well as comfy sofas, and LDP welcomes any Expo attendees to pop by for a chat to discuss projects or concepts.
Frea Nunn, Team Coordinator will be welcoming guests to the lounge along with a dedicated welcome host from IAAPA. Also at the booth will be Michael Collins, Senior Partner; Yael Coifman, Senior Partner; James Kennard, Partner and Natalia Bakhlina, Partner.
In addition to this, Yael Coifman will be hosting the Lunch & Learn Session on French Attractions on Tuesday 17th September. Michael Collins is also holding an IAAPA educational session as part of the Institute for Attractions Managers Programme.
Attractions.io
Team members from Attractions.io, leading creator of mobile visitor apps, will be attending the show with ticketing integration and mobile food ordering to showcase. They will also talk about the launch of the company's new ticketing system at Paultons Park.
Meetings with Mark Locker, CEO, Simon Cockerill, Implementation Consultant and Peter O'Dare, Head of Product can be arranged here.
Entertainment Design Corporation
Entertainment Design Corporation (EDC), the award-winning entertainment designer, will be attending IAAPA Expo Europe 2019. EDC will also be hosting a meeting suite at the Hyatt Regency adjacent to the show floor. President Mark Dannelly and Creative Director Jefferson Eliot will be taking meetings from the 19th – 21st September. Meetings can be scheduled by email.
Imagine Leisure
Imagine Leisure, leading leisure consultants, has realised various projects in Europe recently, including an integral indoor and outdoor concept for the legendary Dutch TT Circuit Assen in the Netherlands, The circuit hosts international motorsports events such as the Dutch MotoGP as well as the Motocross of Nations. The historical track is a popular venue, attracting 600,000 visitors each year. However, most of them tend to come for one-off events. Now, it is a destination in its own right. Imagine Leisure created a concept that will attract visitors 365 days per year.
Delegates who are interested in learning more can arrange a meeting at IAAPA Expo Europe 2019 by email.
Barco
Barco, the global technology company, will also have a presence at IAAPA Expo Europe 2019. It has provided cutting edge technology to help bring several events to life this year. This includes the UK's Glastonbury Festival as well as Vivid Sydney in Australia.
With a global team of 3,600 employees, Barco designs innovative solutions to enable bright outcomes all around the world. Its products are designed and built specifically for the entertainment industry. Barco also works in close collaboration with customers and industry partners, in order to match their needs.
Aardman Animation / Sally Dark Rides
Aardman Animations, the award-winning UK studio, will be at the show along with Sally Dark Rides, the creator of animatronics and interactive dark ride attractions. The two companies are working on announcing opportunities to create themed dark rides featuring existing Aardman properties, for example, the exciting upcoming new Shaun the Sheep movie Farmageddon which releases later this year. They will also be promoting the opportunity to create bespoke new themes, characters and worlds for unique rides.
Sally Dark Rides and Aardman will also announce a new dark ride concept that is full of magic and adventure. This will take place on the 17th of September at 2:30 PM, at booth #1230. The team can be contacted by email.
MediaMation
MediaMation Inc., a leader in immersion entertainment technology, has a number of new projects ready to open. Its MX4D Motion EFX theatres will be opening soon this autumn in several new European locations. This includes Kinepolis in Utrecht, Netherlands and Kino Arena in Sofia, Bulgaria.
The company is also opening a new flying theatre in Musan, Korea.
Attending will be Howard Keidaisch, CEO and Emily Ng, Sales. Appointments can be made by email.