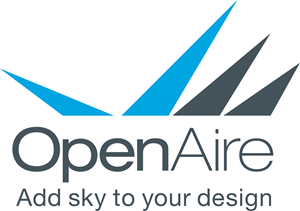 OpenAire designs, manufactures and installs the world's most reliable and elegant retractable roof systems, skylights, and enclosures.
Our customized designs transform restaurants, shopping malls, hotels & resorts, health & sports clubs, aquatic spaces, waterparks, zoos, colleges & universities, and entertainment facilities into sunlit spaces that customers love.
OpenAire has completed almost 1,000 completed projects found in Canada, the United States, Europe, and the Middle East.
Well-known OpenAire projects include:
Our energy-efficient enclosures transform waterparks and aquatic centers from summertime treats to year-round local and tourist destinations while reducing operating costs due to its virtually maintenance free aluminum structure, natural light, and ventilation that offers up to 27% on yearly energy costs compared to a traditional building.
Retractable roof systems
OpenAire designs, manufactures and installs custom retractable roof systems that suit any space and any shape, from the simple to the sublime.
We collaborate with developers, owners, architects and engineers to bring unique visions to life throughout each stage of the design and construction process: from design inception to structural engineering and construction documentation, to manufacturing and installation, to project completion, through opening day and beyond.
And it doesn't end when your project is complete: we continue to provide technical support if and when you need it through our industry-leading warranty program.
Custom skylights
Our custom skylights are not just boxes or tubes that bring sunlight into a room: they are uniquely designed jewels, domes, telescoping, stacking, fixed and/or retractable. They are beautiful, elegant windows to the sky that let in natural light, but stay airtight and dry.
Our operable skylights maintain the sames aesthetic standards of sophistication and beauty as they quietly open to let in the fresh air. When closed, they are leak and draft-free as their fixed counterparts.
Industries
OpenAire custom fixed skylight and retractable roofs can be found in entertainment, commercial industries, and residential, such as: