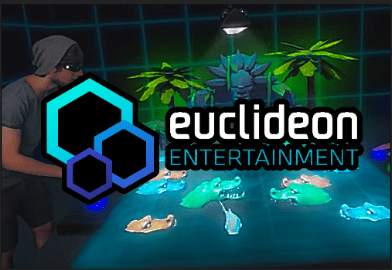 New Hologram Arcade Machines, where you play with objects made out of light that float in the air!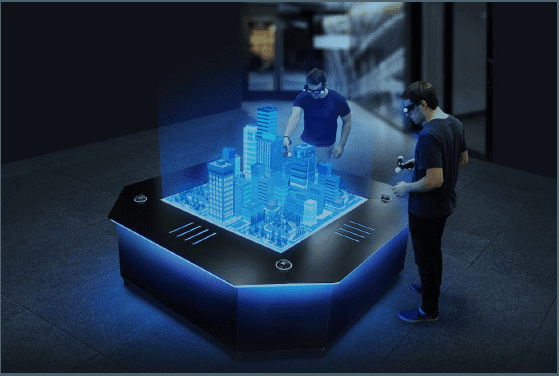 We have all seen holograms in movies like Star Wars and Iron Man and many people want to know if that sort of technology is real or not? The answer is yes it is!
We are the Australian company Euclideon and we normally build Hologram Tables and Rooms for government and military groups around the world. However, for the last four years we have been secretly working on building hologram arcade machines for the entertainment industry.
The Hologram Arcade Table
The Hologram Arcade Machine is like a table with a player on either side. It projects objects out of light up to 70cm from the table's surface. The objects look solid but they are a tiny bit see through like a ghost. If you reached out to touch them your hand would go straight through them.
At the moment we have 15 games available and each hologram table comes with 3 different games installed. The hologram tables are 1.6m (5.3ft) x 2m (6.6ft) but require a floor space of 2m (6.6ft) x 4m (13.1ft) to allow enough room for each player to stand on either side.
Games last for 5 minutes each and as a premium product, we have been charging around $2.50 USD per game (but you can charge what you like). But as there are two players (each pay $2.50 USD) a hologram arcade table can make around $50 USD per hour (with a one minute change over time between games)
What the games are like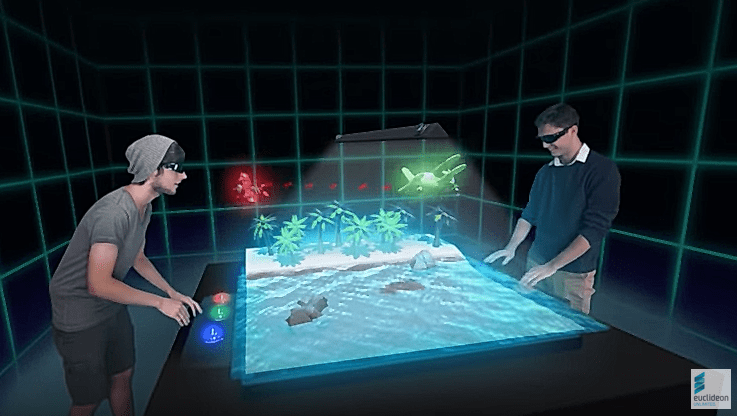 In Aerial Assault planes made of light fly around in the air shooting each other. While playing Hungry Crocodiles holographic fish jump out at the players. In Catapults and Castles, you play with a little holographic model village each out the houses looks like a little toy on the table.
Features
The Hologram Arcade Table has a number of features some of these are:
Two player game focus – The games made for the Hologram Arcade Table to be played by two people at a time
Vibrating floors –Interior floor vibrates with music and game sound effects. Vibrating floors enhance mood and overall experience.
Optional 3rd party payment system integration – If you want to use your own current external payment system Euclideon Entertainment products can be added to work with your current payment system
24-hour remote support service – Our support team are available 24/7 to log into, diagnose and fix software related issues provided a stable internet connection is available.
2-year international warranty – In the event of hardware or software issues our Hologram Arcade Tables come standard with a full 2-year international warranty.