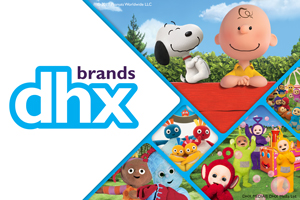 DHX Brands – leading children's brands
DHX Brands is the dedicated brand management and consumer products arm of DHX Media Ltd. (TSX: DHX.A, DHX.B; NASDAQ: DHXM), one of the world's leading children's content and brands companies.
DHX Brands specializes in creating, building and maintaining high-profile global entertainment brands within the children's and young adult markets. With expertise in brand development, licensing, marketing and creative, they build and manage brands that captivate and inspire through engaging content, first-class distribution, quality consumer products, immersive live experiences and digital media.
Portfolio
DHX Brands' world-class portfolio includes Peanuts, Teletubbies, In the Night Garden, Twirlywoos, Caillou, Inspector Gadget, and many more. The company has operations Worldwide, with their Live Events and Attractions key contacts based in London and New York.
Location Based Entertainment
DHX Brands bring children's characters to life through engaging and memorable experiences such as character appearances, live stage shows, indoor and outdoor attractions, cafés, and education centres.
In collaboration with Paragon Creative, DHX Brands has developed design solutions for Teletubbies, In the Night Garden and Twirlywoos themed indoor attractions.
Each design concept features key characters and elements from each IP.  The immersive experiences will include allow young guests to visit the Teletubbies' Home Dome and the Night Garden, and play with elements from the Twirlywoos' Big Red Boat.
Additionally, our brands have recently acquired global phenomenon Peanuts and are looking to expand the current successful attractions programme, taking Charlie Brown and Snoopy worldwide. Existing key partnerships include Cedar Fair and Universal Studios.